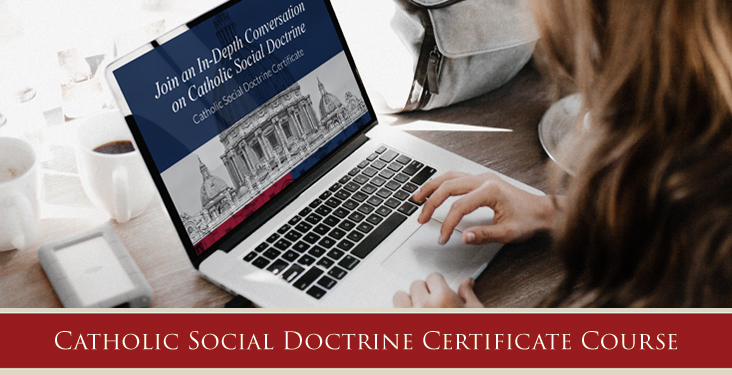 Course Title: "Catholic Social Doctrine for Professionals"
Next sessions begin:
March 4, 2019
In this 8-week online course, you'll discover how Catholic Social Doctrine can be applied to your personal and professional daily life. Brought to you by The Catholic University of America and the Vatican Foundation, Centesimus Annus Pro Pontifice (CAPP), in commemoration of the 125th anniversary of Pope Leo XIII's encyclical Rerum Novarum.

About the Course
This course is divided into eight modules, each taking one week to complete, starting on Monday with the discussion questions due by the end of the week. This is an asynchronous program, therefore the professor will respond to the discussion questions at his/her convenience.

The CSD Certificate Course features the following Catholic University professors:
Joseph Capizzi, Professor of Moral Theology/Ethics and Associate Dean for Graduate Studies
George Garvey, Professor Emeritus, Columbus School of Law
Andreas Widmer, Director of The Ciocca Center for Entrepreneurship
Brian Engelland, Edward J. Pryzbyla Chair of Business and Ordinary Professor of Marketing
John Grabowski, Associate Professor of Moral Theology/Ethics
Luanne Zurlo, Assistant Professor of Finance
Course Structure
This online course is asynchronous and completed at your own pace. No activities require a live interaction with others. 
Each module has, on average, 20 minutes of video-narrated slides, between 30-40 pages of reading, brought together by thought-provoking discussions and personal questions related to the content.
A short essay is submitted at the end of each module.
An estimate 2-3 hours/week is required to complete the course work. (16-24 hours total)
How to get CSD Certified
Catholic Social Doctrine for Professionals is not offered for formal credit and no grade will be administered. However, if you are pursuing the certificate, what is required is submission (graded pass/fail) of all eight module discussions mini essays on a timely basis.
Catholic Social Doctrine for Professionals will be offered four times a year: January, April, July, and October.

Certificate track registration: $400