At The Busch School of Business in Washington, DC we take great pride in preparing students for a fulfilling career in business with a variety of MBA alternatives that complement your prior education and current lifestyle.
This chart compares the above programs to the traditional MBA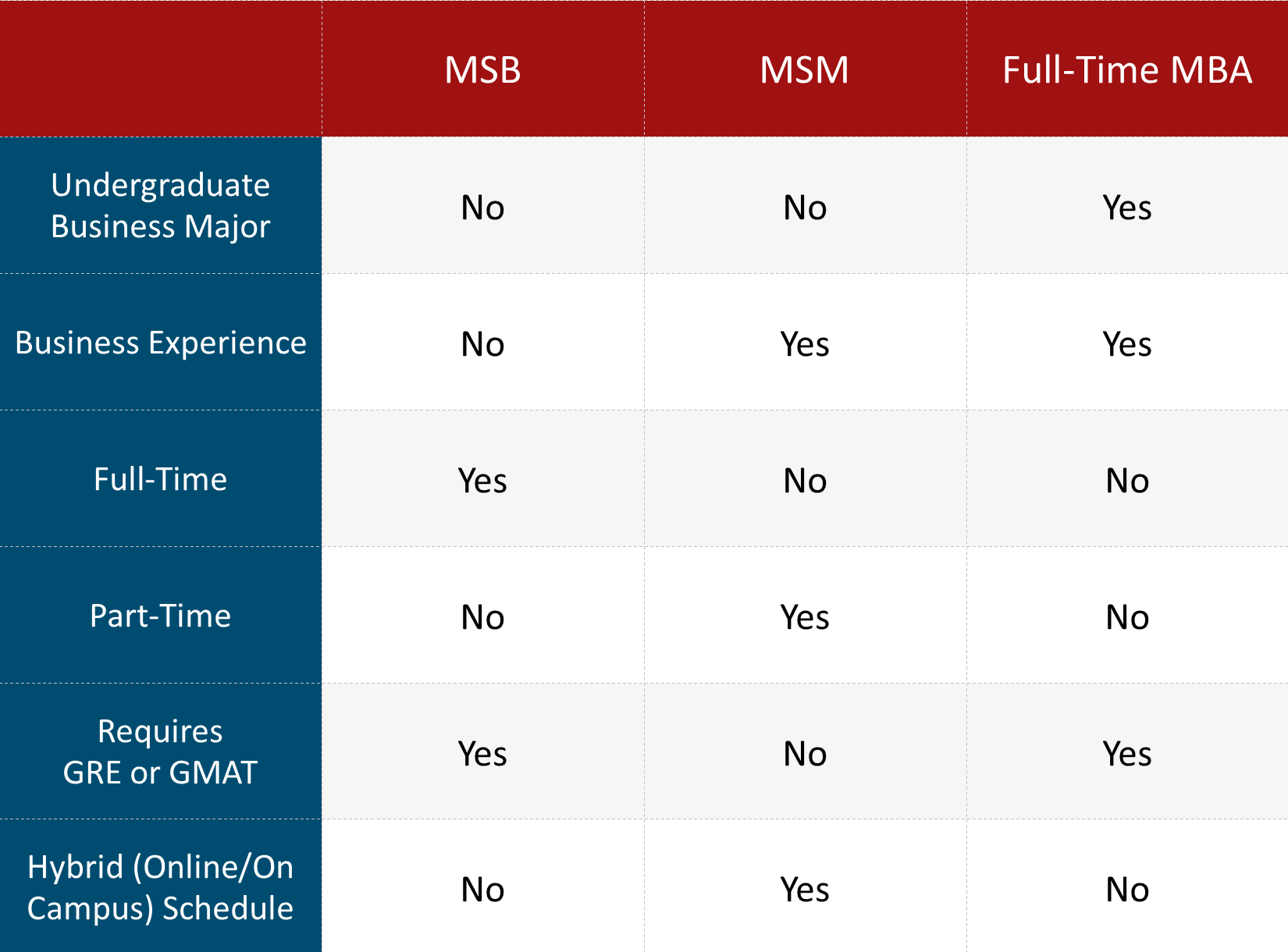 Many have also asked us about the difference between the Master of Science in Business degree, the Master of Science in Management degree and the MBA.  This is an important question and it is very important for prospective students to understand the value and purpose of each degree.
The main difference between these degrees is previous business education and experience.
Let's look at each program in more detail.

The MSB degree at Catholic University is a solid, practical education taught by experienced business people that prepare the liberal arts and STEM graduates to earn that first job en route to a fulfilling career.  From day one, you work with our MSB career services staff and faculty network to find the right vocation for you.  MSB students get meaningful internships and great jobs by taking advantage of their education and professional network.

The MSB degree is designed for students with a liberal arts or STEM background to master the essentials of business--the language, processes and structure of any size or type of enterprise. 

The MSM degree is designed for a variety of working professionals with five different areas of specialization to increase your skill level and prepare for more responsibility in your career.  It is designed to work with your busy personal and professional lifestyle.  Classes are conducted at your pace and can be completed online, on campus or as a hybrid program of both.  Specialization are offered in Leadership and Management, Sales Management, Human Resource Management, Project Management, and Federal Contract Management. We also offer Certificates in these five specialties in as little as 12 credit hours of study for those that want to concentrate on the specialty skills without the added general management study of 18 hours. Your certificate hours can be combined with other certificates and general management hours toward a MSM degree at any time in the future.
Compare the differences between an MSM and an MBA

By contrast, the MBA degree is is typically designed for someone with extensive business management experience preparing to enter a senior management role in their enterprise. 

Also, not all MBA programs are alike.  There are programs that call themselves MBA but do not require prior business education or work experience or even the standard GRE or GMAT entrance exams.  You will not find these programs at the well known MBA schools like Harvard, Virginia, Stanford or MIT.  Employers recognize and value the difference between these top tier programs and those requiring no prior experience.  In other words, employers read the label to see where the MBA was made.