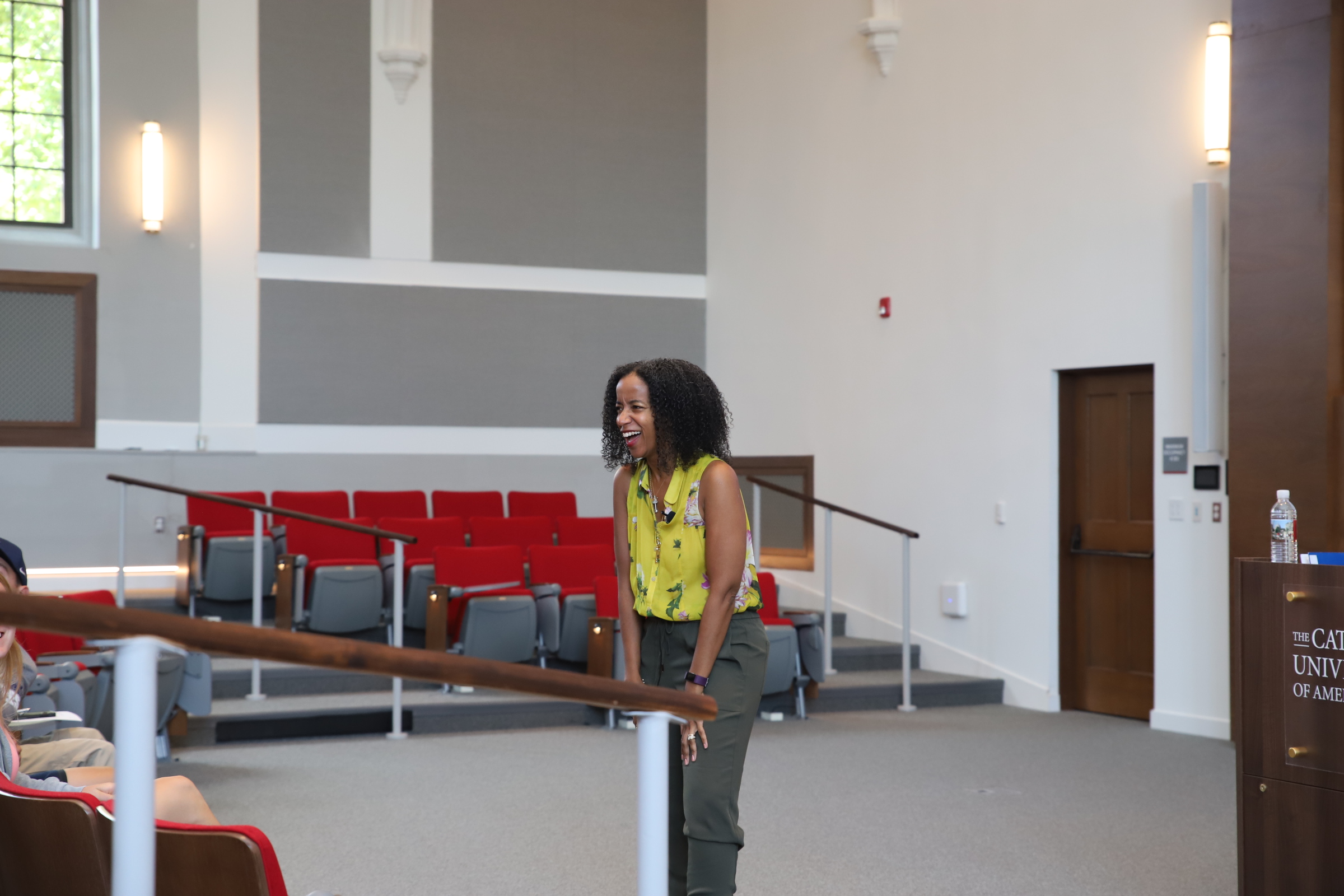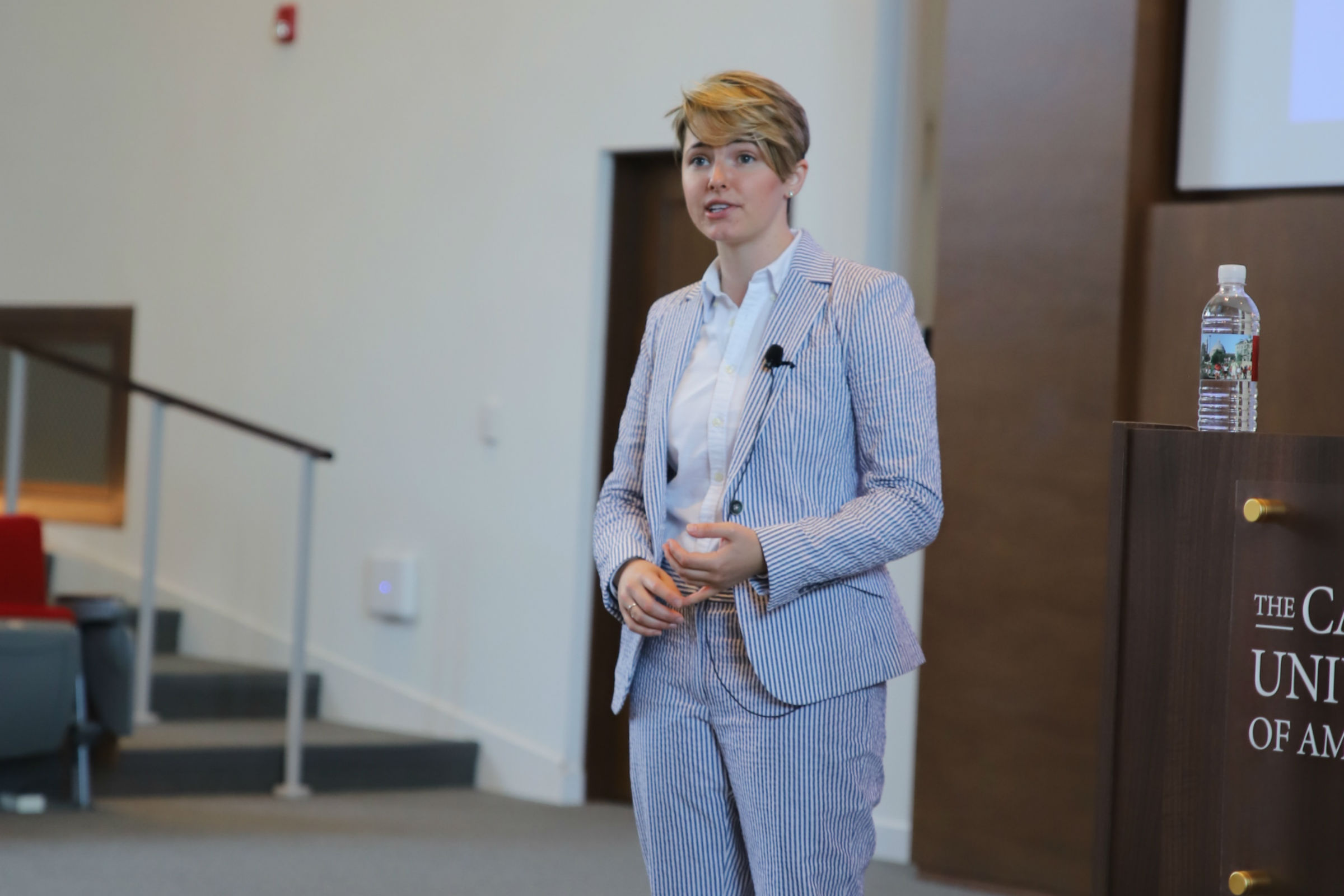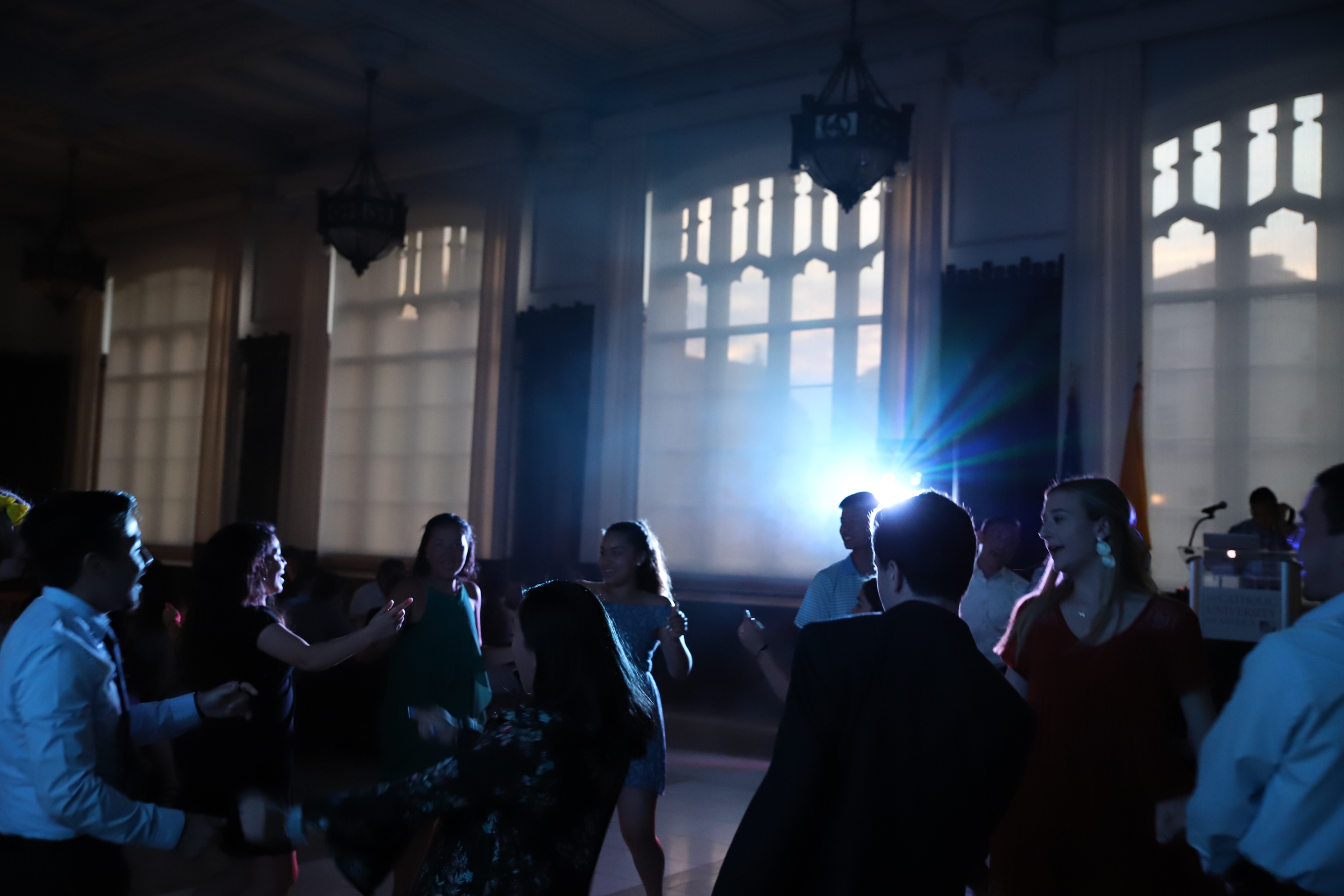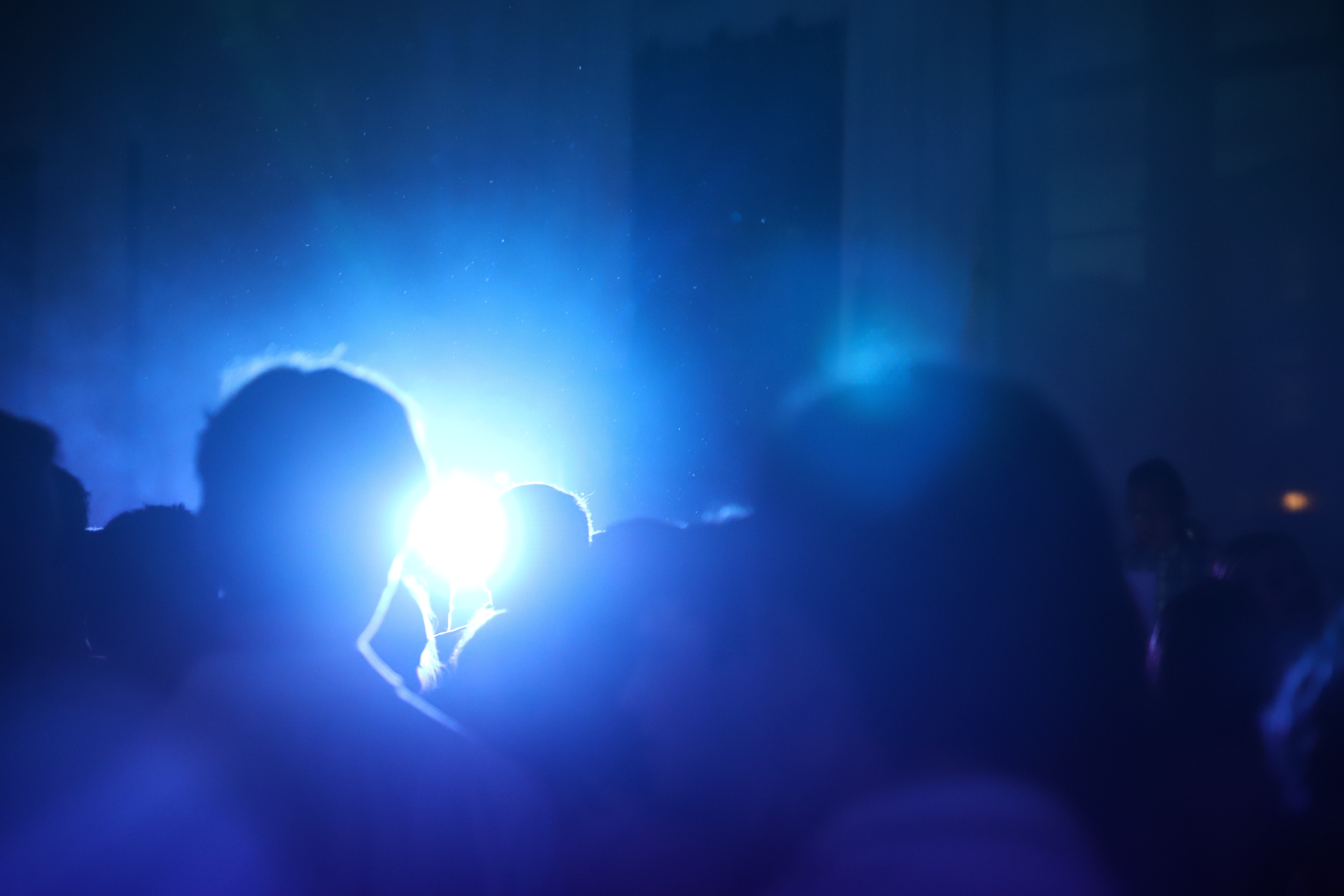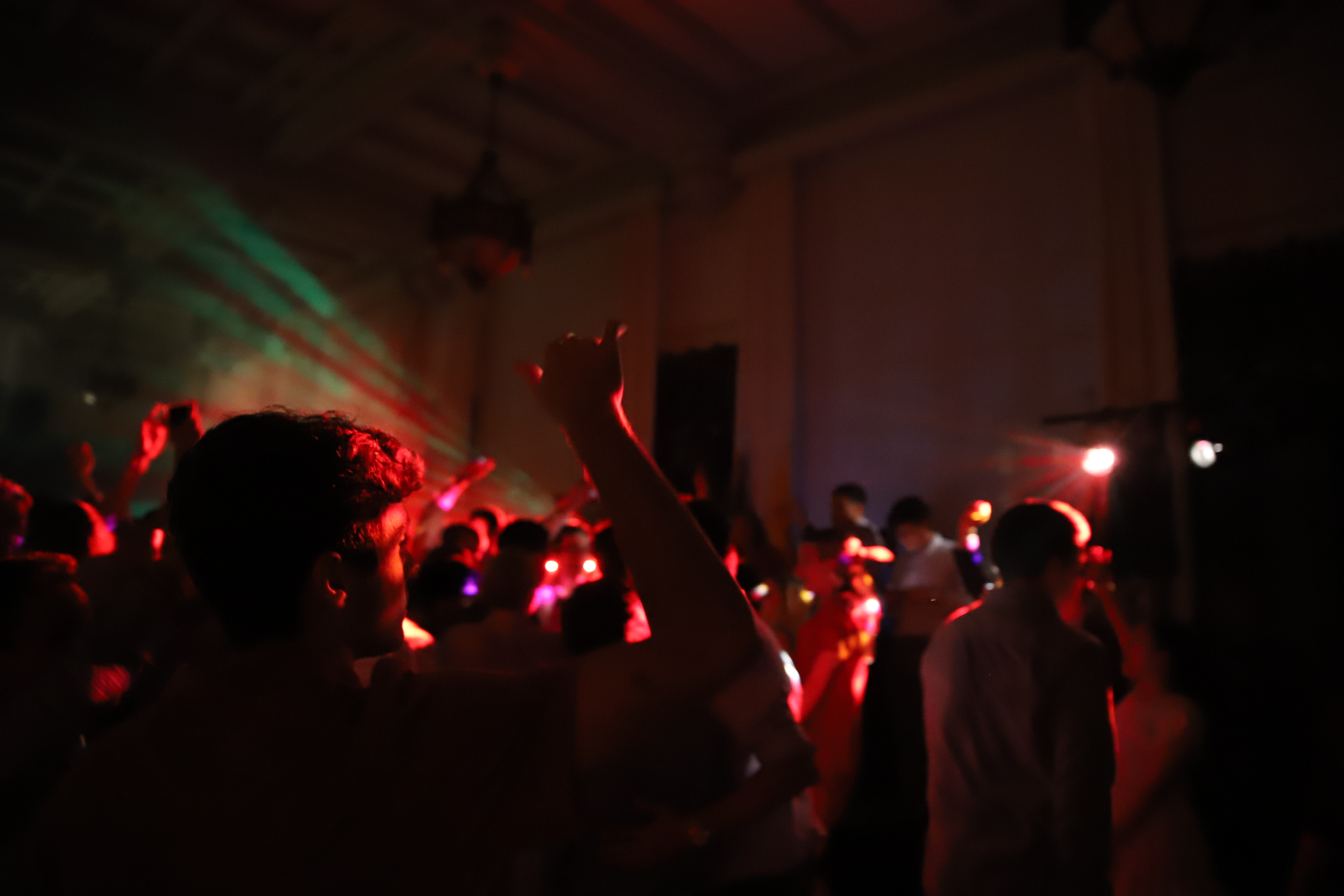 Hey Mom and Dad!
Today is our last full day! I am looking forward to making the most of my time left here at the Summer Business Institute. 
After breakfast in the Pryz, we headed over to Maloney Auditorium where we watched the last of Carly Fiorina's leadership videos. In this video, she talked about the Leadership Framework. It is a continuous process that begins with creating a Strategy, determining our Process and Structure, then measuring the Metrics, and lastly, looking at our Culture. The framework is a helpful way for me to examine and approach different situations, in business and in life! 
Dr. Winnette McIntosh Ambrose was our first speaker of the day and she came to speak to us about her experience as an entrepreneur. She is the winner of the Food Network's hit shows, Chopped and Cupcake Wars! Winnette is not only a great baker AND engineer, but she is a successful entrepreneur whose deep faith is incorporated into all that she does. Winnette started out her presentation by showing us a documentary called To Whom is Given: Business for the Common Good. This documentary featured entrepreneurs from various backgrounds whose companies work toward the common good. The entrepreneurs expressed how their faith is incorporated into their companies and attribute their success to these values. This documentary was a perfect example of how "Business is a noble vocation," and guided us on how we can be a "force for good" in the business world. After the documentary, Winnette explained her life story and how she was inspired to study the art of baking while in Paris. Winnette is a woman of many trades who left us feeling empowered to do what we love as a career. Winnette even gave us some of her famous macaroons from her bakery, The Sweet Lobby. I can promise you, they were definitely award-winning treats!
Our next speaker was Aurora Griffin. She is such an inspiring woman with a great story about standing up for what you believe in. She spoke to us about the importance of incorporating Catholic Social Doctrine, including Solidarity, Subsidiarity, the Dignity of the Human Person, and the Common Good into our work as future business leaders.
After lunch we had our final presentation of the week. It was a sales presentation given by Professor Mark Weber, "THE SALESMAN" of the Busch School of Business! It was perfect timing to hear from Professor Weber because my team and I were just about finished creating our product and we were getting ready to prepare our pitch. He gave us key tips and tricks about how to succeed in sales. He spoke about having a unique value proposition, incorporating stories and emotions, and keeping our pitches short, sweet, and to the point. He also spoke to us about the importance of giving a compelling pitch. We can create the best product in the world, but we have to sell it right to be successful! 
After we finished creating our products and preparing our pitches, we had our program closing Mass in St. Vincent's Chapel. The students here call it St. Vinny's. It is a chapel located between two freshman dorms and has student masses that Catholic University students go to with their friends. Fr. Jude, the University Chaplain, said a beautiful Mass and gave a homily that tied all that we have done so far this week together. He reminded us that when our faith remains at the center of our lives and we put other people first, we will excel in business and the money will follow. 
After Mass, we had our Dinner Dance! I had such a great time celebrating a fun week with my friends and counselors (who really can't dance… but we'll keep that between us). Everyone seemed to really enjoyed this event and it was awesome to get together like that before we all go home tomorrow.
We present our Shark Tank projects tomorrow! Wish me luck… now I need to go get some sleep so I am rested and ready to rock my presentation! 
Love,
Your Cardinal