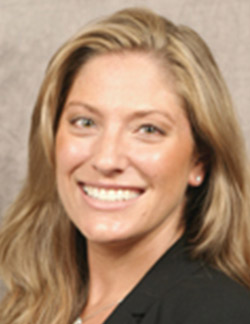 Courtney Campbell ('00) is no stranger to the hustle and bustle of life on Wall Street. She serves as a Director with Bank of America Merrill Lynch – running a finance desk of four people, vetting clients and securing new deals. 
But Campbell's attitude about business success is not the one you might expect. For her, ethics and morality are just as high on her list of priorities as profit and loss.
 She owes this business approach to the philosophy she gleaned as a part of her education in business at The Catholic University of America.
She remembers the first time she discovered the deeply humanitarian potential of business done well in a class focused on ethics and morality. "I thought, wow, there is a role here for morality, ethics and Catholic philosophy without compromising success," she said.
 Campbell finds this perspective causes her to think and assess situations differently than her peers.
"Sometimes in business there are things that don't look right or feel right and it makes you really question things and put ethics to the forefront. One of Bank of America's core values is 'Doing the Right Thing'," she said. "It's easy for me to hold on to those values when I have that Catholic education background to fall back upon."
Bank of America's emphasis on these core values of ethics, morality and humanitarian work as well as diversity and inclusion were part of what attracted Campbell to the job in the first place.
 "When I was being considered for the position, my interviewers were very interested in the fact that my education was so rooted in the morality of business and I liked that they cared about that so much" she said. "The importance of ethics has stuck with me and helped me with my career and I am incredibly proud of it."
Campbell joined Bank of America after several years working abroad with Credit Suisse and UBS in London. It was there that, along with Dean of Arts & Sciences Lawrence R. Poos, she started a networking group for University alumni.
 After she moved stateside in 2010, Campbell became heavily involved in CUA on Wall Street, an initiative where dozens of University business students meet top level executives over several days in New York City for an inside perspective into the financial world.
 Campbell has helped dozens of students learn how to network, find internships and position themselves well as they prepare for a business career. She enjoys giving back, especially to University students, because of their shared goal of doing good while doing business.
As a wife and mother of two young children, Campbell also has a deep appreciation for the human aspect to a career in business.
 "People and families are behind every business transaction and deal that we make," she said. "And I am thankful to the Busch School for bringing that to the forefront of their business approach."