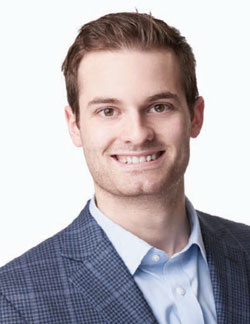 A member of the first graduating class of the Busch School of Business (formerly the School of Business and Economics), Dan Gaeto is now a senior analyst at Deloitte, one of the top management consulting firms in the world. Located in Deloitte's Crystal City office, Gaeto focuses on Federal Strategy and Operations. Originally from the Philadelphia area, Gaeto chose to stay in D.C. after graduation because "this is the place for federal consulting."
It is a decision he does not regret. D.C. is "a very young city. Opportunities from a career perspective are numerous." So too from a social perspective. Gaeto enjoys meeting up with friends from Catholic University. He has lived in many sections of D.C. and the suburbs. Moving frequently has had its advantages, including introducing Gaeto to the diverse restaurant scene in D.C.
On a typical day in the office, Gaeto advises federal clients about operations improvement and program management — identifying inefficiencies and developing solutions. He also provides strategic planning, helping his clients "navigate their waters." He is the lead for a team providing such services to a $10 million branch in the national security sector. For another client, he developed a risk-based funding model that now is the primary tool the client uses to prioritize their project selection process.
Gaeto is glad to say that "there are a lot of things that I've done for my clients that have stuck." He takes pride in his work, and advises Catholic University graduates to do the same. "Own up to the things that you've done and be proud of them," he says. As C.S. Lewis pointed out in his essay "Good Work and Good Works," we are called to do both.
At Catholic University, Gaeto studied economics, which he liked because "It's a very broad discipline. It's about decision making in the face of scarcity. It has a quantitative focus but its foundations are philosophical." This was important to Gaeto, who originally was a philosophy major. An internship at a small financial services company changed his mind. "After that I decided I wanted to do business. At Catholic University, I was able to get a broad education.
"From studying philosophers like Plato and Aristotle, Gaeto easily moved to John Stuart Mill and John Maynard Keynes. He was invited to be a teaching assistant in macroeconomics for Professor Martha Cruz-Zuniga. "She taught me a lot and of course you learn by teaching. It's a very powerful tool." Gaeto had office hours and would sit down with students and help them with problems.
Teaching is still an interest. Gaeto recently participated in a mock interview night at the Busch School of Business. He wants to do "what I can to help people prepare for the real world." He felt he was prepared well and says the most important message his professors taught him was "treating people with dignity no matter who they are. This was hammered home at Catholic University."