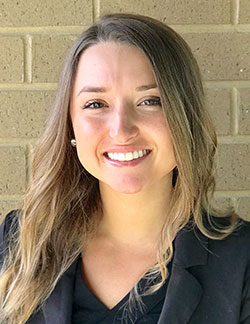 During her free time, Jessica Grossman enjoys the things that any recent college graduate enjoys: spending time with her friends and traveling. Yet during the week, Grossman works as a successful federal sales representative from Qlik, a software company specializing in business intelligence and visualization software.
In 2017, Grossman graduated from the Busch School of Business with a degree in Marketing. "The Busch School was the best decision I made. Each class prepared me with excellent presentation and time management skills, and I was able to develop a true work ethic which is essential in a sales career." The small class sizes allowed for individual attention, something that was invaluable. "Each professor at the Busch School was supportive and truly wanted to see me succeed."
Grossman loved her experience studying Marketing. "I loved marketing and I thought it fit me perfectly." ​Yet in the fall semester of her senior year, Grossman's career plans changed when she took "Consulting Professional Sales", a class taught by Professor Mark Weber. Consulting Professional Sales is one class of the three class series that makes up the Sales Program. Headed by Mark Weber, the program ​focuses on providing education and training for students so they can compete in the world of sales. ​Through the unique courses, students are guided on how to sell and manage while staying true to their values, all with the goal of professional and personal empowerment.
When asked to describe the traits of a good salesperson Grossman said, "You have to be an honest person; other people have to trust you. You need to be a storyteller. You have to be determined, and you have to be a good listener." Through her whole experience at the Busch School, she was discovering these qualities in herself, and Consulting Professional Sales helped her get out her previous comfort zone through the hands-on assignments.
Professor Weber also brought in salespeople to speak to the students. These speakers gave real-world applications to the theories they were learning in class. Speaking to the class were sales leaders with years of experience, people she could potentially work for. Weber also had recent graduates speak. Grossman heard how other students enjoyed their sales experience and it helped her to see that she could do sales too.
Through a connection from this class, she started at an internship with OpenGov. This was the turning point in her career— working on a sales team and understanding how the team truly operates. She says, "I saw what it was like, and I immediately knew this was what I wanted to do." After this internship, Grossman decided it was the best career move to go into sales. She worked closely with Career Development which helped her craft the perfect resume. "I remember working hard with the career counselors who gave me advice almost weekly on how to interview. They worked with me for hours on my cover letter."
Today Grossman researches, analyzes, campaigns, and attends marketing events to find prospective clients for Qlik. What is more impressive is that she is not satisfied with her initial success; she has more plans for the future. She hopes to develop her software skills and to continue to move upward in the field, using the skills she learned from the Busch School to propel her forward.