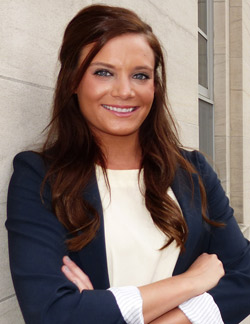 Tara Vallach ('16) spends her day carefully evaluating pricing; working with engineers, planners and buyers; and balancing the books for one of the most prestigious fine jewelry companies in the world: Tiffany & Co.
As a brand new college graduate aspiring to a career in the fashion business, Vallach considers herself lucky to have landed a position with such a reputable brand. But it was less luck and more dedication and determination that brought her where she is today.
Vallach came to The Catholic University of America intent on becoming a journalist through the University's media studies program. But after taking a few marketing classes, she fell in love with the Busch School of Business and decided to major in finance.
"Journalism just wasn't for me and I loved everything about the business school, even though it was a department back then," she said. "It was amazing to be there for all the growth and transitions."
Vallach started one of the first clubs in the Busch School called the Business Women's Council. University women studying business would get together, discuss challenges in the marketplace and bring in well-known female executives to speak about women's issues in business. It started with only a handful of women, but by the time Vallach graduated, the club had more than 100 members.
"The business school really helped me achieve the dream of the council," she said. "They knew I wasn't a wave blowing by and they supported my initiative and my ideas."
Through a connection made during a CUA on Wall Street event, where Busch School students travel to New York City to meet with financial sector executives, Vallach earned her first internship with Brookfield Asset Management.
The following summer, she decided to take her budding business expertise to the world of fashion through an internship with Giorgio Armani.
"By senior year, I knew only one thing: that I wanted to graduate with a job offer and preferably in fashion," Vallach said. "I had my eye on Tiffany & Co. and I wanted to see if I could make it happen."
She began to work closely with the Busch School's career office to develop a plan for securing a position at Tiffany & Co. With the help of Busch School connections, Vallach was able to network with an alumnus who helped put her on a path toward achieving her goal.
"I sent emails, went to informational interviews and applied to dozens of positions until I finally got a call one month before graduation," she said.
The offer was contingent on her starting immediately working part-time from April to May and then full-time upon graduation. Not one to be discouraged easily, Vallach accepted and commuted to New York half the week and spent the other half completing her course work in DC.
Vallach says one of the best parts of studying business at the Busch School is the staff and faculty support and encouragement of students' passions and goals.
"I know I wouldn't be where I am without it and I am so grateful for that," she said.