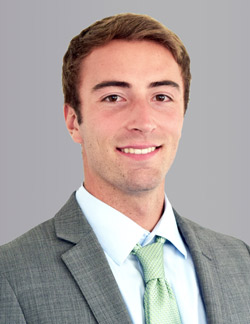 Dylan Vetick ('16) fell in love with Washington, D.C. from the first moment he set foot in the city. But he only realized his fascination with the city could become his career when he earned a position at one of the largest commercial real estate firms in the area, Cushman & Wakefield.
He now spends his days studying every detail of D.C.'s buildings: the rich history, the budding opportunities and the vibrant life of the city he calls home.
Vetick works as a Market Coordinator under Sherry Cushman, assisting in business development, coordinating market research and helping brokers around the country find the right tools to generate deals.
"I can't wait to become a broker," he said, referring to his plan to take the broker licensing exams through Cushman & Wakefield in two years. "I love the high energy of sales, the thrill of commission-based work and the opportunities in this fast growing city. I know I am going to be here for a long time."
Vetick first discovered his interest in commercial real estate through his major mentor, Scott Russi, with the Busch School of Business at the Catholic University of America. The major-mentor program helps first-year students feel engaged, supported and welcomed by partnering students with upperclassmen in their same major.
"As a management major, my role could go many different directions," he said. "Scott was the first one to explain what commercial real estate was and how to get into the business."
Before Cushman & Wakefield hired him, Vetick interned for several companies including Capital Business Solutions and Coca-Cola/Smart Water. He credits the Busch school for his high level of preparedness in entering the workforce.
"CUA has prepared me incredibly well for my professional work," he said. "From finance and budgeting, to excel tools, to presentation skills, I find that I have a very small learning curve in the business world thanks to the training from the Busch school."
At the University, Vetick also started the CUA Management Club, played Rugby, participated in the Business Professionals Society and CUA Toastmasters. He found the variety of opportunities and outlets on campus led to a well-rounded and stimulating University experience.
When Vetick is not discovering exciting new things about the city or preparing for his broker exams, he finds time to volunteer with several organizations, including serving as a young professional board member for the March of Dimes and as a mentor for a youth leadership organization.