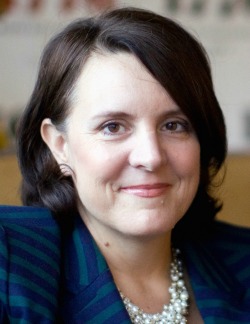 Distinguished Fellow
Donna is Cofounder of 1776, a global incubator and venture capital fund that works with entrepreneurs, corporations and government leaders to accelerate innovation to solve the complex challenges of the future. Under her leadership 1776 grew from an idea to a globally recognized brand at the center of worldwide startup activity. With visitors including President Obama, former British Prime Minister David Cameron, Her Majesty Queen Rania of Jordan, and CEOs of the world's largest corporations, 1776 has become the singular go-to stop in the Washington, DC region for political and corporate leaders seeking to understand and engage the innovation economy. In 2017, 1776 merged with Benjamin's Desk and the company's technology platform, Union, was spun out as an independent company.
Prior to launching 1776, Donna was Managing Director of the Startup America Partnership where, working in partnership with the White House, the Kauffman Foundation and the Case Foundation, she led the Partnership's work to strengthen American cities' support for entrepreneurs. Her work was the precursor to the Startup Nations initiative, enabling informal knowledge sharing between 160 countries committed to accelerating new firm formation and driving job creation. Donna is currently on the Board of Directors of the Global Entrepreneurship Network, which oversees the Startup Nations initiative.
Prior to joining Startup America, Donna was Vice Chair of Interpoint Group, a government markets strategy firm, which worked with corporations, non-profits, foundations, and governments globally to enable them to better communicate and work with the government. Under her leadership, the company generated over $4 billion in revenue for clients, grew 10x and was acquired by Pegasus Capital Partners.
She was also previously Founder and CEO of Kinderstreet, an education, sports, and recreation software provider. Donna grew the company from concept to a national leader with 900+ user schools in 41 states, and it was acquired by Arc Capital Development in 2005. She was also previously Vice President of Centromine, a software provider in the Health and Human Services industry. Centromine was acquired by the Echo Group in 2000. 
Donna began her career in Detroit as a Systems Engineer with Electronic Data Systems and also held various roles at Oracle Corporation before shifting her focus to entrepreneurship.
Donna serves as a Policy Advisor for the Economic Innovation Group, is a Trustee of the Federal City Council, and is a Member of the Washington DC Economic Club. She's also on the Board of Directors of the Global Entrepreneurship Network and the National Center for Entrepreneurship, and she is an active angel investor having co-founded K Street Capital.
Donna is a frequent speaker and contributor to publications such as the Wall Street Journal, Washington Post, Forbes, Fortune and Huffington Post. Recognized as one of Washington, DC's Power 100 by Washington Business Journal and Washington Life Magazine, and as a Tech Titan by Washingtonian Magazine, Donna has become one of the most influential speakers on innovation, entrepreneurship and the digital economy.
Donna holds a bachelor's degree from Central Michigan University and MBA with distinction from The University of Michigan Ross School of Business. She also received an honorary Doctor of Laws degree from American University. She resides in Northern Virginia with her husband Linwood and son Chase.