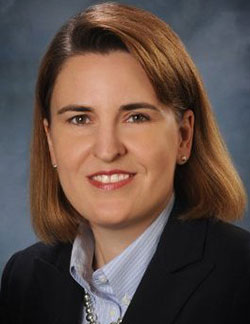 Academic Area
M.S.B.
School
Busch School of Business
Expertise
Nonprofit financial management
Capital market investment
Philanthropic capital investment
Cash management
Cash-flow optimization
Long-term asset management
Taxable and tax-exempt bond financing
Commercial credit products
Foreign exchange strategy
International financial operations strategy
Derivative strategy
Ms. Carpenter is an investment banker with the heart of a teacher and scholar. She is a veteran of Wall Street who studies what Christian theology has to tell us about the nature and value of work and the responsibilities of wealth.
Using the experience of her nearly 25 year banking career, Ms. Carpenter serves as a founding Advisory Board member to the School of Business at Catholic University of America, chairman of the Investment Committee and member of the Finance Committee of the US Conference of Catholic Bishops' Black and Indian Mission, and as the Co-Chair of the Advisory Board of DC Habitat for Humanity. Her past work experience ranges from JP Morgan Chase, PNC Financial Services, and City First Bank of DC.

Ms. Carpenter is a business and economics columnist for the online publication Catholic Stand and a frequent author writing on social doctrine for the Catholic international news agency Zenit, where her articles are distributed through Catholic publications around the world. Dawn's doctoral research at Georgetown University involves developing a comprehensive theology of work that encompasses the disciplines of business, theology, philosophy, economics, sociology and anthropology. Ms. Carpenter has previously earned a M.A. in systematic theology from the Notre Dame Graduate School of Theology at Christendom College, a M.P.M. in public finance from the University of Maryland, and a M.A./B.A. in political science from American University. She can be found on Twitter @WhyWeWork.