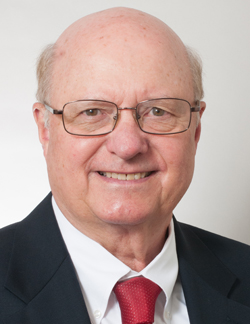 Academic Area
Strategy, Management, and Operations
School
Busch School of Business
Expertise
Legal accounting
Business organizations law
Professor Wyrsch is an Assistant Adjunct Professor here in the Busch School of Business, having taught business law courses for many years.  During this time he has taught the following courses: Commercial Transactions (MGT 321), Business Organizations and Property Rights (MGT 322), The Legal and Policy Aspects of Government Regulation of Business (MGT 371), The Legal Aspects of Accounting, Auditing and Finance (ACCT 480, 580).
Professor Wyrsch has taught similar law courses as a Professorial Lecturer in Law at the George Washington University Law School.  For many years he was a Distinguished Lecturer at the Columbus School of Law, The Catholic University of America, both in adjunct [20 years] and full-time [12 years] capacity.  Professor Wyrsch received many teaching awards and recognitions during his years at that Law School.  Professor Wyrsch also teaches law courses in the American Law Program, which is a program co-sponsored by the Catholic Law School and the Jagiellonian University (Cracow, Poland).  Other law schools where Professor Wyrsch has taught include Georgetown and Howard.  He is currently a member of the Business Law Section of the American Bar Association.
Professor Wyrsch graduated from Seton Hall University (B.S.) in 1967.  After completing military service he entered law school, graduating from the University of Houston School of Law in 1972.  He has also received a Masters in Law (L.L.M.) from the George Washington University School of Law (Corporation Law, 1977), and a Masters in Business (M.B.A.) from the George Washington University, School of Business (1982).
Professor Wyrsch served as an officer in the U.S. Army (3rd Infantry Division), as a Headquarters and Headquarters Company Commander and a Division Procurement / Supply Officer (1967-1969).  Following his graduation from law school Professor Wyrsch worked for the Office of General Counsel, the Government Accountability Office, as a Senior Attorney for almost 30 years (1972-2001).  He specialized in issues of national security, intelligence, international affairs, the defense industry, as well as government budgeting, accounting and financial matters.  Professor Wyrsch retired in 2001 to devote more time to teach law courses.
On the personal side, Professor Wyrsch and his wife Claire were married in 1968 and have two children, Kara, an attorney, and Michael, a career officer in the U.S. Marine Corp.   For many years Prof. Wyrsch had served in various leadership, volunteer positions in local government, community service, and youth sports organizations.