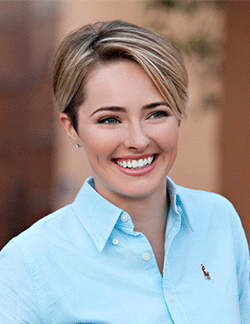 Scholar Practitioner Fellow
Aurora Griffin attended Harvard University, where she graduated Magna Cum Laude and Phi Beta Kappa with a degree in classics in 2014. There she served as president of the Catholic Student Association. She was awarded a Rhodes Scholarship to study at Oxford University, where she received a graduate degree in theology. Her primary academic research has focused on Thomas Aquinas and Catholic Social Teaching, with dissertations on the role of female leadership in the Catholic Church and the ethics of private property ownership. She then published How I Stayed Catholic at Harvard: Forty Tips for Faithful College Students (Ignatius Press, 2016). After completing her book tour, she came to Washington DC to serve as a staff member on the Presidential Transition Team and then as a policy advisor at the US Department of State. She came to The Catholic University of America as a Senior Writer in 2017. She is currently pursuing a Masters in Business Administration at Stanford University.
"

It is a privilege be at The Catholic University of America, and particularly in The Busch School of Business. I grew up in a family of Catholic entrepreneurs, so the connection between faith and business has always been an important part of my life. My education and research in Classics and Theology have given me a passion for seeing the dignity of the human person at the core of this connection. After acquiring the necessary skills at Stanford in business, I look forward to using them to serve the Church. I could not ask for a better group of colleagues with which to continue exploring business and faith. I am enormously blessed by this opportunity to be a scholar-practitioner and the path that God has used to bring me here

."
Contact Information
Email: business@cua.edu
Education
M.B.A., Stanford Graduate School of Business '20 (expected)
M.Phil Theology, Oxford University
A.B. Classics, Harvard College
Publications
Griffin, Aurora. 

How I Stayed Catholic at Harvard: Forty Tips for Faithful College Students

 (Ignatius Press, 2016).