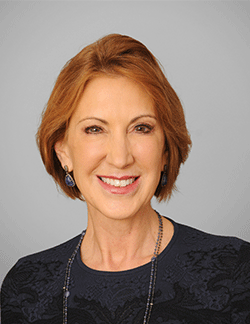 Carly started her career at the very bottom: as a secretary for a nine-person real estate firm called Marcus & Millichap. Carly's bosses quickly noticed her strong work ethic and natural leadership skills—and soon promoted her to a broker position.
Marcus & Millichap taught Carly how to lead a small company—and inspired her passion for the world of business. Carly decided to go back to school to earn a Masters of Business Administration from the University of Maryland.
In 1980, when Carly was 25, she moved to Virginia to join AT&T as a management trainee—one of the only women on her team. At AT&T, Carly's potential was immediately clear—and, over the next five years, she was promoted several times. By 1985, Carly was a District Manager, overseeing AT&T's largest civilian government account, the General Services Administration (GSA). In the early 1990s, Carly continued to climb the ladder and shatter the glass ceiling at AT&T—becoming one of the most powerful executives at the company.
As Vice President of Strategy and Marketing, Carly was AT&T's first female officer. She would be promoted once more, becoming the Head of North American Field Operations. In 1995, AT&T spun off its telecommunications equipment business into a new company, called Lucent Technologies. They knew Carly was a natural fit to lead the effort, as Lucent's new Executive Vice President of Corporate Operations. Under Carly's leadership, Lucent's initial public offering (IPO) was, at the time, the largest IPO in U.S. history. By the end of 1996, Lucent had created tens of thousands of new jobs—and their stock price had nearly doubled.
In 1998, FORTUNE Magazine named Carly Fiorina the "Most Powerful Woman in Business" for the first time—due to her incredible success at Lucent. Carly would continue to be on the list for the next 6 years. In 1999, Carly left her home in Virginia to make history once again—when she became the first woman to lead a FORTUNE 20 company, as the CEO of Hewlett-Packard. HP was a Silicon Valley icon—but, through decades of mismanagement, it had turned into a broken, bloated bureaucracy that was falling behind its competitors. Carly knew that rebuilding HP—and saving tens of thousands of jobs—would require tough choices, and a transformational leader.
Shaking up the status quo and fighting for real change is never easy. But Carly didn't take no for an answer, and she didn't back down from doing what was right. Carly's choices weren't always the most popular ones. But ultimately, her decisions were the ones that saved the company. After Carly left HP, she focused on giving back to the community, the country, and the world—and unlocking the limitless potential in others.
Under President George W. Bush, Carly headed the newly-formed External Advisory Board for the Central Intelligence Agency. With her experience at fixing broken bureaucracies at HP, the federal government knew Carly had the insight and experience to bring more transparency and accountability to the CIA. In 2008, Carly joined Secretary of State Condoleezza Rice to found the One Woman Initiative. When the organization later merged with Opportunity International, Carly served as Global Board Chair.
Over the past 15 years, Opportunity International has created 10 million jobs through $6.8 billion loans, with an average loan of about $150. In addition to her work with Opportunity International, Carly also became the Chairman of Good360, a charity that's distributed more than $8 billion in donated goods to more than 40,000 nonprofits. In 2009, Carly was diagnosed with breast cancer. At the same time, she and her husband, Frank, suffered a terrible tragedy: they lost their younger daughter, Lori.
Throughout these difficult times, Frank and Carly were sustained by the redemptive power of their Christian faith—and the strength of their family. In 2011, Carly and Frank decided to move home to Virginia to be closer to the ones they loved: their older daughter, Tracy, and their two grandkids, Kara and Morgan.
In May 2015, Carly took on her biggest fight yet: bringing back citizen leadership to the United States of America. When Carly announced her campaign for President, the experts didn't take her seriously—because she wasn't a career politician. She had less funding than her establishment rivals, and none of the name recognition. But Carly had faced tough odds before—and, as she did throughout her life, she rose to the challenge.When Carly won the first two Republican debates, the American people saw her as the transformational leader our nation so desperately needed.
But she stood out for another big reason: no one could fight back quite like Carly Fiorina. Whether she was standing strong against Hillary Clinton, the mainstream media, or the entrenched establishment in Washington, Carly was always ready to speak truth to power and stand up for what was right, no matter what. With the 2016 Presidential election behind us, Carly's not backing down. She's going to keep fighting for the American people—making sure those at the highest levels of power hear our voice loud and clear.