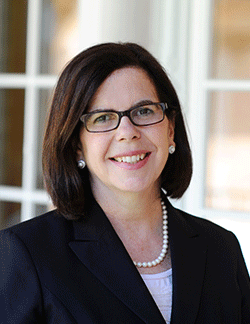 Sharon Hefferan, a native of Connecticut, is the Executive Director of Yuma Center in Washington, D.C.  Through a wide range of programs and mentoring opportunities, Yuma Center inspires and guides women and girls to positively transform their families, workplaces and the world by serving others with professionalism and joy.
Hefferan serves on the Board of Directors for Midtown Educational Foundation which guides low-income urban youth in Chicago along pathways of success by focusing on academic excellence, virtue development, individual attention, and parental engagement.  For over a decade she worked as Executive Director of Metro Achievement Center, the center for girls operated by Midtown Educational Foundation.
She majored in Economics and Spanish at Georgetown University.  She then worked as Corporate Cash Manager for National Medical Care and later as a Financial Accountant at The New York Times.  She received her M.B.A. from Iona College in New York in 1987 after studying Philosophy of Education in Rome.  In 2011, she obtained a Certificate in Non-Profit Management at Northwestern University's Kellogg School of Management.
An enthusiast of international affairs since her youth, she studied abroad in high school as an American Field Service exchange student to Costa Rica. During college she studied in Ecuador and Spain and worked as an intern at the Organization of American States.  She has directed youth service projects in New York, Milwaukee, South Dakota and Lithuania.  She is currently a member of the Women's Foreign Policy Group in Washington, D.C.