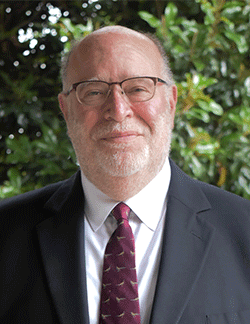 Max Torres joined Catholic University's faculty in 2014. His research centers on the relationships among decision-making, personal character and organizational culture and is multi-disciplinary in scope, spanning business, ethics and law. It aims to identify, model and harness the intangible human phenomena underlying measurable results in organizations. His most recent publication, "Getting Business Off Steroids" (2009) was the opening chapter of Doing Well And Good: The Human Face of the New Capitalism (Information Age Publishing, Ethics in Practice Series). He has won numerous awards, and was recipient of the 2003 Novak Award from the Acton Institute for the Study of Religion and Liberty in Grand Rapids, MI. He serves on the executive board of the Journal of Markets and Morality and the editorial board of the Journal of Business Ethics Education. His opinions on the financial crisis of '08 can be heard on Ave Maria Radio, WDEO in Ann Arbor, MI, and found in the podcast archives of "Kresta in the Afternoon."
In addition to Catholic University, Prof. Torres has held academic appointments at the IESE Business School in Barcelona, Spain, the Tuck School of Business at Dartmouth in Hanover, NH; IMEI -Institute for Media and Entertainment in New York, NY; Ave Maria School of Law in Ann Arbor, MI; and Ohio Northern University's Pettit College of Law in Ada, OH. He has taught in executive education programs at the University of Michigan's Ross School of Business in Ann Arbor, MI; been a Visiting Scholar at the Stanford Graduate School of Management, Stanford University; taught at IEDC-Bled School of Management in Bled, Slovenia; and taught at the Southern New England School of Law in New Bedford, MA.
Before joining CUA, Prof. Torres worked in the financial services industry, first as a registered representative with Dean Witter Reynolds and then with Merrill Lynch, Pierce, Fenner & Smith, both in San Francisco, CA. He later served as Executive VP of Investments at the D/A Financial Group in Orinda, CA, and was Principle of Max Torres Co. in Walnut Creek, CA.
Dr. Torres holds a Ph.D. from the University of Navarra in Spain, and a J.D. from Harvard University, in addition to degrees from the University of California at Berkeley (B.S.) and City College of San Francisco (A.A.).