Career Coach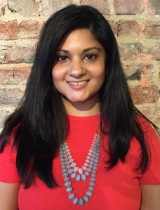 Seema Mishra is a specialist coach for consulting related careers and undergraduate students in communications and business related fields. She has a passion for building confidence and guiding students towards finding a successful career.
Seema has nine years of professional experience in strategic and management consulting. Her career began in operations at a management consulting firm where she was responsible for company-wide client communications and client service.

A majority of her career was spent managing the online research division at a global strategic consulting and market research firm where she focused on building operational efficiencies and increasing profit margins through performance analysis and skillful negotiation.
Seema holds a Bachelors of Arts in Art History and Fine Arts from the George Washington University. She is currently pursuing her MBA at the McDonough School of Business at Georgetown University.
"Finding meaningful work is among life's great pursuits. I work to help you find both employment and contentment by helping you to present your best self - your passions, your talents, and your experience - so that you are able to professionally contribute to the business community and solidify your place in the world."  – Seema Mishra
CUA School of Business students should schedule an appointment with Seema for guidance in the following areas:
General career clarification
Industry-specific clarification, for example: career options and entry-level positions in finance, business, or marketing
All Finance-track queries: investment banking, investment management, private equity, and buy-side versus sell side
All Consulting track queries: strategy consulting, tech consulting, federal consulting, big four firms versus small firms
Specialized resume, cover letter, LinkedIn preparation