The Busch School of Business is excited to launch the ELEVATE Program, a new initiative to support students professionally and financially. ELEVATE stands for Earn while you Learn: An Experiential and Virtuous Approach To business Education. The ELEVATE Program is an innovative approach to a cooperative education model that will solidify students' professional skill sets in partnership with employers and provide opportunities for meaningful, paid work experiences. 


Students who are accepted into the program will elevate the value of their business degrees by participating in 4, 8, or 12-month co-op experiences, full-time or part-time, with company partners. 
Application Information and Timeline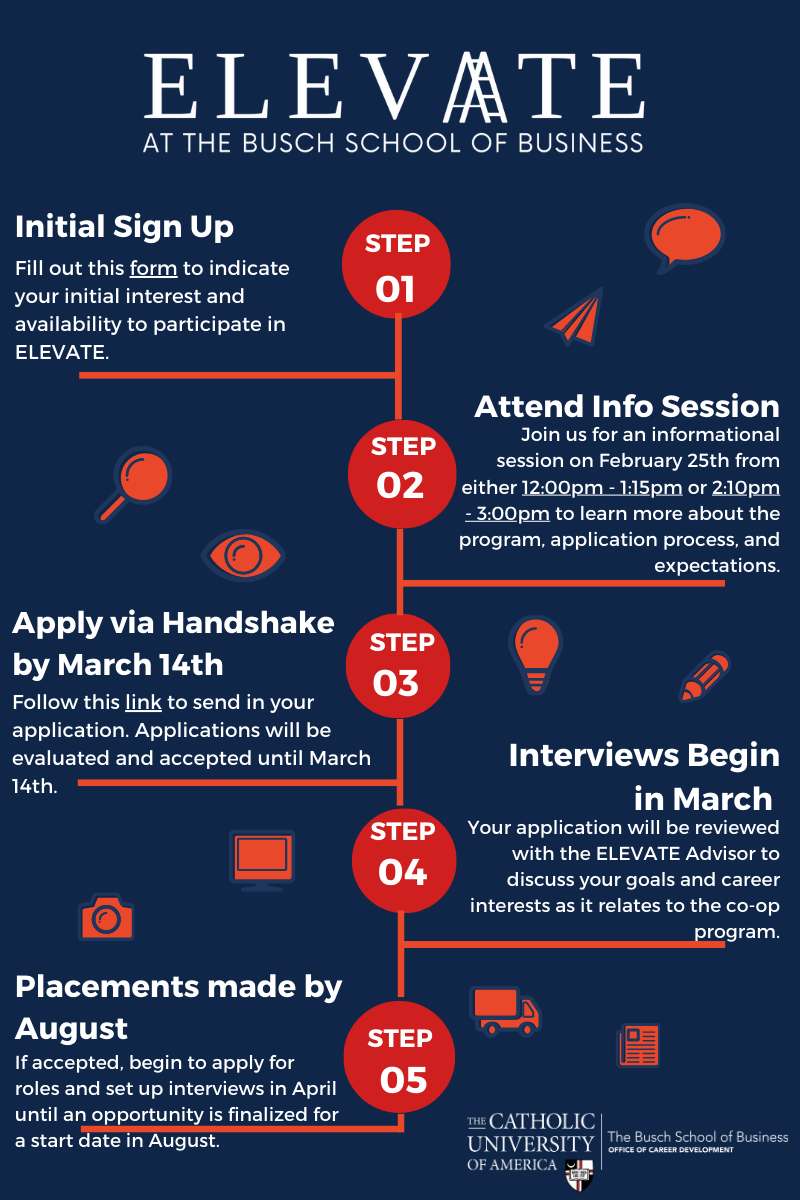 The program is defined by the following principles:
Earn

Earnings from the program (minimum wage or above) will help you subsidize the cost of your degree.

Experience

Through experiential learning, you will complement your studies and gain professional working experience above and beyond the typical internships in extended work contracts.

Learn

By carefully combining your coursework and work experiences, you will still be able to complete your degree in 4 years.

Grow

Your work experiences will focus on the current labor market's biggest needs, giving you a competitive advantage in the job market.
Applications are open for current second semester Sophomores only to participate in the launch of the program beginning August 2021. Applications will be accepted on a rolling basis beginning today. The application deadline is March 14th.
We have a resume template, that has been approved by our network of employers, as well as a cover letter template that explains how best to highlight your experiences and noteworthy achievements. 
Interest Form

If you are interested in learning more and applying to the ELEVATE program launching in Aug 2021, please fill out this short form. This is a statement of interest, not a binding commitment, and provides the co-op launch team information on how you may want to customize your experience.

Learn More

Employer Partner Information

We hope to work with you to establish a meaningful relationship with your organization that will positively impact the job ecosystem.

Learn More