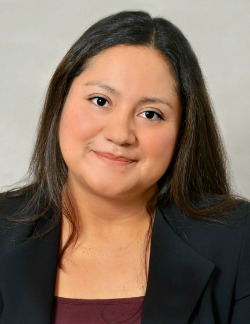 Academic Area
Economics
School
Busch School of Business and Economics
Expertise
Economics
International economics
Monetary economics
Languages
English, Spanish
Dr. Martha Cruz Zuniga is an associate professor of economics and is also the Director of Economics programs. She specializes in development economics, international economics and monetary economics with particular focus on migration, remittances, microfinance, poverty, education, and international transmission of shocks. She is especially interested in issues affecting developing countries.
Dr. Cruz Zuniga first joined The Catholic University of America faculty in 2006 as an Assistant Professor and taught Economic courses on both the undergraduate and graduate levels. From 2009 to 2011, she held the positions of General Manager at The Royal Flowers Group and Director of Finance and Administration at One World Telecom in Miami, FL. Dr. Cruz Zuniga returned to The Catholic University of America in 2012. She is currently involved in teaching at the undergraduate and graduate levels and in directing the Integral Economic Development masters programs. Dr. Cruz Zuniga has also held appointments at Western Michigan University and has previously worked in private companies in Ecuador.
One theme in her current research explores the effects of dollarization in developing economies. In addition, she also examines the effects of international monetary shocks in economic growth. Another theme of her current research is how integral economic development can be reached through development initiatives that include microfinance, health, education, capacity strengthening, and workers' training. Her work has been published in economic journals and includes research on remittances and international transmission.
Dr. Cruz Zuniga has presented her work in various economic conferences including the Southern Economics Conference, the Midwest Economics Conference, the Western Economic Association International, and the Federal Reserve of St. Louis-Missouri Economics Conference. She has also presented at the Commission on the Status of Women, a division of the United Nations in New York, and at the General Consultative Status of United Nations Economic and Social Council (ECOSOC) High-Level Political Forum.
Dr. Cruz Zuniga obtained her Ph.D. in Economics from Western Michigan University. She also holds a M.A. in Economics from Western Michigan University and a B.A. in Economics from The Pontifical Catholic University of Ecuador.
"If you are seriously interested in helping people everywhere to overcome poverty, corruption, lack of access to credit, and other critical problems…then Economic Development is your field and Catholic University is the place to be. We provide students with tools to explore solutions that, considering the person in a holistic manner, create a real opportunity for achieving sustainable development."