Featured Publications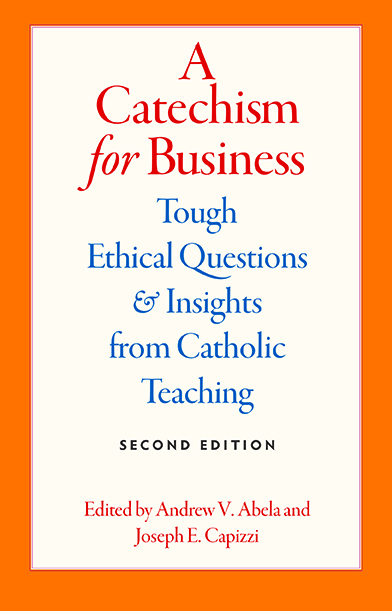 A Catechism for Business: Tough Ethical Questions and Insights from Catholic Teaching
Edited by Dr. Andrew V. Abela, Dr. Joseph Capizzi
Publisher: The Catholic University of America Press ISBN-13: 978-0813225852
Many managers who believe themselves to be religious are all too willing to "check their religion at the door" of their workplaces. They may simply be ignorant of the implications of their faith for their business practices. Catholic teaching on business and economics has been described (with intentional irony) as the Church's "best kept secret." | More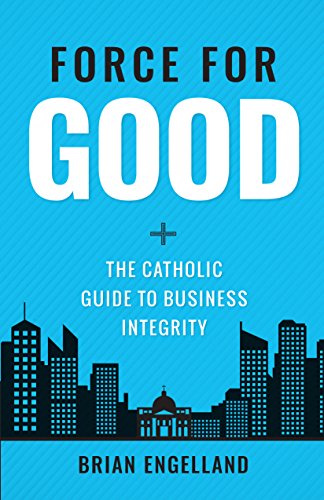 Force For Good: The Catholic Guide to Business Integrity by Dr. Brian Engelland
These pages show you how to infuse integrity into your business and why it is so essential to success. You will learn not only the responsibilities you have to your employees, to your customers, and to society in general but also why you must fulfill these responsibilities to remain competitive. In short, you'll learn how to do the right thing in business, and how to do it the right way.
From Force for Good you'll learn:
The one principal concern of business (Hint: it's not profit)
The particular virtues you must have to run a good business
What natural law is and how it applies to business
The 3 elements of business integrity
The 4 core principles of Catholic social doctrine that render even very competitive businesses humane
The 6 things you must consider when making ethical decisions
The 10 steps you must take now to develop integrity in your business
These helpful pages include, as well:
Scriptural support for Catholic Social Doctrines related to business
Dozens of quotes from papal encyclicals about business
Many real-life examples from real businesses, successful and not
Plus, much more to make you a better person and your business a better business!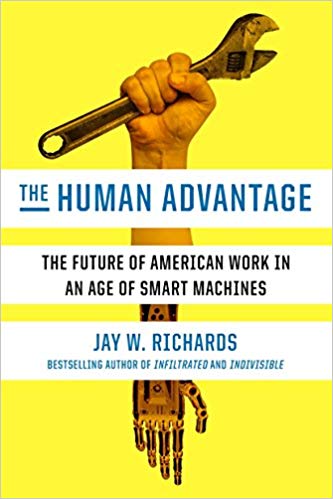 The Human Advantage: The Future of American Work in an Age of Smart Machines Authored by Dr. Jay Richards. 
ISBN-13: 978-0451496164
For two and a half centuries, America has been held together by the belief that if you work hard and conduct yourself responsibly in this country, you will be able to prosper and leave a better life for your children. But over the past decade, that idea has come into crisis. A recession, the mass outsourcing of stable jobs, and a coming wave of automation that will replace millions of blue- and white-collar jobs alike have left many people worried that the game is rigged and that our best days are behind us. 
     In this story-driven manifesto on the future of American work, Jay Richards argues that such thinking is counterproductive–making us more fragile, more dependent, and less equipped to succeed in a rapidly changing economy. If we're going to survive, we need a new model for how ordinary people can thrive in this age of mass disruption. Richards pulls back the curtain on what's really happening in our economy, dispatching myths about capitalism, greed, and upward mobility. And he tells the stories of how real individuals have begun to rebuild a culture of virtue, capitalizing on the skills that are most uniquely human: creativity, resilience, and empathy for the needs of others.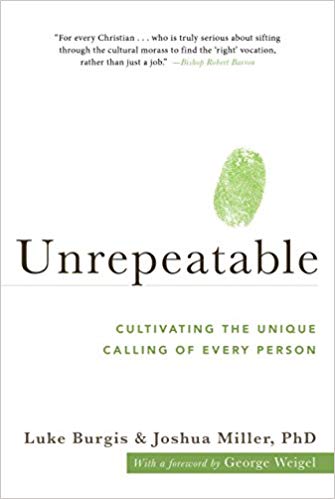 Unrepeatable: Cultivating the Unique Calling of Every Person By Luke Burgis
ISBN-13: 978-1947792678
What if we were able to gain profound insight into the unique design, creative drive, and potential destiny of the people in our lives? The bold promise of this book is that we can. This ability carries an awesome responsibility: We must all be mentors and midwives to the personal vocations of others. Unrepeatable is about the urgent need for each of us to cultivate the vocations of others and the steps we should take to do it well.  By smartly weaving evocative stories of those who have radically lived out their callings with practical tools for discernment and mentorship, Luke Burgis and Joshua Miller—who have a combined twenty-five years of experience helping people and organizations discover their purpose—turn staid perceptions of vocation on their head.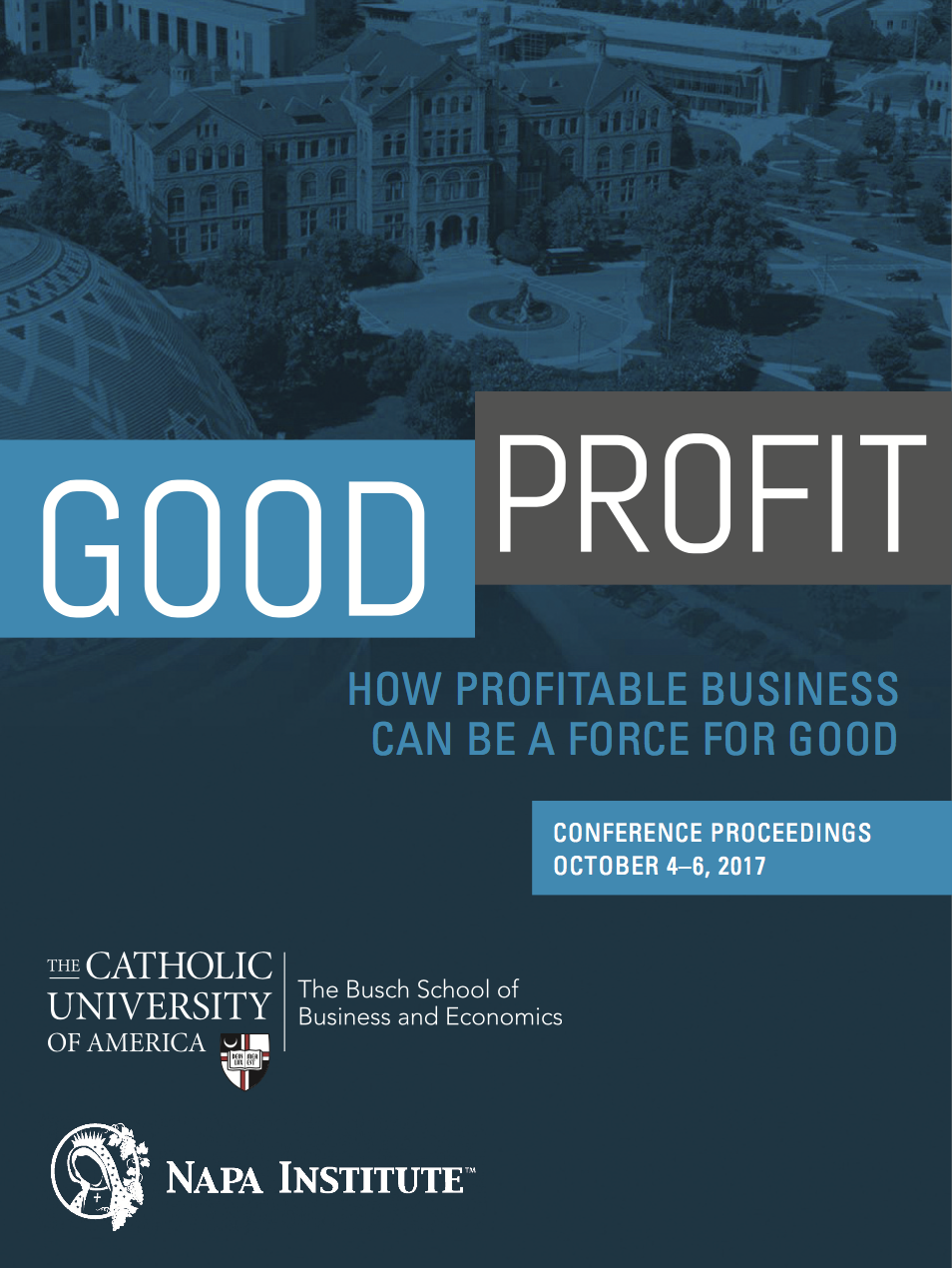 Good Profit: How Profitable Business Can be a Force for Good - Conference Proceedings Edited by Andreas Widmer,  Beatriz E. Lopez, Claire Keith
ISBN-13: 978-1986182614
This book presents the proceedings from the third conference co-sponsored by the Busch School of Business and the Napa Institute took place October 4-6, 2017, in Washington, D.C. Participants included a mix of several hundred business, Church, and academic leaders as well as students from Catholic University. 
The conference's theme, Good Profit: How Profitable Business Can be a Force for Good, explored the synergies between Charles Koch's personal business philosophy, Market-Based Management, with the principles of Catholic social doctrine and the lived experience of Catholic business leaders. Speakers and panelists explored three central questions: What is good profit? What is required for profit to be good? How is good profit to be achieved? | More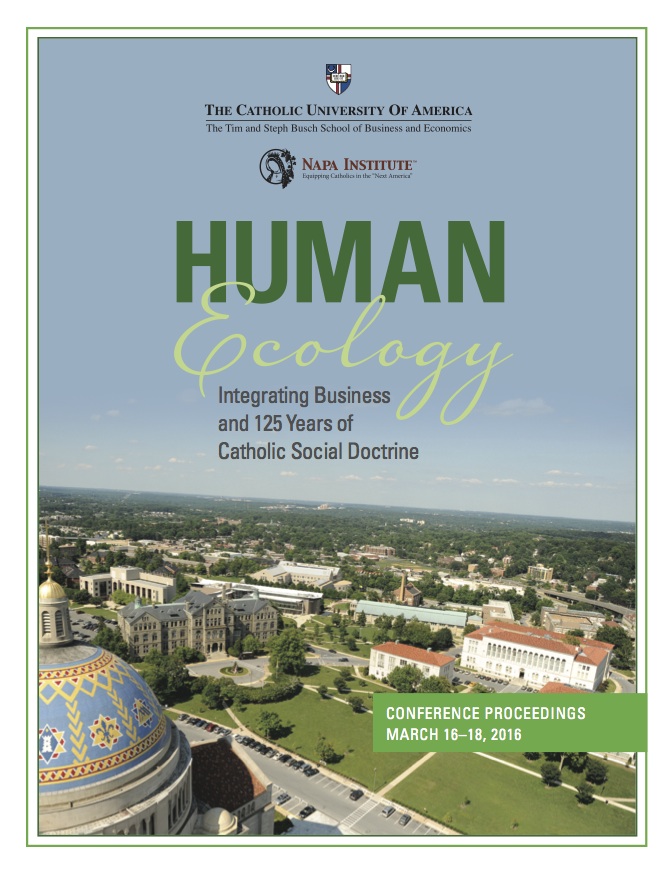 Human Ecology: 125 Years of Business and Catholic Social Doctrine - Conference Proceedings Edited by Andreas Widmer,  Beatriz E. Lopez
ISBN-13: 978-1532967689
Catholic teachings on the common good are comprehensive and universal. They communicate truths and principles which are relevant to every aspect of human flourishing. For the anniversaries of the great documents of Catholic social teaching Rerum Novarum, Centesimus Annus, and our newest addition to Catholic social teaching Laudato Si, we have convened a conference on Human Ecology that attempts to integrate and convey the wisdom of 125 years of the Catholic Church's social encyclicals and eternal teaching. | More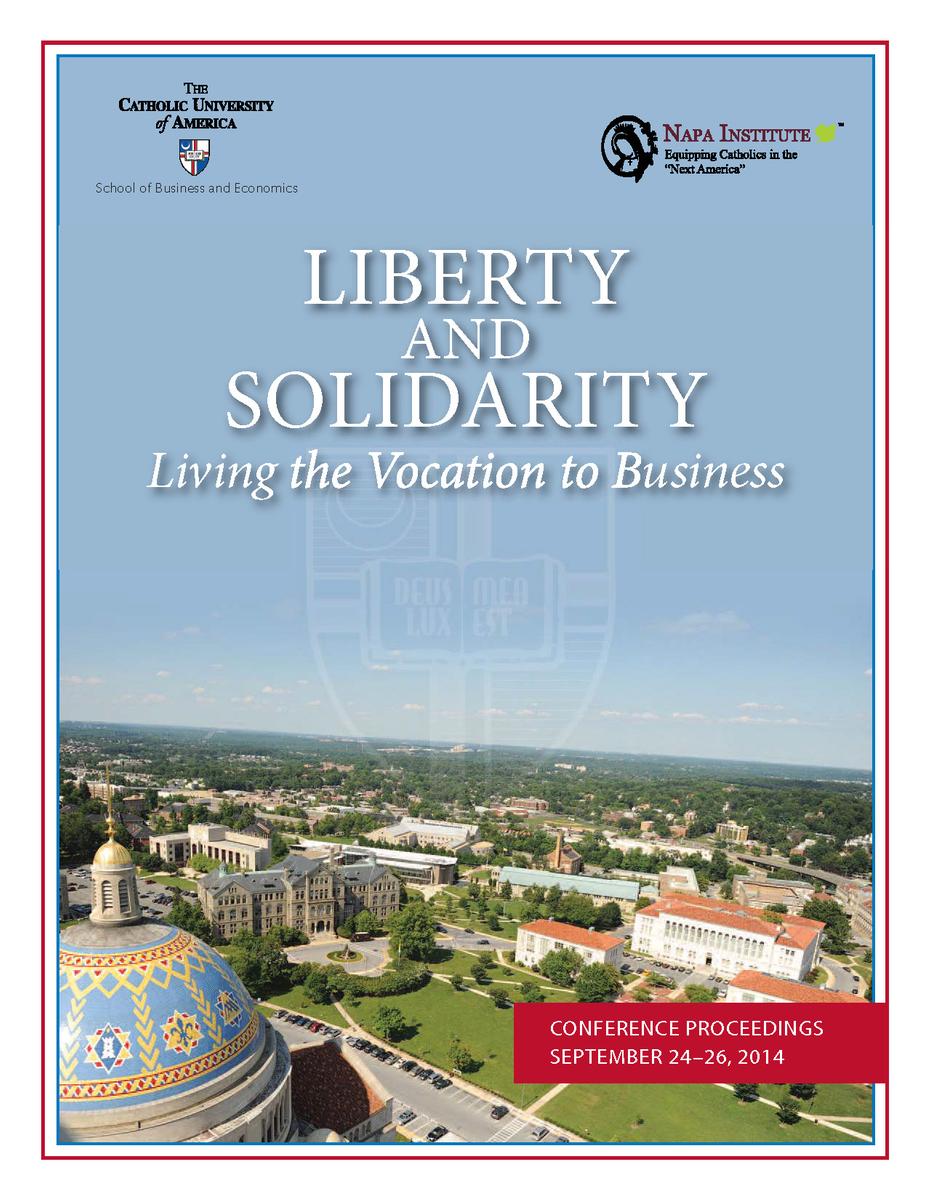 Liberty and Solidarity: Living the Vocation to Business: Conference Proceedings Edited by Dr. Andrew V. Abela,  Beatriz E. Lopez
ISBN-13: 978-1507546789
There appears to be a decline in confidence in the market economy as the engine of prosperity for all. A renewed focus on solidarity — love of others — in the marketplace could draw more people into the "circle of exchange" (Pope John Paul II, Centesimus Annus, 34), strengthen confidence in the market economy, and drive greater liberty and prosperity. | More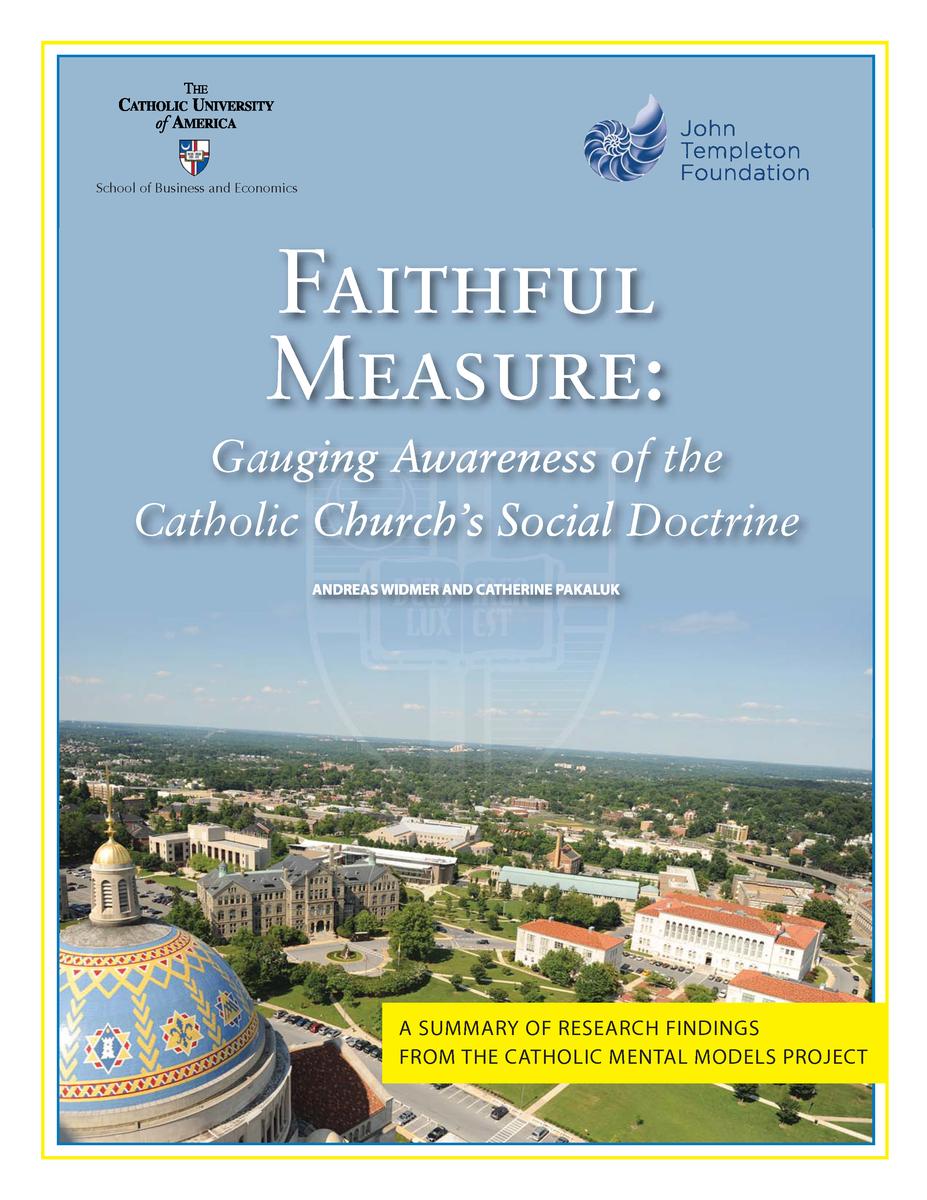 Faithful Measure: Gauging Awareness of the Catholic Church's Social Doctrine
Authored by Andreas Widmer, Catherine Pakaluk
ISBN-13: 978-1511820318
This study focused on providing insights to the Catholic Church on how well Catholics understand well-defined Catholic terms, and to know what the words she currently employs actually mean in the vocabulary of those who listen to her, and if that meaning does not overlap with the Church's definition of that word or term, what alternate term would do so. | More