Unrepeatable is about the urgent need for each of us to cultivate the vocations of others and the steps we should take to do it well.

By smartly weaving evocative stories of those who have radically lived out their callings with practical tools for discernment and mentorship, Luke Burgis and Joshua Miller—who have a combined twenty-five years of experience helping people and organizations discover their purpose—turn staid perceptions of vocation on their head.

Unrepeatable will equip you to:
Renew your church, school, community, or company by empowering every member to discover, embrace, and fully live out their unique calling
Confidently teach and mentor young people in critical skills of discernment and decision-making
Know and be known by others in a deeply personal way through a technique that unlocks and awakens the deepest desires of the heart
As we enter into the stories of others' lives, we enter into the story of God's love. There is no greater adventure. Unrepeatable invites you to be a part of it.
Read the full book, "Unrepeatable: Cultivating the Unique Calling of Every Person."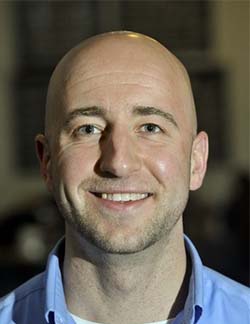 Luke Burgis is Entrepreneur-in-Residence at the Ciocca Center for Principled Entrepreneurship at The Catholic University of America in Washington, D.C. Luke is also the founder of two more startup companies that he led as C.E.O. to high growth and sustainability.
Luke is a recognized expert in mimetic theory and is writing a forthcoming book on the topic, Wanting: The Hidden World of Desire (St. Martin's Press, 2021). He has a B.S. from the Stern School of Business at New York University and an S.T.B. in Sacred Theology from the Pontifical University of the Holy Cross.