Dr. Engelland's recent research has explored how the application of Catholic values can improve both individual and organizational performance leading to better outcomes. His work entitled, "Team Building, Virtue, and Personal Flourishing in Organizations" guides firms in developing winning organizations. It was published as the introductory chapter in "Personal Flourishing in Organizations," published by Springer in 2018.
His book entitled "Force for Good: The Catholic Guide to Business Integrity" establishes guidelines for creating organizations that always do the right thing even under difficult circumstances. "Force for Good" was published by Sophia Press in 2017. His work entitled "Consumerism, Marketing and the Cardinal Virtues," provides guidance to both consumers and businesses on how to eliminate the harmful effects of trying to find happiness through purchasing created goods. This article was co-authored with his son Dr. Chad Engelland, a CUA graduate and now professor of philosophy at the University of Dallas. This work was published in 2016 in the Journal of Markets and Morality.
Read the full book, "Force For Good: The Catholic Guide to Business Integrity."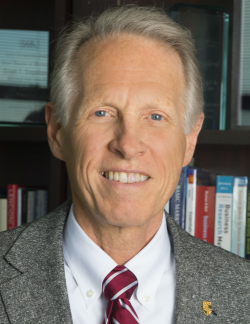 Dr. Brian Engelland is the Edward J. Pryzbyla Chair of Business and Economics and Ordinary Professor of Marketing. Dr. Engelland's research focuses on how marketing executives think, plan and evaluate in making decisions on how to market products and services. Naturally, this involves investigation into the personal ethics, virtue, and religiosity of the marketing decision-maker. He has authored over seventy refereed publications and six books, won multiple teaching awards and been named as a fellow of the Marketing Management Association.