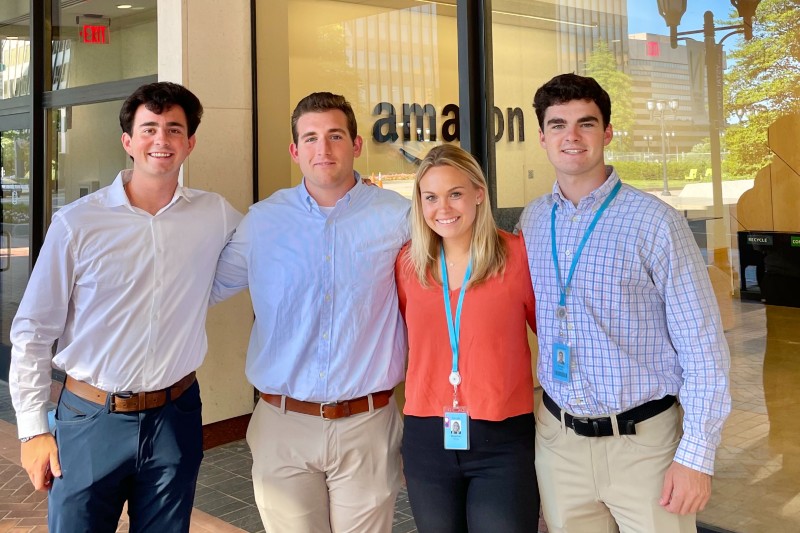 Brooke Falvey, Catholic '22, is a Marketing & Sales student from White Plains, NY. She's working as an AWS Sales Intern with Amazon Web Services.
When/how did you secure your internship?
"With the help of the sales program and my sales professors, Professor Weber and Professor Pin, I was able to learn about sales careers and how to be successful in a sales role. I utilized these skills in my interviews and received an offer letter last November." 
What got you interested in that type of role?
"I became interested in a tech sales role in my sales classes where we learned that sales is about building relationships with customers and working to best fulfill their needs. I look forward to collaborating with colleagues and having conversations with customers to help them meet their goals."
Are there any projects or aspects of the job that you have a special interest in?
"After training and completing various checkpoints to ensure that we are prepared, we have the opportunity to get on the phone with customers and become part of the sales cycle at AWS. I'm excited to jump on these calls and learn from my manager, mentor, team members, and fellow Amazonians." 
What advice do you have for students during their internship search?
"Connect with as many people as you can and really learn about the company you want to work for. Finding an internship is also about finding a company where you fit best. While in your role, frequently ask for feedback so that you have the best learning experience and are able to build the foundation for a great career."