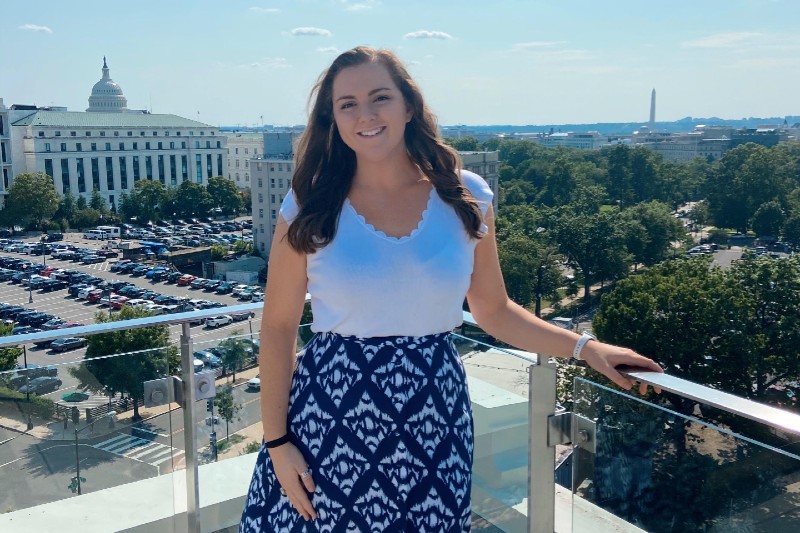 Raegan Lehman, Catholic '22, is a Public Policy and Business & Society student from Atlanta, GA. She's interning in the Truluck Center for Leadership Development with The Heritage Foundation.
When/how did you secure your internship?
"I applied in January and was notified in March that I was accepted into the program." 
What got you interested in that type of role?
"I have always supported the Heritage Foundation and it's mission so when the opportunity presented itself to join their internship program, I knew I had to do it. Heritage promotes principles based on free enterprise, limited government, and individual freedom so it has been an honor to assist with that work."
Are there any projects or aspects of the job that you have a special interest in?
"As an intern in the Phillip N. Truluck Center for Leadership Development at Heritage, I assisted with the recruitment, training, and promotion of conservative leaders. I love helping others develop new skills and reach their goals so the Truluck Center was a great fit for me. Projects that I worked on included assisting with the launch of our new strategic communications fellowship, corresponding with congressional offices, and conducting research on various topics." 
What advice do you have for students during their internship search?
"Find organizations that not only interest you but whose mission you also align with. Then research if they have an internship program or even additional trainings that you can get connected with. Time goes by fast so make the most of the semesters you have to intern. Internships often lead to job opportunities so it's important to look ahead to where you might want to be full-time when you graduate."