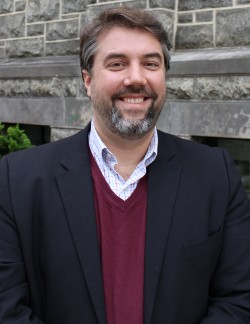 Academic Area
Strategy, Management, and Operations
School
Busch School of Business
Expertise
Co-Founder Teams
Entrepreneurial Social Networks
Product Development
Experiential Learning
Kevin May joined The Busch School of Business in 2021 as a Visiting Assistant Professor of Technology, Innovation & Strategic Management. He has over twenty years work experience in consulting, management, and technology entrepreneurship. He has consulted Fortune 100 firms such as Exelon Corporation as a product turnaround specialist, saving the organization millions of dollars while increasing user adoption. He has consulted high growth startups from concept through acquisition, helping ventures pilot ideas, gain acceptance to accelerators, and obtain funding through multiple rounds or exits. He has also founded or co-founded multiple technology ventures of his own.    
His research has been presented at major international conferences, has received a best conference paper award, and has been published in leading journals, including Technovation. At his prior institution, he received teaching awards for being ranked as a top faculty member and helped launch and grow new venture and pitch competitions from within the school of business to being campus-wide and ranked top 5 in the United States based on prize money. He has created novel curricula to engage students in entrepreneurial and innovative endeavors and is a certified online simulation instructor, having guided hundreds of students through a simulation-based business strategy capstone course.
He holds a B.B.A. in Information Technology and Operations Management from the College of William and Mary, an M.Sc. in Electronic Commerce from George Mason University, and a Ph.D. in Entrepreneurship and Management from the George Washington University.