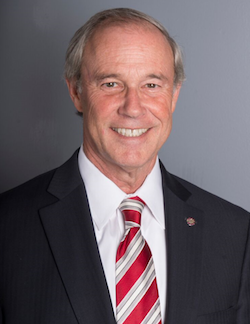 Academic Area
Marketing
School
Busch School of Business
Expertise
Brand Management
Marketing
International Management
Stewart McHie joined the CUA staff and faculty in January, 2010 to develop the new Masters of Science in Business Analysis program with the Dean of the School of Business and Economics, Dr. Andrew Abela. Stew joined CUA following a 34 year career with ExxonMobil.
During his career with ExxonMobil, Stew served in a variety of business analysis, strategic planning, and sales management positions in the United States, Australia and England. Following a series of overseas assignments, Mr. McHie returned to the US and led the effort to reposition the Exxon Brand in the United States. This initiative was later extended to all Esso Brands outside of the US. With the merger of Exxon and Mobil in 2000, Mr. McHie was named to his last position of Global Brand Manager where he led strategic development for Brand Positioning, Consumer Research, Communications, and Marketing Program execution for ExxonMobil's global fuels operations. 
Mr. McHie earned a bachelor degree in Business Administration from the University of Kentucky and lives in Fairfax, Virginia where he recently served on the Board of Directors of The Advertising Council and Fairfax County School System Marketing Advisory Board.
He has two daughters, Jessica and Megan. Jessica is the Manager of Business Development & Marketing at Tenet Partners, a Brand Innovation and Marketing Company in New York City. Megan is an early childhood Headstart teacher in Fairfax County, Virginia.
"As Program Director, I get to interact with our students from the initial phone call to the call that announces "I got the job"! I find this to be rewarding and energizing. I love being able to give back some of what I learned and experienced in 34 wonderful years at ExxonMobil."