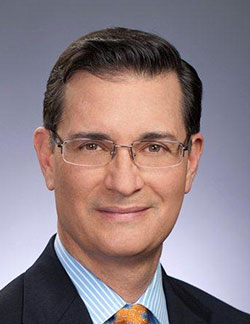 Academic Area
Marketing
School
Busch School of Business
Expertise
Sales and Sales Management
Marketing
Strategy and Organization Behavior
International Management
Peter Pin is a veteran Executive with over 30 years of experience in the telecommunications industry encompassing sales, engineering and business development.  Peter has worked in a variety of roles within the information technology space, covering markets across North America, South America and the Caribbean.  Most recently Peter served as Vice President for Verizon Enterprise Solutions in the Public Sector.  In this role, he led business development and sales activities in support of all  Civilian Agencies across the U.S. federal government and spanning a broad portfolio of services to include intelligent networking, cloud computing, mobile workforce, and cybersecurity solutions.
Over the course of a career that spans more than 30 years, Pin has successfully forged collaborative relationships with IT leaders from agencies large and small, and actively engaged with them to design and implement advanced solutions that met and exceeded mission objectives.
He has made significant contributions to major government programs and procurements, including the U.S. General Services Administration's Networx contract, the U.S. Department of Health and Human Services' Enterprise Voice and Data programs, The Department of Homeland Security and the U.S. Postal Services' Managed Network Services program.
Previously, Pin held roles of increasing responsibility in Business Development, Channel Management, Sales Engineering and Customer Support.
Pin began his career with Tymnet/MCI in 1988 and was responsible for international territory development and business case analysis for Latin American initiatives.  He managed direct sales to U.S.-based multinational accounts across the region.  He was also responsible for negotiating with international carriers for expansion of MCI's global data network infrastructure.
Pin mentors young professionals and veterans on navigating business challenges and reaching their career goals.  In addition, through ACP and FourBlock, he has assisted veterans as they transition to civilian life.   Pin earned his Masters Degree in International Management from The American Graduate School of International Management and holds a Bachelor's Degree in Management and Organizational Behavior from West Virginia University.  He currently teaches in the Business Schools of George Washington University  and Catholic University of America.  He resides in northern Virginia with his wife and four children.