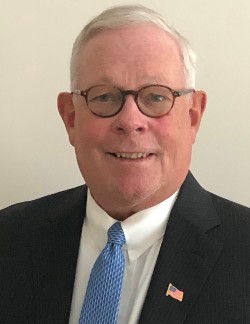 Academic Area
Strategy, Management, and Operations
School
Busch School of Business
Expertise
Executive Leadership
Strategic Planning
Operations Management
Business Law
As Associate Dean of The Busch School, Seegers is the Chief Operating Officer with responsibility for strategic planning, annual budgeting, personnel, procurement, capital spending, and facilities. He brings to this position a lifetime of practical leadership experience in venues ranging from foxholes and battleships to factories and boardrooms.
Dean Seegers is a decorated veteran of the U.S. Marine Corps, where he held significant responsibilities in the South Pacific, Capitol Hill, and the Pentagon. Later, he was the Chief Executive Officer of General Electric's Electronic Commerce Division, a $700 million business, with thousands of employees, operating in 40 countries around the world. He then joined The Home Depot as President of Home Depot Direct and founded www.homedepot.com. In the first year of operation, he grew the online business from nothing to over $100 million in sales. Just before joining the Busch School in 2014, Dean Seegers had his own Management Consulting practice and served as a trusted advisor to private equity portfolio Chief Executive Officers.
 
Today, in addition to his responsibilities as Associate Dean, Professor Seegers teaches undergraduates, graduates, and clergy from all around the world. He teaches courses in Strategic Planning, Executive Leadership, Operations Management, Quantitative Analysis, and Business Law. He is the 2018 recipient of The Busch School Teaching Award.
 
Dean Seegers holds a B.A. with distinction from the University of Virginia, an M.B.A from Harvard Business School, and a J.D. from Catholic University, where he was an Executive Editor of the Law Review. He is a past Chairman of the Board of Directors at the Stone Ridge School of the Sacred Heart. Currently, he serves as a Director of the Marine Corps Scholarship Foundation and as a Member of the Bar of the Supreme Court of the United States.


"Operational excellence should be a management passion. Businesses have a moral responsibility to deliver quality products and services that represent true value to customers. This does not happen by accident. It requires intelligent methods and disciplined processes to be followed throughout the enterprise each and every day."– Harvey Seegers