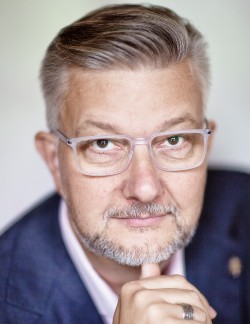 Academic Area
Entrepreneurship
School
Busch School of Business
Expertise
Entrepreneurship
Start-up advisory
Investments
Economic development
Business ethics
Business leadership
Integration of faith and work
Principled Entrepreneurship
Enterprise Solutions to Poverty
Languages
English, German, Italian, French
Andreas E. Widmer is an Associate Professor of Entrepreneurship and the director of the Art & Carlyse Ciocca Center for Principled Entrepreneurship at The Catholic University of America's Busch School of Business.

Previously he co-founded The SEVEN Fund, a philanthropic organization promoting enterprise solutions to poverty. Widmer is a seasoned business executive with experience in high-tech, international business strategy, consulting and economic development. He served as CEO of the business strategy firm OTF Group (formerly part of the Monitor Group) and helped lead web content management pioneer Eprise Corporation, speech recognition pioneer Dragon Systems, and internet pioneer FTP Software. He has worked extensively in the United States, Europe, Asia, Africa and Latin America, has brought more than 100 leading-edge technology products to market, and was an executive in residence at Highland Capital Partners.

Andreas is the author of The Pope & The CEO: Pope Saint John Paul II's Lessons to a Young Swiss Guard, a book exploring leadership lessons that Widmer learned serving as a Swiss Guard protecting Pope John Paul II and refined during his career as a successful business executive.

An author on the connection between entrepreneurship, economic development and spirituality, Andreas contributed two chapters to the book In the River They Swim: Essays from Around the World on Enterprise Solutions to Poverty. A chapter entitled "Ministering to the Pioneers of Prosperity" was recently published in Springer's Ethical Economy series book Free Markets and the Culture of Common Good. He has authored articles and been featured in various business and general interest media including The Financial Times, CNN, NPR, ABC, Wall Street Journal Live, Huffington Post, Fortune, The Washington Times, Boston Globe, Bloomberg News, FastCompany, SiriusXM, Vatican Radio, EWTN, Al Jazeera, First Things and many more.

Andreas is an advisor to the Zermatt Summit, an annual business leadership event that strives to humanize globalization. He also serves as an advisor to Transforming Business, a research and development project at the University of Cambridge, UK. He is on the board of directors at the New Paradigm Research Fund, and Virtual Research Associates.

Widmer served as a Pontifical Swiss Guard from 1986-1988, protecting Pope John Paul II. He holds two business degrees from Switzerland, plus a B.S. in International Business from Merrimack College and an M.A. in Ministry from St. John's Seminary in Boston. A citizen of Switzerland and the United States, he speaks English, German, Italian and French. Andreas loves to spend time with his wife and son. He is an eternal student of fly-fishing, enjoys skiing, and is an avid reader.
"Entrepreneurship is an invitation to be creative, to participate in God's creative act. The human person is the only investment with the potential of infinite returns. Thus person-centered entrepreneurship is a most noble calling."