February 27, 2018
It was an unusually warm and intimate environment for an academic conference when friends, family, colleagues, and students filled Heritage Hall on February 21st for a day-long program honoring Michael Novak on the first anniversary of his death. The event was the inaugural meeting of the Novak Symposium, an annual conference that the Ciocca Center for Principled Entrepreneurship at The Catholic University of America will be sponsoring in order to promote continued discussion of issues and themes that Novak opened up for further study and conversation.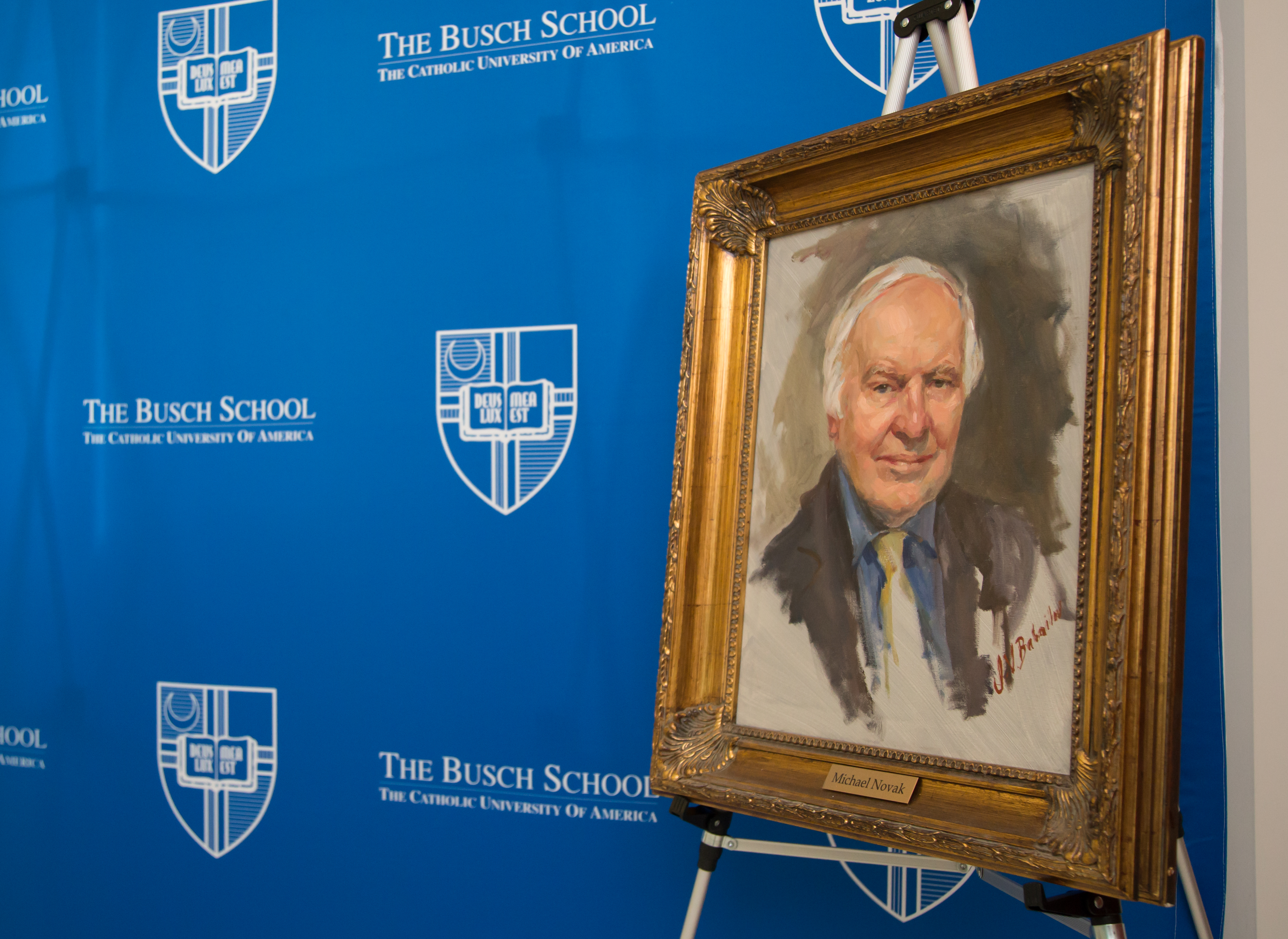 Dr. Jay Richards of the Busch School led off the morning presentations by discussing Novak's influence on his own intellectual formation. A Presbyterian seminarian when he first encountered Novak's writing, Richards remarked that, writing from a theological perspective, Novak offered new ways of thinking about economics that ran counter to the suspicions of capitalism and the liberation theology that was in vogue in American academic circles in the 1980s.
"An important feature of Novak's work," Richards commented, "which set him apart from so many commentators and social philosophers is that he took the time to study economic history and the empirical findings of economics itself, and to integrate those into his broader Catholic view of the individual and society. Again and again, this paid dividends."
"With liberation theology," Richards continued, "he didn't just argue that it was theologically deficient. He argued that it was tied to dependency theory, a claim that the south was poor because the north was rich. But in in the 1960s and 70s, there was hardly any economic interaction between North and South America. The theory was simply false – as one of its key theorists later acknowledged." At the conclusion of his remarks, Richards offered the audience a working draft of a project he is working on that is inspired by Novak: the compilation of a list of specific truths, assumptions, and insights generally held by economists as a starting point from which to build. "What do we all agree on?"
Fr. Robert Sirico, co-founder and president of the Acton Institute in Grand Rapids, Michigan, also spoke warmly of Novak's influence on his own career. Sirico recalled especially the lessons of probing and respectful discourse he learned as a young seminarian while a guest at what he referred to as the "Salon Novak," a series of dinners that Michael and Karen Novak hosted at their home. Guests at these dinners included such luminaries as Irving and Bea Kristol, Bill Bennett, Jack Kemp, Charles Krauthammer, and Clare Boothe Luce.
The conference also featured two panels, one of Catholic University colleagues and another of former students of Novak, as well as remarks from siblings Mary Ann Novak and Ben Novak. During lunch, attendees had the opportunity to view the episode of the EWTN series "A Force for Good" featuring Novak's life and work. The day concluded with Mass in the Crypt church of the Basilica of the National Shrine of the Immaculate Conception and a cocktail reception in Heritage Hall. At the reception, Catholic University president John Garvey announced that the Novak legacy at the university will continue in a special way, as the final bequest of Novak's estate will establish a significant endowment in memory of Michael and Karen. The details of this gift are still being finalized, but the endowment will support work in the fields of the Catholic arts as well as business, economics, and political economy. 
Michael Novak was an author and theologian whose life was a story of religious scholarship, social commentary, and intellectual independence. On issues as diverse as capitalism versus socialism, human rights, faith, labor union history, sports, ethnicity, peace, liberty and justice, the American presidency, families, welfare reform, television, and the role of the churches in a pluralistic world, Novak provided critical and literate debate in his books, syndicated columns, and innumerable lectures, articles, and commentaries.
For more than thirty years Novak was a resident scholar at the American Enterprise Institute in Washington, DC, and he was on three occasions appointed U.S. ambassador under Ronald Reagan. He received twenty-seven honorary degrees, the Friend of Freedom Award from the Coalition for a Democratic Majority, the George Washington Honor Medal from the Freedom Foundation, and the Ellis Island Medal of Honor, among numerous other awards. His selection as recipient of the 1994 Templeton Prize for Progress in Religion capped a career of leadership in theological and philosophical discourse.
Over the course of his career, Novak taught at Harvard, Stanford, SUNY Old Westbury, Syracuse, Notre Dame, and Ave Maria University. His final teaching appointment was in the Busch School of Business and Economics at The Catholic University of America, in the 2016-2017 academic year.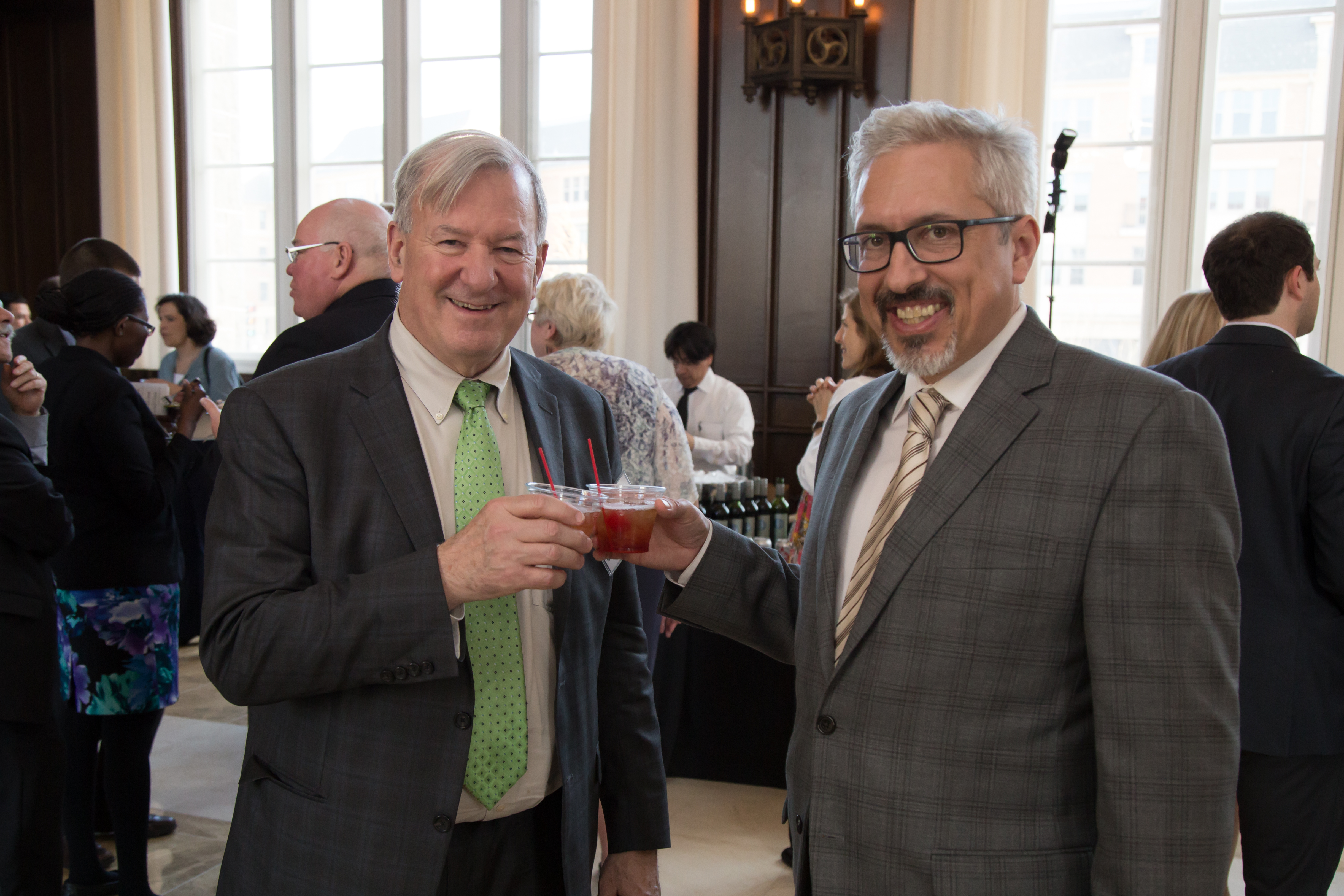 Deans Bill Bowman
 (Busch School) and Aaron Dominguez (Arts & Sciences) share a toast at the reception.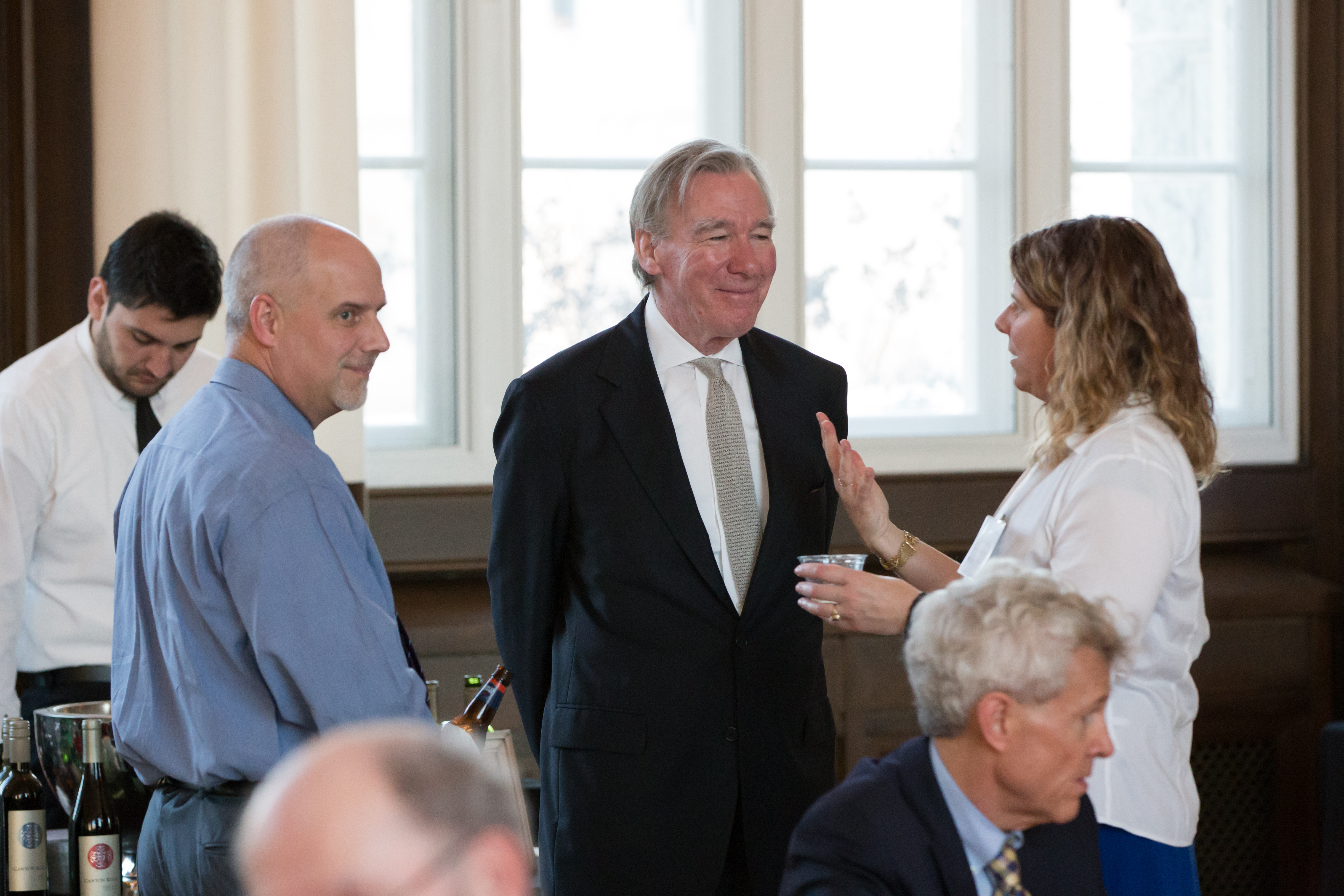 President Garvey with Michael Novak's children, Richard and Jana.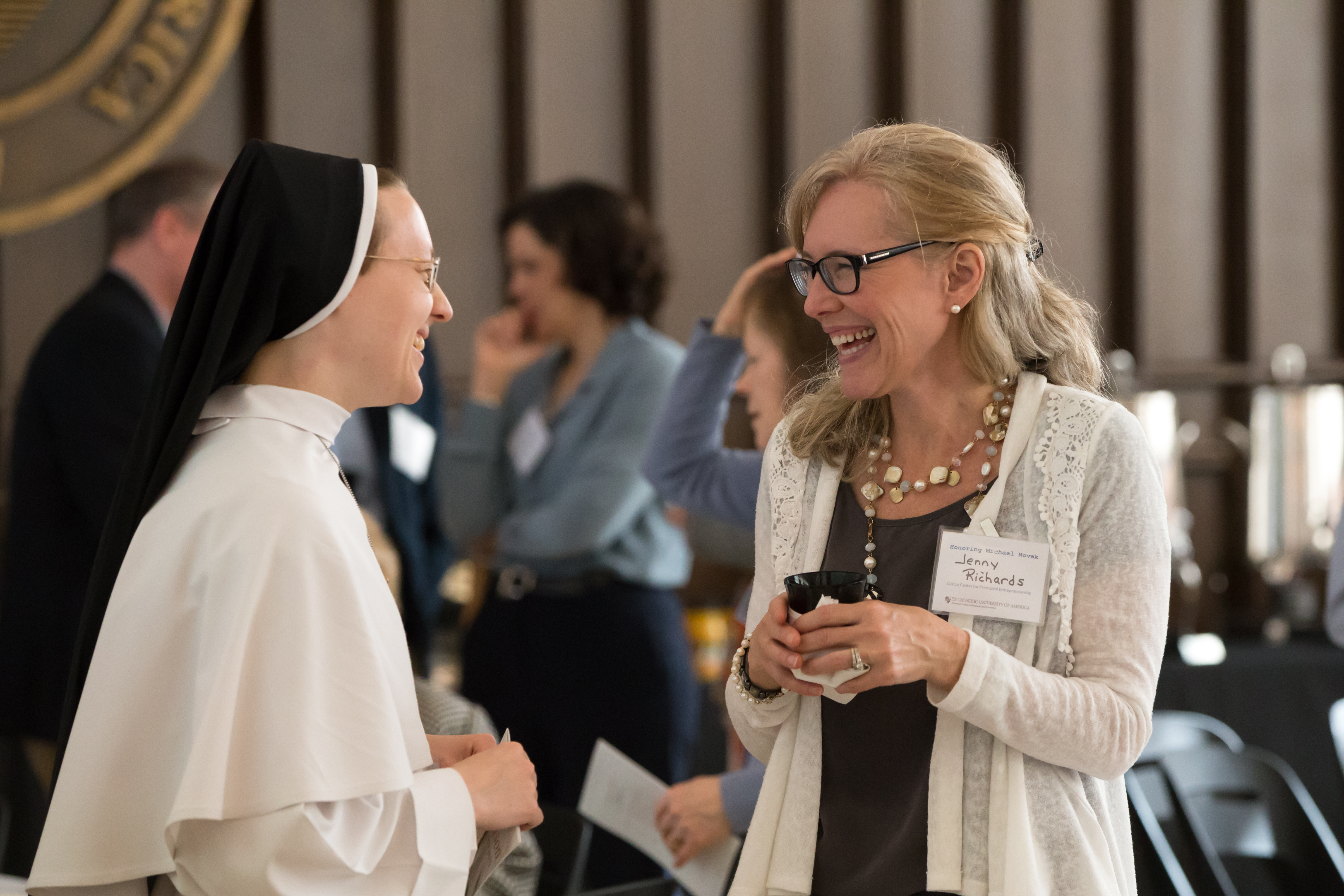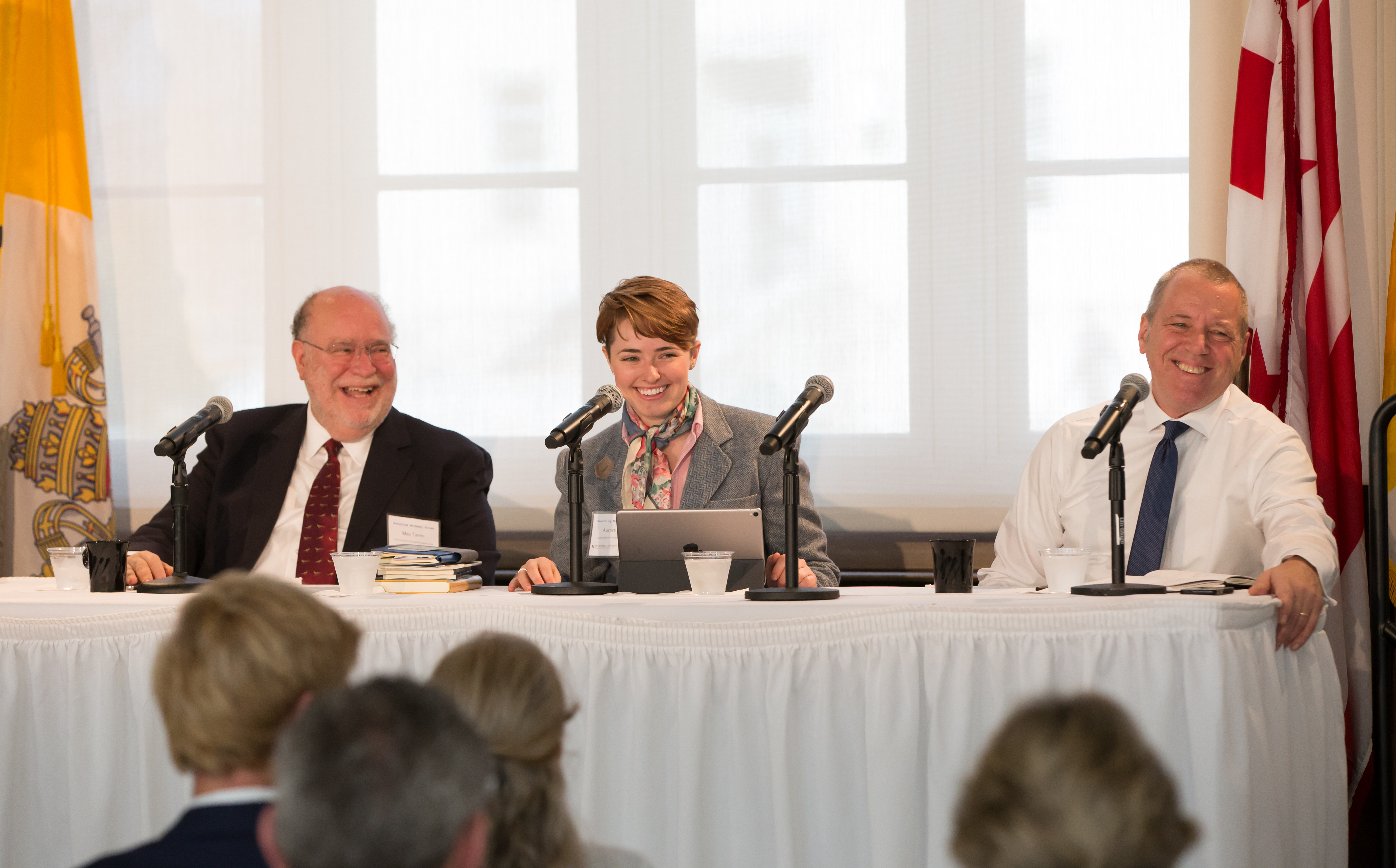 The colleagues panel: Professor Max Torres, Aurora Griffin,

 and Michael Pakaluk

 spoke on

 what they learned from

 Michael Novak

--and how he made them laugh.