September 10, 2018
At 23 I quit my job and founded a start-up that quickly earned a multi-million dollar valuation. Business Week named me a "Top 25 Entrepreneur Under 25". And within two years, I filed for bankruptcy.  
In order not to lose my beloved car—the last symbol of my success—I took a part-time job as a cabana host at a Las Vegas pool. One morning while I was cleaning the residue leftover from one of the late night parties, the former warehouse manager in my company walked by the cabana. I dove head-first behind the couch.
Geoffrey Owens, an actor who once had a recurring role on The Cosby Show, had no such embarrassment about working at a Trader Joe's in Clifton, New Jersey. He recently resigned due to all of the media attention he received after a customer recognized him and snapped a photo that went viral online.
Mr. Owens said that when he first saw the pictures on social media, he was devastated—not by his job, but by the mockery. It wasn't long, though, before an overwhelming show of support began to swell. Celebrities shared their own work experiences; Nicki Minaj offered $25,000 to help him out; and award-winning filmmaker Tyler Perry invited him to play a role in his new television show.
"This business of me being the Cosby guy who got shamed for working at Trader Joe's, that's going to pass," Mr. Owens said on Good Morning America, proudly wearing his Trader Joe's nametag. "I hope what doesn't pass is this idea that people are now thinking about—what it means to work."
The story about Geoffrey Owens broke five days before Labor Day in the United States, a day on which we are supposed to honor the contributions that American workers have made to the country. But the public's amusement over an actor working at Trader Joe's betrays a serious misunderstanding about the true value of labor and where it comes from.
Mr. Owens understands that the inherent dignity of work stems not from how much it pays or what it produces or how much it is valued by society but from what it means to work, which is grounded in the dignity of the human person. He said he hopes that we "reevaluate that whole idea and we start honoring the dignity of work and the dignity of the working person."
So what does it mean to work? What is the "dignity of work," and what is it founded on? To answer the question, we must look to the rich spiritual wisdom that shaped the Western world. If our society has lost sight of the meaning of work, it's because it has lost sight of the spiritual foundations on which it rests.
In Judeo-Christian tradition, the dignity of work is rooted in the human person, created in the image and likeness of God and therefore a co-creator with him in things big and small. The human person has a vocation—unique among all creatures—to work.
Work is not a necessary evil or a punishment for sin; it's a gift. We alone can freely choose to participate in the act of creation itself, bringing new realities—good and bad—into existence. Man, in the words of Antoine de Saint-Exupéry, freely chooses to act in such a way so as to bring new value to the world: "A rock pile ceases to be a rock pile the moment a single man contemplates it, bearing within him the image of a cathedral."
And a Trader Joe's shopper ceases to be merely a customer the moment a single worker contemplates her, bearing within him the immense dignity of his work in serving her.
Three dimensions of work arise from this dignity.
First, work has an objective dimension. We can catch fish or lay bricks or legislate laws. In doing any of these things we affect change in the world. But the real object of our work is never just fish, buildings, or laws; it's the people who eat them, live in them, and live by them.
Second, work has a subjective dimension. Work has value not only because of what it produces—the objective dimension—but who it is that works: a human subject, who engages in work with her whole self. She brings her freedom, spirit, and moral choices to bear on her work.  
This is why two men working side by side in a grocery store can become very different people though their work—even though, from the outside, they appear to be doing the same thing. One may become bitter and resentful while the other grows in virtue and holiness.
In fact, they weren't doing the same thing. One was stocking the shelves. The other was stocking the shelves with love—the measure of all things spiritual.
The third dimension of work is the spiritual. This is the vertical axis of work, the means by which we sanctify the part of the world that has been entrusted to us. In the words of Saint John Paul II: "Through work we not only transform nature, adapting it to our needs, but we also achieve fulfillment as human beings, and indeed, in a sense, become more." Through work, man doesn't just make more; he becomes more.
Our society has lost sight of the subjective and spiritual dimensions of work. This is why social media lit up with amusement when the story broke that Geoffrey Owens was working at a Trader Joe's. People evaluated his work from the outside, using their own standards and biases about how much it pays, how much it produces, or its reputation in our culture.  
Geoffrey Owns understands work from the inside. He speaks about work like a man who has truly experienced it in all three of its dimensions, and this has allowed him to grasp its meaning and dignity in all circumstances. The dignity of his work is grounded in something that can never be taken away from him: his dignity as a child of God, created in his image and likeness. That image and likeness shines forth whether he is on the set of a new television show or bagging groceries at a Trader Joe's on a busy Saturday afternoon.  
On October 3-5, the Napa Institute, in partnership with the Busch School of Business at The Catholic University of America, will be holding a conference titled "The Dignity of Work" in Washington, D.C. We invite Mr. Owens to join us so that we can honor the dignity of work and help to bolster this critical message. For more information about the conference and to register to attend, please go here: http://napa-institute.org/
While I'm saddened that the media attention led to his resignation from Trader Joe's, I'm hopeful that Mr. Owens has finally brought the attention to bear on something worthwhile: the dignity of work, and most importantly the dignity of every human person who is the beginning and end of all work.
By Luke Burgis, Entrepreneur-in-Residence, Ciocca Center for Principled Entrepreneurship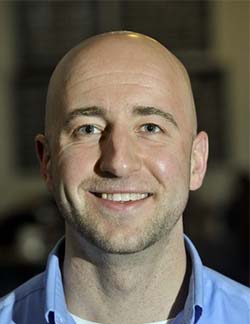 Related News