August 27, 2020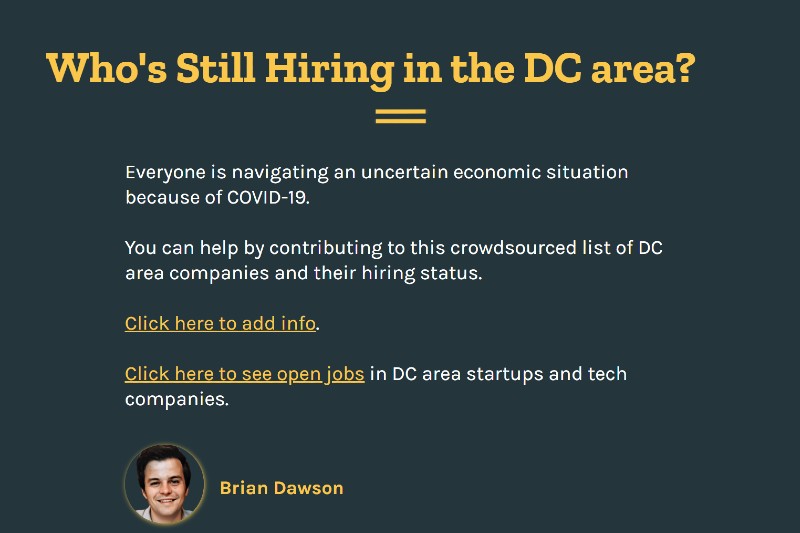 Brian Dawson, a 2016 Busch School graduate, runs DC Tech People, a community for people in the tech industry. When the pandemic hit, he created a crowdsourced list of DC area companies and their hiring status. See his feature on WUSA9 here. We reached out to Brian to learn more about his career path since graduation.
What have you been up to since you graduated? 
"After graduating in 2016, I worked for a recruiting and staffing agency for about 2 years. I left to pursue a business of my own, District Flight Deals, which helps people in the DC area find cheap flights. In the Spring of 2020, I launched DC Tech People, a community site with a job board, a list of companies who are hiring, and interviews with tech people in the DC area."
How did you get the idea for DC Tech People?

"When I started District Flight Deals, I didn't know many other internet or tech entrepreneurs in the DC area. That made figuring out everything related to starting, building, and growing an online business slower and more difficult. Over time, I got to know some people in similar positions to myself, and it was really helpful to be able to talk to them.
I saw an opportunity to build something that would serve as a resource for anyone in tech in the DC area, and decided to start building an audience by interviewing people who had accomplished great things in their careers. When COVID-19 hit, I saw lots of people getting laid off, and realized I could build a job board and a list of companies that are hiring to help."
Can you tell us about your other venture, District Flight Deals?

"After graduating, there were lots of weddings to travel to, so I found myself constantly looking at flights. I was in to travel hacking, and realized I had become good at finding good deals. I subscribed to a couple email lists that sent out cheap flight deals, but was annoyed that I would get emails that didn't even have flights departing from DC area airports. So, as an experiment, I started an email list of my own, on which I'd send out flights only from the DC area. It grew organically and kept going from there. Until COVID hit, of course. I'm currently in the process of evaluating how I'll go forward with District Flight Deals as COVID progresses.
District Flight Deals helps people in the area find cheap flights. There are 5,000+ subscribers on our email list, and throughout the week they get super cheap flights to interesting places (think $319 roundtrip to Dublin, or $481 roundtrip to Hong Kong)."
What kind of freelance work do you do now?

"Before COVID, I was doing social media and email marketing freelancing. I've built lots of websites and marketing automations for my businesses, but am currently focusing on building DC Tech People. That said, I'd be happy to take some time to help a fellow CUA alum or student if they need help building a site or automation for their business."
How has your Busch School education prepared you for your career path?
"The most impactful thing the Busch School gave me was showing me that business could be a force for good. I still remember the class where I realized that I wanted to try entrepreneurship – Professor Widmer's "The Vocation of Business" class. He explained how entrepreneurship can be an act of co-creation, how it was something that anyone could do, and he gave us a project where we had to attempt to make money online. In that project, I made my first website, and about 20 cents, but it was enough to give me the bug. The accounting bootcamp class and my marketing major have helped as well.
But, the philosophy of the Busch School is the most important thing it gives to its students. Business, and especially entrepreneurship, isn't a hard skill. What matters is having the tools and mental models to figure out how to succeed in the particular circumstances that are given."
Related News