November 06, 2020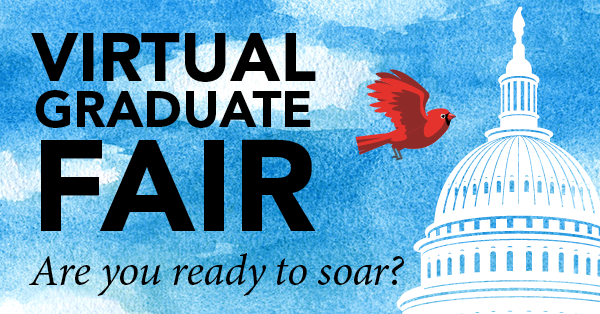 Catholic University's Office of Graduate Studies invites students to our Virtual Graduate Fair. Learn more about our 150 graduate degree programs!
Application fees waived for all attendees!
Friday, Nov. 20, 2020
3–4 p.m. via Zoom
RSVP here.


For questions and accommodations, contact Sykeem Lewis, Senior Graduate Recruiter, at lewissy@cua.edu. For more information about business school graduate programs, contact Bill Conlon at conlon@cua.edu.
Learn More about the Master of Science in Business
The Master of Science in Business degree is a 9-month Master's degree designed for recent liberal arts and STEM majors. 100% of our students have received desired job offers within 3-5 months of graduation and the average starting salary is $65,000. Learn More
Learn More about the Master of Science in Management
Different than an M.B.A., the M.S.M. degree focuses specifically on the discipline of management--enhancing your professional ability to manage organizational resources more effectively. The M.S.M. degree program combines a strong academic foundation with practical knowledge and skills in management taught by leading management educators.
Learn More.
Related News