April 15, 2021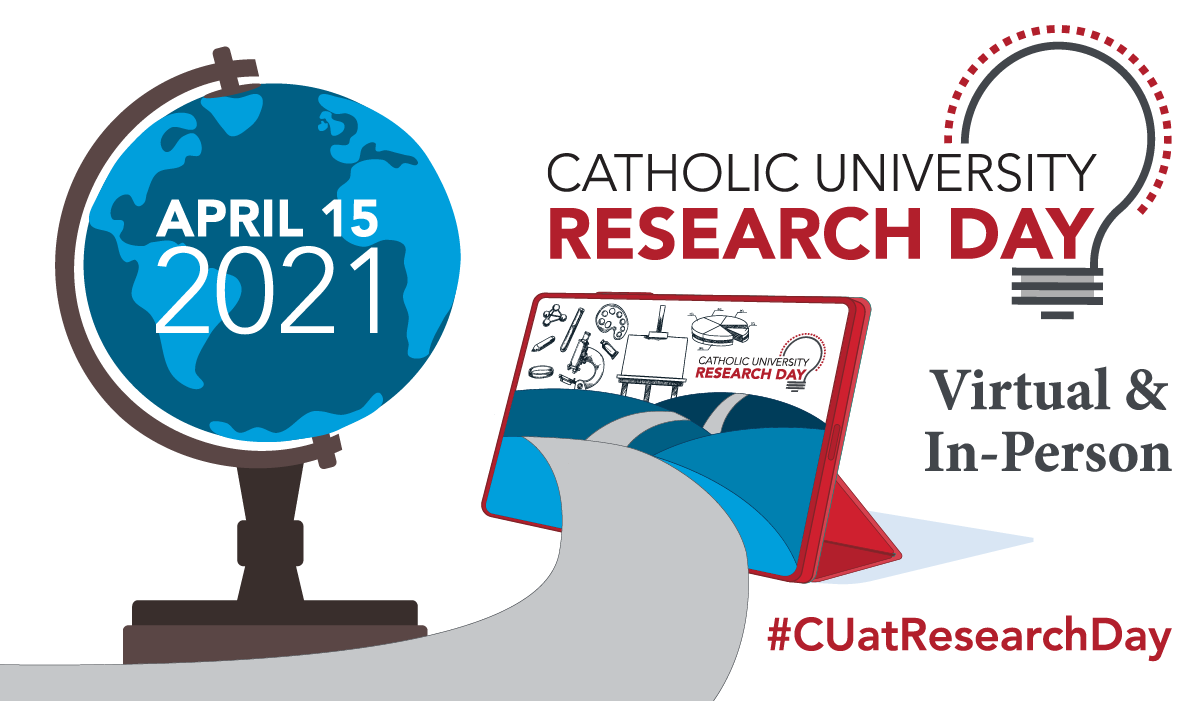 University Research Day (URD) at The Catholic University of America is a day when students, faculty, and staff come together to celebrate, share, and learn about the exciting research taking place at Catholic University. Over the past five years, URD has showcased the work of hundreds of students, faculty, and staff, including research on the economics of farmers in Ghana, evangelization in the New World, the effect of mindfulness in child development, and the automatic detection of concussions, among many others. The hallmarks of this research are its innovation, diversity, and global nature.
This year's sixth University Research Day was virtual, making it available anywhere in the world.
Several faculty and students from the Busch School of Business participated in University Research Day this year through oral and poster presentations. You can see their projects here:
Co-Creating More Bang For Your Buck: Understanding consumers' preference for do-it-yourself
Beatriz Bonetti

, The Busch School of Business (Marketing Area), Faculty

Collaborator: Mario Pandelaere (Virginia Tech)
A Transaction Costs Perspective on Digital Platform Business Models and Governance Structures
Robert Nugent,

 The Busch School of Business (SMO), Faculty

Advisor: Tony Cannizzaro
 Predicting Patterns in Stock Prices with an Algorithm
Daniel Svogun

, The Busch School of Business (Finance), Faculty
 Handbook of Catholic Social Teaching in Business and the Economy
Dr. 

Max Torres,

 The Busch School of Business (Strategy, Management & Operations), Faculty

Collaborator: Dr. Brian Engelland 
 Sustainable Initiatives at the Behavioral Level of the CUA Community
Sarah Diamond,

 The Busch School of Business (Master of Science in Business Program), Masters Student

Collaborators: Sydney Poindexter, Krisztina Nemeth, Mikyas Kisi and Victoria Schmotzer
 Cultural Diversity of Audit Committees and Firms' Financial Reporting Quality
Dr. 

Robert Felix

, The Busch School of Business (Accounting), Faculty

Collaborators: Mikhail Pevzner (University of Baltimore) and Mengxin Zhao (Securities and Exchange Commission)
 Brand Activism Case-based Research Study
Ally Fink,

 The Busch School of Business (Business), Undergraduate

Advisor: Dr. Andrew Abela
 The Power of the Purse: Finance in Opposition to Misinformation and Conspiracy Theories
Michael Juchem,

 The Busch School of Business, Undergraduate

Collaborator: Donald Michel
Advisor: Jack Yoest
 How did the Covid-19 Pandemic Affect the Market in Q3 and Q4 of 2020, and What does this Mean for 2021?
Michael McShea

, The Busch School of Business (Finance), Undergraduate

Collaborators: Kathryn Cusumano and R. Thomas Consoli 
Advisor: Jack Yoest
 Unboxing the Unboxing Effect: The New Shopping Experience
Chelsea Meyer

, The Busch School of Business (Marketing), Undergraduate

Advisor: Prof. Beatriz Bonetti
 Ever Present but Always Changing: The American Agricultural Ideal
Maureen Pierce

, The Busch School of Business (Finance), Undergraduate

Advisor:

 

 Dr. Kevin Rulo
 The Ramen Noodle Diet: Examining the Effects of COVID-19 on U.S. College Campus Food Insecurity
Mari Nicole Rosales

, The Busch School of Business (Strategy, Management, & Operations), Undergraduate

Advisor: Kara Feidelseit
Related News