July 30, 2021
Professor Bob Nugent is a retired U.S. Navy officer who served in intelligence, operations and acquisitions. He teaches Strategy, Management and Operations at the Busch School of Business. His editorial was featured in The Hill.
"The U.S. military system for acquiring spare parts and ordnance could be as fragile today as health care supply chains were two years ago, when conventional wisdom declared them to be sound and resilient. As with medical supplies and equipment, our defense supply chain is centered on a commercial model of rapid turnover inventory management and cost minimization. The result is that the nation's military logistics supply chain is unable to quickly and effectively respond to a significant spike in demand for weapons and spare parts in the event of an immediate national crisis with a near-peer competitor."
Read the full article, "The Military Supply Chain Is National Infrastructure — And It Needs Attention."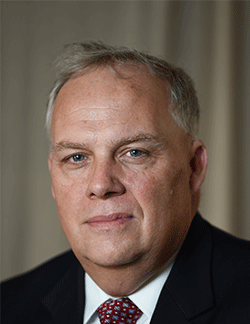 Bob Nugent joined the Busch School in 2018 as a Scholar-Practitioner Fellow and Research Assistant. He is also a Ph.D. Candidate in Management at Virginia Tech's Pamplin School of Business, with research interests in the Defense Industrial Base, advanced technologies, organizations, and strategy.  He continues to consult on strategy, competitive and management issues with several specialty firms serving a global client base in the defense and security sectors.
He spent 22 years as a U.S. naval officer in intelligence, operations, diplomatic and acquisition assignments.  This included duty as a Foreign Area Officer and Assistant Naval Attache in Moscow, and billets in Japan, Korea, the U.K., and Hawaii.  He served in operational aviation and amphibious squadrons, and on the staff of the Navy Acquisition Executive in the Pentagon.
Related News