October 25, 2021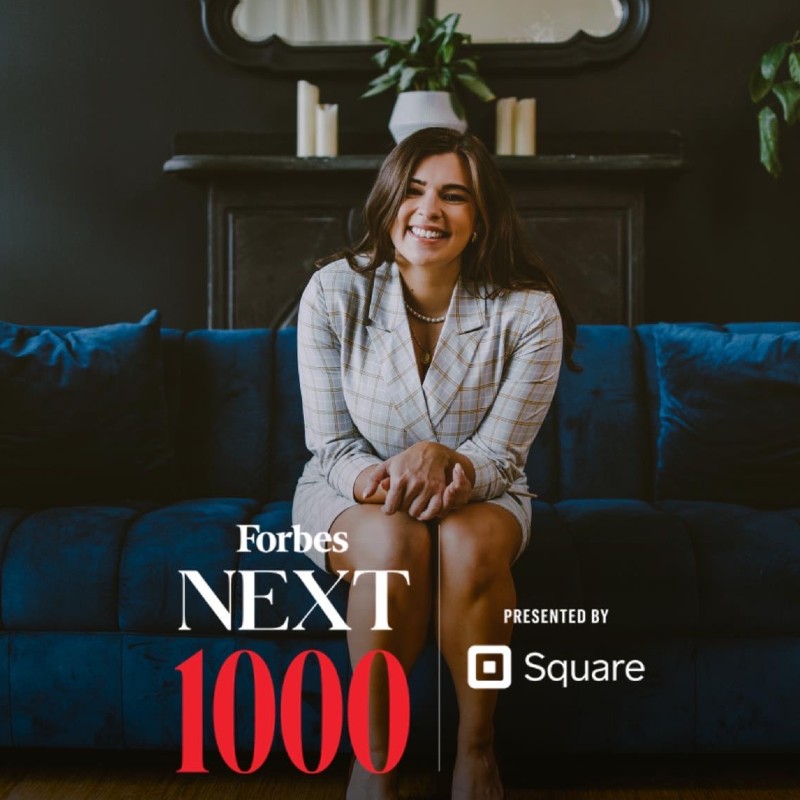 Claire Conway, Catholic '18, was featured on Forbes Next 1000, designed to feature the "Upstart Entrepreneurs Redefining the American Dream." Claire is the chief operating officer of RINGLET, a full-service marketing, design and brand management agency that works with small women-led businesses. Conway became co-owner of the business in 2018. The company has around 15 to 20 clients per quarter and revenue for 2020 totaled $250,000. Read Claire's profile.
We reached out to Claire to hear about her experiences in the business world, and to see how her time at the Busch School and Catholic University helped prepare her for her career as an entrepreneur:
Can you tell us about the work you do at RINGLET?
"I'm the COO and Co-Owner of RINGLET. Currently, according to American Express, only 5% of women-owned businesses are making over $100,000 and only 2% are making over $1 million. Driven by data and inspired by the impact women make when they believe in themselves and have the support they need, I joined RINGLET in 2018 to improve those numbers. I specialize in small business development and scaling revenue through marketing, creating processes that have increased sales by 275%, pricing models that increased revenue for clients by 150%, and marketing strategies that create roadmaps and metrics for success. I was recently featured in Forbes as a Forbes Next 1000, The Upstart of Entrepreneurs Redefining the American Dream.
I work in four main areas; operations and strategy for RINGLET, developing strategy for scaling small businesses with the goal of hitting their first 6-figure revenue year, coaching and strategy for small businesses making over $250k who have the goal of making over $1mil in revenue, and managing the marketing strategy and development for businesses making up to $10mil in annual revenue."
How did you get interested in this type of work?
"I first became interested in this work when I watched my hometown, Phoenixville PA, develop and grow its small businesses on the main street. Through high school, I worked at some of those small businesses and started my own. Having watched my town transform when it started supporting small businesses over big chains, I became passionate about them. In college, I started learning how to support startups and small businesses and help them grow through improved business strategy, marketing, pricing models, and financial planning."
How has your career evolved since you were first hired to work with Elise Crawford, founder of RINGLET?
"My career has evolved QUICKLY since I was first hired in 2018. This is something that Professor Bob Keith prepared me for in my senior year at Catholic University when I decided I wanted my first job to be with a start-up. I started as a contractor with around 5 hours per week, within a year I was full-time with percentage ownership in the company. 3 years later, I am the COO and Co-Owner of RINGLET which is now investor-backed. My best advice for people looking to work in start-ups is to stay agile, learn new skills weekly, and be clear about your dedication to the mission and how you want to be a part of achieving it. 
What new projects is RINGLET working on?
"RINGLET recently launched RINGLET Resources and Coaching where Elise and I work one-on-one with entrepreneurs and business leaders to help them create strategic growth plans and walk alongside them as they build their business for success."
How did the Busch School and Catholic University help prepare you for your career?
"During my time at the Busch School, I was given the opportunity to work in the Small Business Growth Lab with Professor Bob Keith through the Ciocca Center for Principled Entrepreneurship. This experience is how I learned the skills I needed for my career.  I also had opportunities to work within the business school that taught me to work hard, carve out spaces for myself, and push for what I needed. In the classroom, I was able to connect with my classmates and professors because of the small class sizes, which allowed me to make meaningful connections that have scaled my career."
What advice do you have for women in business?
"My advice for women in business would be to not change yourself to fit in an industry that you don't feel was built for you. Instead use your intelligence, experience, and skills to transform the industry to better serve you, its customers, and all the people that will come after you. Make room for others, and when you have successes make sure you look around and see who else you can bring up with you.
My second piece of advice is to talk about money, start financial planning now, and ask questions.
My last piece of advice is to not allow your successes to be gendered, don't stand for the "girlboss" mentality, it's belittling and shallow and doesn't treat women with the equality and equity they rightly deserve. Allow for your successes to be viewed equally to those of your male and female counterparts. You are capable of extraordinary things. In order to achieve them, you need a community and you need to be a community for others."
Related News