January 10, 2022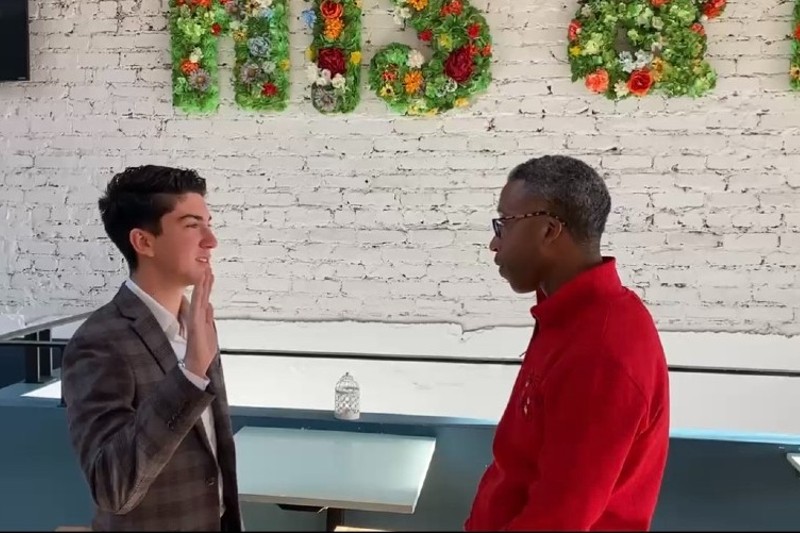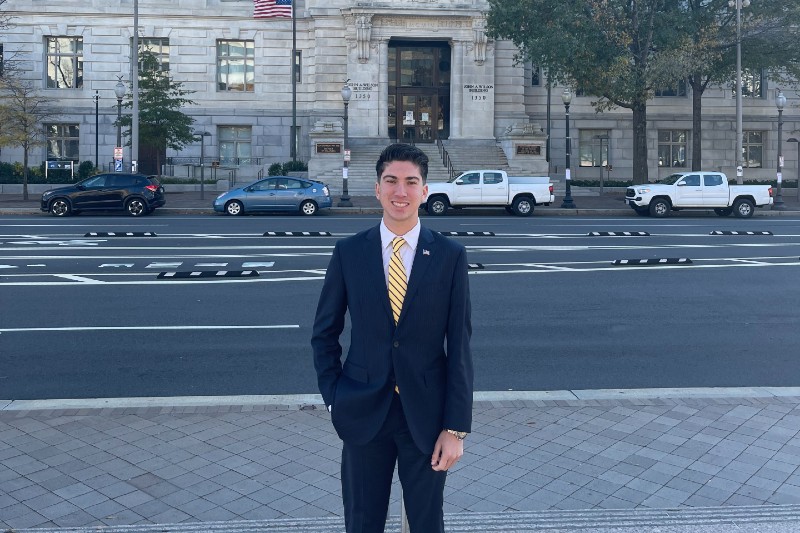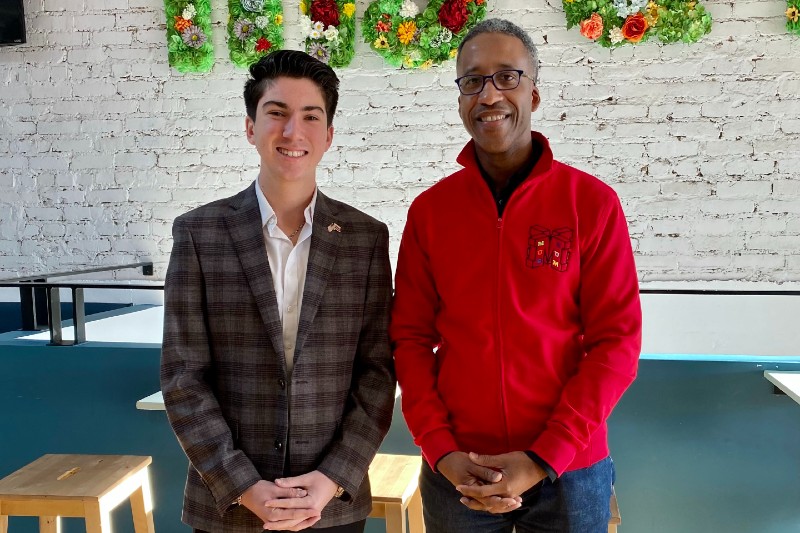 Diego Rojas, a first-year student at the Busch School of Business, was recently sworn in as Commissioner of Washington DC for Ward 5A-4 after winning a special election in November of 2021. Commissioner Rojas will be representing District areas within Brookland, such as the Catholic University of America, the Basilica of the National Shrine of the Immaculate Conception, and Capuchin College. He shared his thoughts on representing Catholic University and the Brookland community below.
How did you get interested in the commissioner position and how were you appointed?
"Ever since I was a little kid I have always been interested in politics. I was never the person who liked to watch Nickelodeon or Disney, I wasn't a gamer either, instead, I started watching political commentary shows regularly at the age of 7. This may seem like a strange thing for a kid to do, and it certainly was, but I truly have always loved being knowledgeable about the world of politics from all perspectives. I was President of my Senior Class and set up an internal governing student body and I accomplished many things within the community. I have been a student of politics and thought I would one day be in a position to run for office. I thought that maybe after I have a career in business, I would get the chance to become a public servant, but I did not think I would win my first election at 18 years old! In September of 2021, I had a discussion with President Garvey about how to be a leader both on campus and on a larger scale that transcends Catholic University. He mentioned to me that I should consider exploring a vacant position for public office for a special election within District 5A-4. I never like to shy away from opportunities, and I felt that this was a great opportunity to be a positive influence in the nation's capital and to represent the people of Catholic University in the best way I possibly can.

I ended up deciding to run for the seat because I felt that it was a calling in this season of my life to serve the people of Catholic University by representing them in local government. The process of filing for the office of Commissioner for District 5A-4 was a lengthy process of meeting deadline requirements and obtaining a certain number of resident signatures. It was a grueling process of networking, working the phones, and getting the support of politicians and residents of Washington D.C. The process took over two months, and I was sworn in on December 9th of 2021 by Councilman Kenyan McDuffie of Ward 5. I decided that because I now hold a political office, I would devote myself to being a public servant, not for my own sake, but to serve the people who I consider to be family, not just acquaintances or constituents. I am so grateful for the relationships that I have made at Catholic University and within the entire Washington D.C. area. Representing the District of 5A-4 is one of the ways that I can use my talents of problem-solving, resolving differences with people, and leadership to give back and to do my part in making the community a more prosperous place for everyone living and working within Washington, D.C."
What will your priorities as Commissioner of Washington DC for District 5A-4 be?
"I believe in the quote from Thomas Jefferson, 'The purpose of government is to enable the people of a nation to live in safety and happiness.' I will always advocate for legislation that enables the community we live and work in to grow and prosper. This means a lot of things, but the key issues are providing a safe environment for people and businesses and creating an attitude that encourages new businesses to come to the Washington D.C. area so that development and opportunities can increase for everyone, including students like myself at Catholic University. Companies both small and large are an essential component of increasing community growth. I will always vote on legislation that creates a thriving environment for people to run and start businesses.  I will also put a spotlight on local businesses in Ward 5. Businesses play a key role in communities; they are employers and provide services that benefit their customers. In my monthly newsletter, I will highlight a business owner or a business that is dedicated to helping the people of Ward 5 and Washington D.C. as a whole. You can subscribe to my newsletter on www.commissionerrojas.com."
Why did you choose to attend Catholic University?
"When deciding which college to attend I was blessed with some exceptional options. In high school, I worked very hard to get a high GPA and SAT score, this helped me get into many highly ranked universities. Although there were plenty of colleges to select from, Catholic University always had my heart. I loved the size, the professors, the business school, and the campus, but most importantly I fell in love with Washington, D.C. There is something about being in the most powerful city in the world. First off, it always felt like I was going back to my roots because my dad was born and raised in Washington D.C. I was also born in the Washington D.C. area, but I moved away when I was a baby to South Florida. So, going back to where it all started seemed appealing to me. Secondly, I always knew that I wanted to be placed in an environment where the best of the best compete.
At the end of the day, there is nothing better than being placed in the most powerful city on the globe. When choosing where to spend my next four years, I wanted nothing more but to have the opportunity to shine on one of the biggest stages in the world. I am a person who does not like to spectate from the stands. I wanted to be placed into the most competitive arena in the world, and Catholic University was one of the few schools that could offer this.  "
You've published two books. Can you tell us more about them?
"Like everyone else, in March of 2020, I found myself having a ton of free time. I had just finished reading Can't Hurt Me by Navy SEAL David Goggins, who is considered by many to be the toughest man on the planet. He always advocates for people to seek challenges in their life that push them to the point of breaking. He says, 'We must build calluses on our minds, just like we do on our hands.' I never had the desire to write a book, but I took up his challenge during COVID and embraced the difficult 6-month process of writing a book so that I could seek out a challenge that would better myself. The first book that I published is called The Blueprint. It is about creating and implementing a 14-day plan that will allow you to work towards accomplishing 2 of your goals in life. It uses the principles from the world's most successful business people, athletes, and leaders to show you how to define and accomplish any dream that you have.

In October of 2021, I published my second book called The American Pilgrimage. Many Americans never get the opportunity to make a pilgrimage to the nation's capital. I believe that this is a journey every American should partake in. I had the great privilege to make this voyage, and it deepened my love for the greatest country in the world. I want all Americans to go through what I experienced while making my American pilgrimage. In my book, you will walk with me through all of America's most prized monuments. While reading this book, you will feel like you are walking on the sacred grounds that memorialize the United States' most extraordinary people and accomplishments. You will not just simply see and feel what I felt while walking through the monuments, but you will be left with a great sense of duty. Every stop throughout my journey in Washington D.C. left me with a sense of responsibility to continue the legacy left behind by those who have sacrificed so much for this great nation called the United States of America.

You can check out more information about my books on www.diego-rojas.com."
You have some other interests as well. What else are you involved in at Catholic?
"I am a person who has many passions, and some of them I'll admit are pretty unusual and out of the ordinary. I have always loved golf, and I am a member of the Men's Golf Team. Tiger Woods got me into the game of golf at 7 years old, and I have been in love ever since. I am an avid skier, an above-average ukulele player, a state champion photographer, and a self-proclaimed movie critic. My favorite movie of all time is Wedding Crashers, there is just nothing that can make me laugh more than watching Vince Vaugh and Owen Wilson crash weddings.
One of the most interesting hobbies I have tried is playing the Mandolin, which is a string instrument that has a pretty terrible sound if you ask me. I bought a Mandolin and attempted to play it for a month or two, but eventually, I gave up because I realized that even if I played it right, it still sounded terrible. I am always the guy to try new things because I have learned so many life lessons through exploring different hobbies that somehow piqued my interest no matter how random."
Related News