June 21, 2022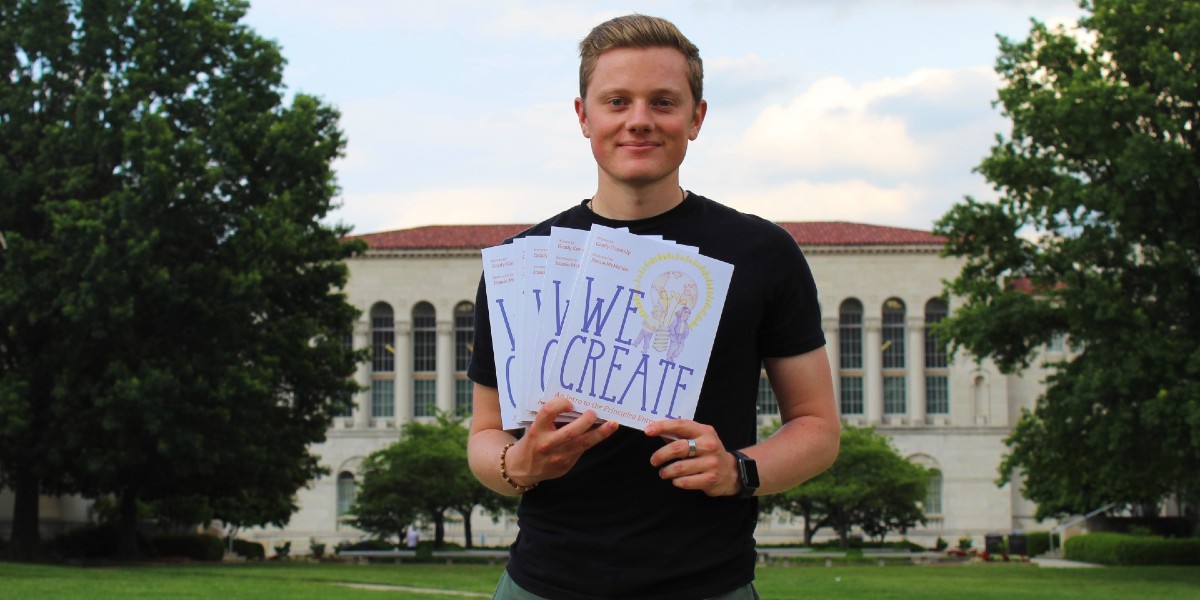 Grady Connolly, Busch '21, recently authored and released a children's book "We Create: An Intro to the Principled Entrepreneur." The book is intended to introduce business to children and demonstrate how principled entrepreneurs have a unique opportunity to make a profound and long lasting difference in the lives of others through our products and services.
We spoke with Grady about his view of "Principled Entrepreneurship" and his time at the Busch School:
How did the Busch School help inform your view of Principled Entrepreneurship?
"I first walked into Andreas Widmer's Vocation of Business class almost 5 years ago. From my very first week of freshman year, it was clear to me that principled entrepreneurship would play an important role in my own life. The concept of principled entrepreneurship is one I've always believed in, but I had no idea it had a name! 
My experience at the Busch School was by far one of the greatest blessings of my young adulthood. Since I was 14, I had dreamed of going to Catholic University to study business, and, by the grace of God (and the generosity of so many people), it became possible.
My time at Catholic was spent soaking up knowledge from professors and, more specifically, from the staff and faculty of the Ciocca Center for Principled Entrepreneurship. Andreas Widmer, Luke Burgis, Brian Walsh, Frederic Sautet, and Rebecca Teti have all been amazing role models to me, pushing me to discover my creative niche and desire for contribution. 
The Busch School's emphasis on the Lord bleeds into its academics beautifully. This is why I see business not as a secular endeavor, but as an ordered journey toward the divine."
Why did you decide to write a children's book on this topic? 
"I have been intrigued by the notion that business can be such a powerful force for good since my freshman year. In a free market system, entrepreneurs can build not only businesses but also lives. Since I was a child, I worked constantly - from landscaping and bussing tables in middle and high school to selling software and helping startups with marketing. My work has never been a punishment to me, but rather a fulfilling use of my energy and abilities. 
Having come from a humble background myself, I always saw entrepreneurship as a way for me to build the life that I know I was meant to live. My true boss/supervisor is God, and with Him, I am on a mission to create value wherever I can, interact with unique people, and hopefully be a positive witness to the faith.
In recent years, we have seen and heard endless articles about 'capitalism,' 'big tech,' and Elon Musk. When I saw this rhetoric start to define what entrepreneurship/business is for within our culture, I knew I had to speak up. The concept of entrepreneurship has changed from one that represents a movement of opportunity, freedom, and Americanism to one that is associated with selfish pursuits by a small percentage of people. 
My heart aches at such an absolute distortion of the concept. This myth could best be debunked by showing the lifecycle of value creation and the opportunity it provides not only for entrepreneurs, but for employees, the community, shareholders, the market, and so on. When business is conducted with virtue, it is in fact a selfless living out of a vocation to help humanity live healthier, happier, more fruitful lives. 
This message seemed perfect for a book targeted at a younger audience. Children are often the most creative in society and I wanted to share a piece of work that would inspire the next generation of purpose-driven creators."
Can you tell us more about the process of writing this book and how your career post-graduation has helped you write "We Create: An Intro to the Principled Entrepreneur"?
"I had no idea what I was doing when I began working on this book last August. However, as any entrepreneur does, I figured it out on the fly. Starting with the message and target audience, I began structuring the story so it suited the life of a principled entrepreneur. This book was a collaborative effort between Joanie McMahon, a fellow alumna of Catholic University, and myself. She brought the story to life with her art – I couldn't have done it without her. 
Having completed the initial drafts, I knew I needed the help of a publishing company to make sure the book was of the highest quality. A company out of Oregon called Luminare Press caught my eye after I did a fair amount of research. With just one call with their CEO, I knew they were perfect for this project.
It was a considerable expense to finalize the book since I worked with a publishing company.  My plan was to do a Kickstarter campaign for the book, so I reached out to Catholic business leaders in my network to see how much I could raise. The first email I sent was to Tim Busch, the namesake of the Busch School of Business and a hero of mine. He replied within hours offering to fund the project. It not only shows how exceptional a leader he is, but it also is a remarkable case study on a topic that I discuss in my book - using your success to help others on their journey. A special thank you to Tim and Steph Busch for their generosity! 
It gives me great pride to be a Busch School grad. In addition to writing my first book, I have started my own TikTok agency for music artists, as well as an agency that provides digital services to Catholic organizations. It is a dream come true for me and I feel exceptionally blessed to be surrounded by so many heavenly gifts, friendships, and experiences. May the Lord continue to bless my journey, yours, and those of my young readers."
Related News