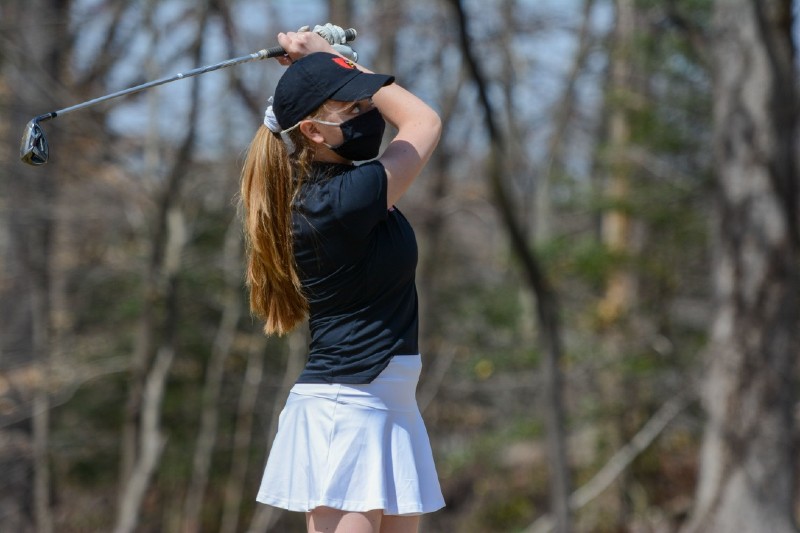 Year: Sophomore
Major: Marketing and Sales
Sport: Golf
Hometown: Darien, CT
When did you develop a passion for your sport?
 "The summer before my freshmen year of high school, my dad encouraged me to play golf with him. The greens at my golf course had been all burned out after they had tried a new fertilizer, so when we played, there were fewer people on the course, and I was able to take my time and practice. My dad saw a lot of potential in my abilities, and we began to play all the time. I joined the golf team my freshman year and played in the last spot for their JV team. By my senior year, I was a two-time Captain, received the MVP award, and was playing in the first spot for the Varsity team."
Why was it important to you to play that sport in college?
 "Golf is a big stress reliever for me. I love being able to disconnect from technology and get fresh air."
What has your experience been like as a student-athlete in the Busch School?
"My experience as a student-athlete has been good! I love to keep myself busy and be productive. I have learned how to manage my time well so that I can get to bed at a reasonable hour!"
What has your experience been like on your athletic team?
"My team is a dynamic group of women! Our team is small, which is typical for golf, but as a result, we are all so close, which I love. I can always count on them for support."
Have you been able to take advantage of other opportunities off the field? 
"I am a member of Kappa Tau Gamma, Catholic University's only social-service sorority. I currently serve as the Fundraiser Chair. Our sorority is a big participant in Relay for Life of Catholic University, having raised thousands of dollars this past year. I also recently became a member of the Phi Eta Sigma National Honor Society! This summer, I plan to study abroad at the Catholic University Rome Center."
What advice do you have for prospective students looking to play a sport?
"When looking to play a sport in college, definitely make an effort to meet the team and coach/es in person. It is important to identify the culture of the team so you find a team that that fits you best!"