Michael Novak (1933-2017) is remembered as a groundbreaking author, philosopher, theologian, and diplomat. From prelates and statesmen to undergraduate students in the U.S. and abroad, countless people have benefited from his insights into the spiritual and moral foundations of democratic capitalism and his persuasive argument that business is a calling to serve our fellow man.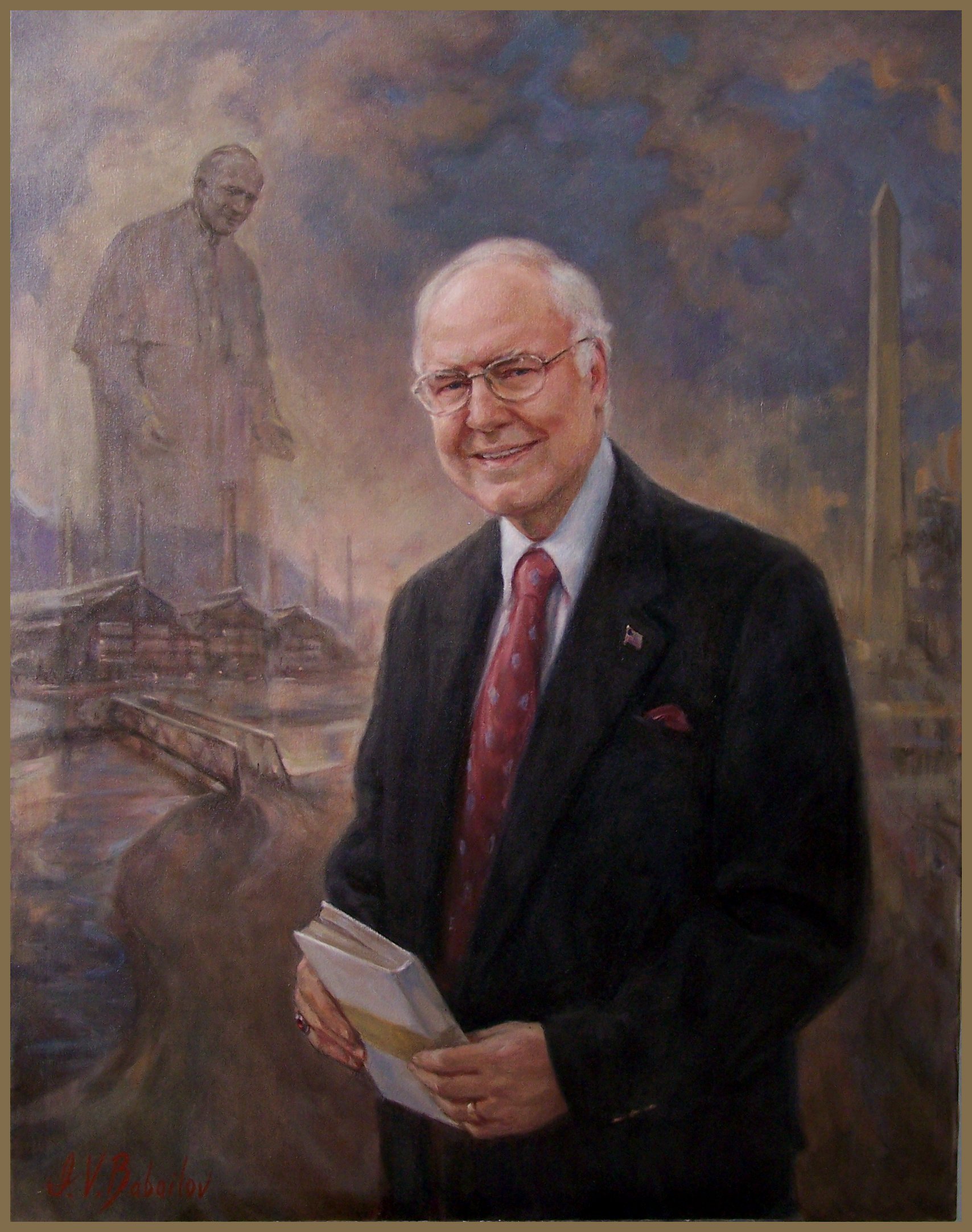 At the Ciocca Center we were honored when in 2015 he accepted our invitation to help shape our mission and work. He in turn was delighted to engage with students and colleagues as he spent his last years on campus with us at Catholic University.
 The Ciocca Center is fully committed to preserving and handing on Michael Novak's intellectual legacy to the next generation. The following Novak Legacy Projects are our efforts to date.
Novak Legacy Projects:
The Novak Conference

For students and scholars to return to and reconsider Novak's work in view of the current state of the world.

This conference is intended to promote continued discussion of issues and themes that Novak opened up for further study and conversation. We are particularly interested in engaging CUA students, in light of current developments in scholarship and world affairs, with Novak's pioneering work to merge the fields of Catholic social teaching and free markets. Past speakers have included George Gilder, Rev. Robert Sirico, Mary Eberstadt, Peter Boettke, and a number of Busch School faculty. 

Recognizing Novak as a major contributor to the theory – the historical, philosophical, and theological grounding – that is the basis for the practice of principled entrepreneurship, we intend for the Novak Symposium to be a venue for respectful and probing public dialogue on a range of issues that relate to both the theory and the practice of principled entrepreneurship and, more broadly, to the conditions of human flourishing and the maintenance of healthy institutions of civil society. 

The Michael Novak Fellowship

For Catholic University students to engage in a sustained study of Novak's magnum opus and complementary texts.

The late Ambassador Michael Novak (1933-2016) spent a career thinking and writing about all that pertains to the human spirit and the moral foundations undergirding economic and political systems. When first published in 1982, his seminal work The Spirit of Democratic Capitalism caught the attention of his friend Pope St. John Paul II, and was eagerly studied in secret and at personal risk by peoples in the grip of Soviet and other forms of tyranny.  It earned him the highest civilian honor from not one, but several, subsequently  liberated countries, and it contributed to his winning of the prestigious Templeton Prize. 

Perhaps as important as his specific ideas was his approach. He was interdisciplinary, open-minded, and supremely realistic, and therefore able to bring fresh insights to old problems because he could cast aside cant and convention to examine an institution or phenomenon afresh. 

The Ciocca Center is proud that Mr. Novak finished his extraordinary career teaching for us, and it is with an eye to our friend and mentor's generous and open approach to human problems that the Novak Undergraduate Fellowship reconsiders his seminal work, and endeavors to create an interdisciplinary community of Catholic University scholars where public intellectuals the caliber of Michael Novak can be formed.  

We are grateful for the generous support of the John Templeton Foundation in making this program possible.

2023-24 Cohort 

For 2023-24, Fellows will meet 8 times a year with approximately 50 pages of reading and some preparatory work due each meeting. Fellows will be provided with all necessary readings and those who successfully complete the work will be eligible for up to a $1000 scholarship. 

How to Apply 
The Novak Fellowship is open to rising juniors and seniors of the Catholic University of America. To apply for the 2024-2025 cohort, please submit a resume, a letter of recommendation from a Catholic University professor, and a brief statement of intent about why the program interests you to teti@cua.edu by June 15, 2024. Candidates will be selected and notified over the summer. (Please be sure your resume includes the best information for reaching you over the summer.) 

Michael Novak Free Enterprise Award

Presented to the senior judged to be the most distinguished student in the field of principled entrepreneurship and in the spirit of the work of Michael Novak.

The Novak Free Enterprise Award is presented to the senior judged to be the most distinguished student in the field of Principled Entrepreneurship – a person carrying on his or her work in the spirit of Ambassador Michael Novak's courageous and free inquiry into the interaction of markets, law, and practical wisdom in a good society.

Past winners include: 

2023: Nic Scalzo

2022: Catherine O'Grady

2021: Grady Connolly

2020: Nicholas Spinelli

2019: Taryn Watford

2018: Nicolette Crisalli

2017: Michael Hernandez

Novak Lecture, Spring 2022 by Fr. Dominic Mele

The Novak High School Symposium

This virtual symposium helps students engage with the writings of Michael Novak with a text that's accessible for younger students yet still challenges them to think anew about how to build communities where people and liberty flourish. The primary text for the symposium will be Novak's Business as A Calling.

2022-2023 participants may find information about the year here. Details for the 2023-2024 academic cohort are forthcoming.
For more information, contact Rebecca Teti teti@cua.edu. 
The free economy . . . demands active persons, self-starters, women and men of enterprise and risk. It requires the willingness to sacrifice present pleasures for rewards that will be enjoyed primarily by future generations. It requires vision, discovery, invention. Its dynamism is human creativity endowed in us by our Creator, Who made us in His image. 
– Michael Novak, Templeton Address (1994)