Michael Novak (1933-2017) is remembered as a groundbreaking author, philosopher, theologian, and diplomat. From prelates and statesmen to undergraduate students in the U.S. and abroad, countless people have benefited from his insights into the spiritual and moral foundations of democratic capitalism and his persuasive argument that business is a calling to serve our fellow man.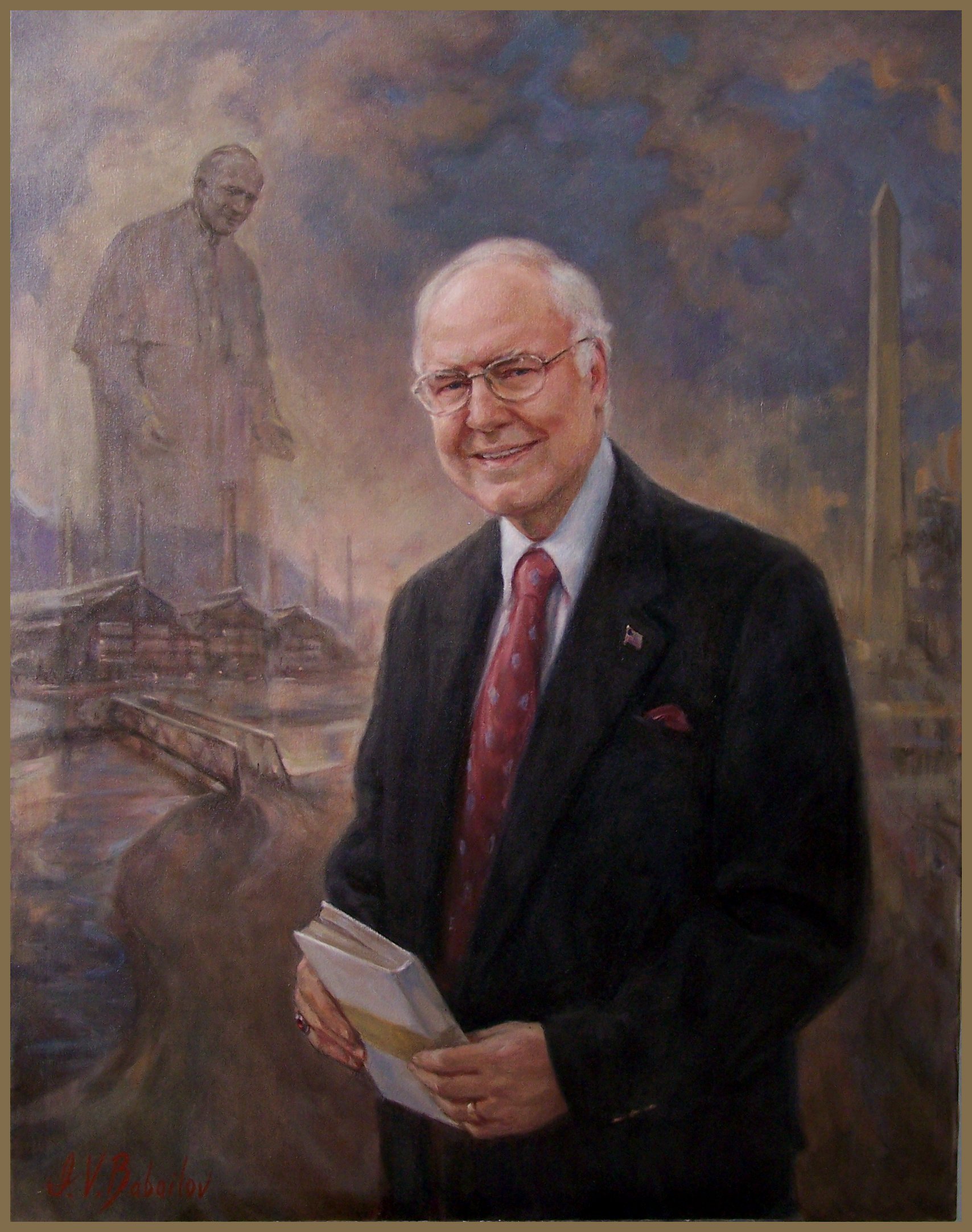 At the Ciocca Center we were honored when in 2015 he accepted our invitation to help shape our mission and work. He in turn was delighted to engage with students and colleagues as he spent his last years on campus with us at Catholic University.
 The Ciocca Center is fully committed to preserving and handing on Michael Novak's intellectual legacy to the next generation. The following Novak Legacy Projects are our efforts to date.
Novak Legacy Projects:
The Annual Novak Symposium

For students and scholars to return to and reconsider Novak's work in view of the current state of the world.

This annual day-long conference is intended to promote continued discussion of issues and themes that Novak opened up for further study and conversation. We are particularly interested in engaging CUA students, in light of current developments in scholarship and world affairs, with Novak's pioneering work to merge the fields of Catholic social teaching and free markets. Past speakers have included George Gilder, Rev. Robert Sirico, Mary Eberstadt, Peter Boettke, and a number of Busch School faculty. 

Recognizing Novak as a major contributor to the theory – the historical, philosophical, and theological grounding – that is the basis for the practice of principled entrepreneurship, we intend for the Novak Symposium to be a venue for respectful and probing public dialogue on a range of issues that relate to both the theory and the practice of principled entrepreneurship and, more broadly, to the conditions of human flourishing and the maintenance of healthy institutions of civil society. 

The Michael Novak Fellowship

For Catholic University students to engage in a sustained study of Novak's magnum opus and complementary texts.

This Fellowship is an opportunity for a select group of CUA students to study Novak's Spirit of Democratic Capitalism (1982), a text that one reviewer said "may prove one of those rare books that actually changes the way things are." As we approach the fortieth anniversary of its publication, it is clear that so many of Novak's insights have stood the test of time. Students should be reading this book, and yet it is not one that they are likely to cover in their coursework at Catholic U. Ciocca faculty will guide monthly reading and discussion sessions, and two external guest speakers will be invited to present to the group each year. Students will study The Spirit of Democratic Capitalism in the fall semester and complementary texts that are thematically related to the annual Novak Symposium in the spring semester.

Principled Entrepreneurship Scripture Series

A collection of essays that demonstrate how Biblical principles are relevant to real-life work and business situations.

Much has been written in the areas of business ethics and leadership, and yet, aside from Novak's own work, very little of it draws explicitly from the Bible as a source for grounding principles and deeper insights. Following Novak's lead in this regard, we want to help clergy, business leaders, and others to see that the Gospel is alive and relevant to real work and business situations. To that end, we are planning to produce a collection of short reflections on the Sunday Mass readings to encourage reflection on the liturgy and how to apply Christ's teaching in one's work. 

These essays will draw clear connections between scripture and key tenets of principled entrepreneurship that Novak articulated, including: 

The key objective of business activity is serving the human person and the common good. Therefore, business is intrinsically person-centered.

Business is fundamentally other-directed and thus must create value for customers and society.

Business is a noble vocation that is for its practitioners a key part of their path to holiness.

Through our creativity in business, we participate in God's creative power.

The practice of virtue among all participants in a company advances its success.

The economy and business are not a zero-sum game. Principled Entrepreneurs think from a perspective of abundance and do not engage in an "us-versus-them" mentality, because the solution to most problems is "both/and."

Entrepreneurship is a key ingredient in a healthy and well-functioning society as it occupies the space between individuals and the state. 

Simple but concrete examples of how the Bible is a source for thinking about and applying these principles are lacking in the Catholic world. This series will be an important part of our outreach to Catholic clergy and our efforts to promote positive attitudes regarding work and the role of business as essential for human flourishing. One might think of this as a Novakian "preaching resource," as one goal is to inspire informed, sound homilies and other discourse on these issues. 

Michael Novak Free Enterprise Award

Presented to the senior judged to be the most distinguished student in the field of principled entrepreneurship and in the spirit of the work of Michael Novak.

An annual award to a graduating senior from the Busch School who carries on his or her work and research in the spirit of Novak's inquiry into the intersection of philosophical and theological questions with economic research.

Past winners include: 

2022: Catherine O'Grady

2021: Grady Connolly

2020: Nicholas Spinelli

2019: Taryn Watford

2018: Nicolette Crisalli

2017: Michael Hernandez

Novak Lecture, Spring 2022 by Fr. Dominic Mele
For more information, contact Rebecca Teti teti@cua.edu. 
The free economy . . . demands active persons, self-starters, women and men of enterprise and risk. It requires the willingness to sacrifice present pleasures for rewards that will be enjoyed primarily by future generations. It requires vision, discovery, invention. Its dynamism is human creativity endowed in us by our Creator, Who made us in His image. 
– Michael Novak, Templeton Address (1994)