November 15, 2018
(Washington, D.C.)  The Catholic University of America is proud to announce that author Aurora Griffin will join the Busch School of Business as a recipient of The Busch School Scholar-Practitioner Fellowship and as a Research Associate.
In 2016, Ms. Griffin wrote the book, How I Stayed Catholic at Harvard: Forty Faithful Tips for
College Students. The Catholic University is honored that she will bring her dedication to the Catholic faith to campus. 
Ms. Griffin shares her enthusiasm, "It is a privilege be at The Catholic University of America, and particularly in the Busch School of Business. I grew up in a family of Catholic entrepreneurs, so the connection between faith and business has always been an important part of my life. My education and research in Classics and Theology have given me a passion for seeing the dignity of the human person at the core of this connection. After acquiring the necessary skills at Stanford in business, I look forward to using them to serve the Church. I could not ask for a better group of colleagues with which to continue exploring business and faith. I am enormously blessed by this opportunity to be a scholar-practitioner and the path that God has used to bring me here."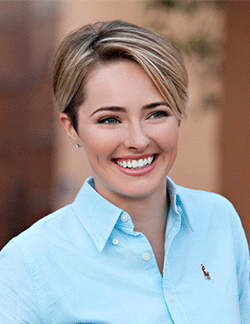 Magna Cum Laude Harvard graduate and Rhodes Scholar, Aurora Griffin will offer her vast knowledge and leadership skills to the Social Research Area within the Busch School of Business. This interdisciplinary academic area brings together prominent scholars from economics, sociology, theology, entrepreneurship, philosophy, and political science, with a particular focus on Catholic social thought.  Fundamental questions of social and economic order, including the role of law and natural law, are asked of students in order to encourage a curiosity about the world and form the virtues needed for the leaders of today.
To discover more about the Social Research Area at the Busch School of Business, email pakalukc@cua.edu or visit https://business.catholic.edu/social-research/index.html
Related News