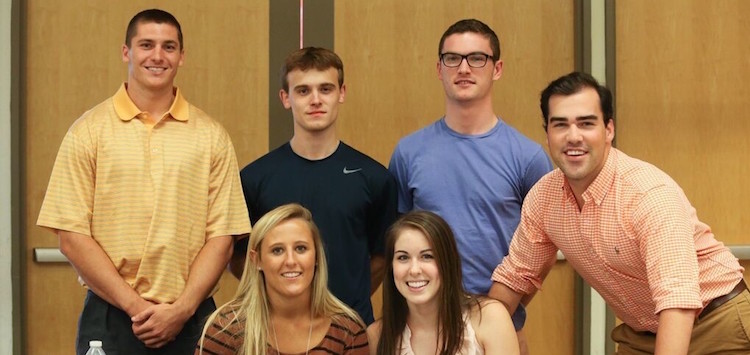 There is always an opportunity to get involved on Catholic University's campus! The Busch School works with students from a variety of student organizations to foster their immersion into business, entrepreneurship, and much more. These groups are all student-led and always willing to accept new members!
Looking to get involved? Check out our Busch School business clubs to learn more! Please contact our Student Experience Office at buschexperience@cua.edu with any questions regarding student involvement, or reach out directly to a student organization president.
Our Organizations
Accounting Society

The Accounting Society strives to create a positive and professional community in the CUA Accounting Department, with 3 main goals: 1.) To connect students to one another in their major, 2.) To connect students and faculty in the Accounting Department, 3.) To represent and promote the Accounting Society in the DC Metro Area." 

Business Women's Council

The Business Women's Council underscores the importance of women in business and leadership roles. They do this by sponsoring guest speakers, conversation hours and hosting mentoring programs. The Business Women's Council promotes the dialogue between faith and reason in a professional atmosphere. They act as an advocate for undergraduate women by creating interface opportunities with Catholic U's Internship Programs to enhance opportunities for undergraduate women in business.

Cardinal Entrepreneurship

The mission of Cardinal Entrepreneurship is to baptize the Catholic University of America Community with the Entrepreneurial Spirit. Our goal is to create a community of students where entrepreneurship can be taught, learned, discussed and executed by students, faculty and members of the greater community. Cardinal Startups is dedicated to furthering students' understanding of social and person-centered entrepreneurship, which occur in accordance of the teachings of the Catholic Church.  

International Business Club

The Catholic University of America International Business (IB) Club is committed to serving the CUA community by entwining all international clubs and majors into a global society to share culture and ethics. The IB Club devotes itself to ensuring that global business is used as a force for good, guided by the four pillars of Catholic Social Teaching: Human Dignity, Solidarity, Subsidiarity, and Common Good. Drawing on these principles, the IB Club promotes ethical business practices.

Investment Club

The Catholic University of America Investment Club seeks to create and build an understanding of the investment banking and sales and trading world; while developing the skills necessary to analyze and participate in capital markets.

Marketing Society

The Catholic University of America Marketing Society, founded and guided by Catholic U students and faculty, is committed to serving the Catholic U community through establishing alumni relations, connecting students to employers for recruitment, and exposing undergraduates to the marketing profession. The Marketing Society promotes the Catholic U Business School's four Catholic Principles: Human Dignity, Solidarity, Subsidiarity, and Common Good. The Marketing Society provides its' members with a professional experience to allow them the opportunity to carry what they have learned into the world as ethical business men and women of Catholic U.  

Toastmaster's Club

CUAToastmasters is committed to promoting honest and ethical students to conduct and converse in a professional manner.  The club assists students in skills that will be beneficial in interviewing, networking, and managing situations, in both the personal and professional level within classroom and in professional settings. They also produce increasingly educated, competent, and confident students of Catholic University with lessons that will set them up for future success while maintaining The Catholic University of America's traditions advancing the dialogue between faith and reason.