Design a flexible program that works for your lifestyle
Earn your master's degree 100% online or hybrid/on campus. On-campus classes are held at The Catholic University of America's main campus in Washington, DC or our new location in Alexandria, VA.
Increase your earning power and advance your career
No GRE required
For a limited time only

application fees are waived

New! Also available. Catholic University APICS Certified Supply Chain Certification (CSCP)--a full-featured course preparing students to sit for the CSCP Exam. Classes forming now.
The Master of Science in Management is a management degree applicable to any industry with specialty in  Supply Chain Management.
The Supply Chain Management program focuses on a comprehensive understanding of the strategies, principles, concepts, tools, and technologies that enable organizations to build effective and efficient supply chains that provide competitive advantage in the dynamic, rapidly changing world of the 21st century.

Graduates will be equipped with the highest level SCM Professional certification available through the combination of the SCMGlobe Supply Chain Simulation tool and Catholic University's academic partnership with APICS/ASCM. Students can also prepare for the CSCP Certification Test with our full-featured APICS Course.
Different than an M.B.A., the M.S.M. degree focuses specifically on the discipline of management--enhancing your professional ability to manage organizational resources more effectively. The M.S.M. degree program combines a strong academic foundation with practical knowledge and skills in management taught by leading management educators.
The Busch School of Business at The Catholic University of America promotes business as a force for good. Business, non-profit, and government leaders across the globe will respect your master's degree from a world-renowned institution.
Career Outcomes
Positions range from Construction manager, Human Resources Officer, Logistics and Distribution Manager, Marketing Executive, Sales Executive, and Systems Analyst.

Average Salary
According to payscale.com, the average salary for a professional with a MSM degree starts at $75,957 in United States.

Alumni Outcomes
Alumni have been promoted within the Federal and D.C. government, banking industry, project manager and human resource management for public and private companies etc.

Degree Completion Time
Earn this 36-credit degree in as little as 2 years or 18 months with online classes.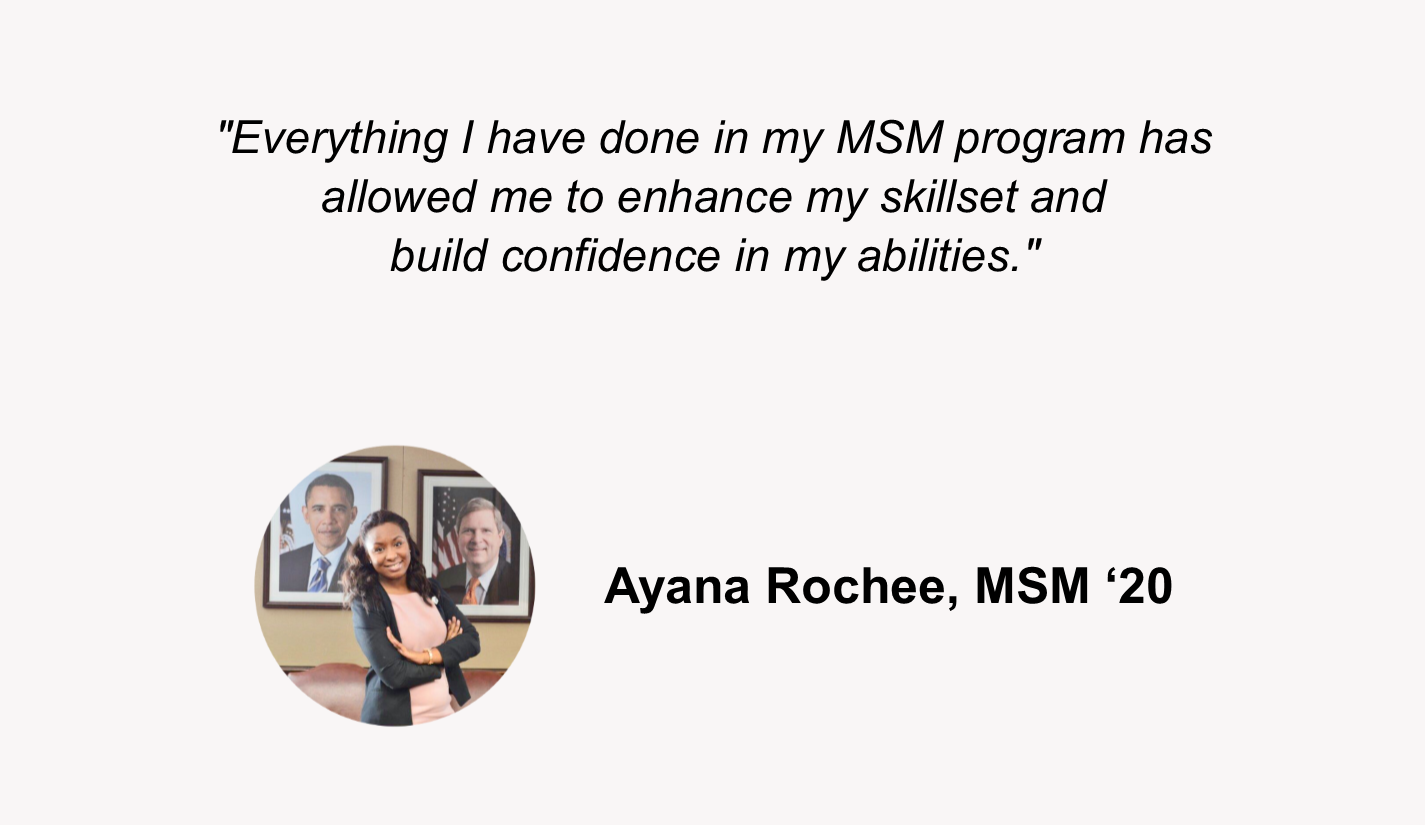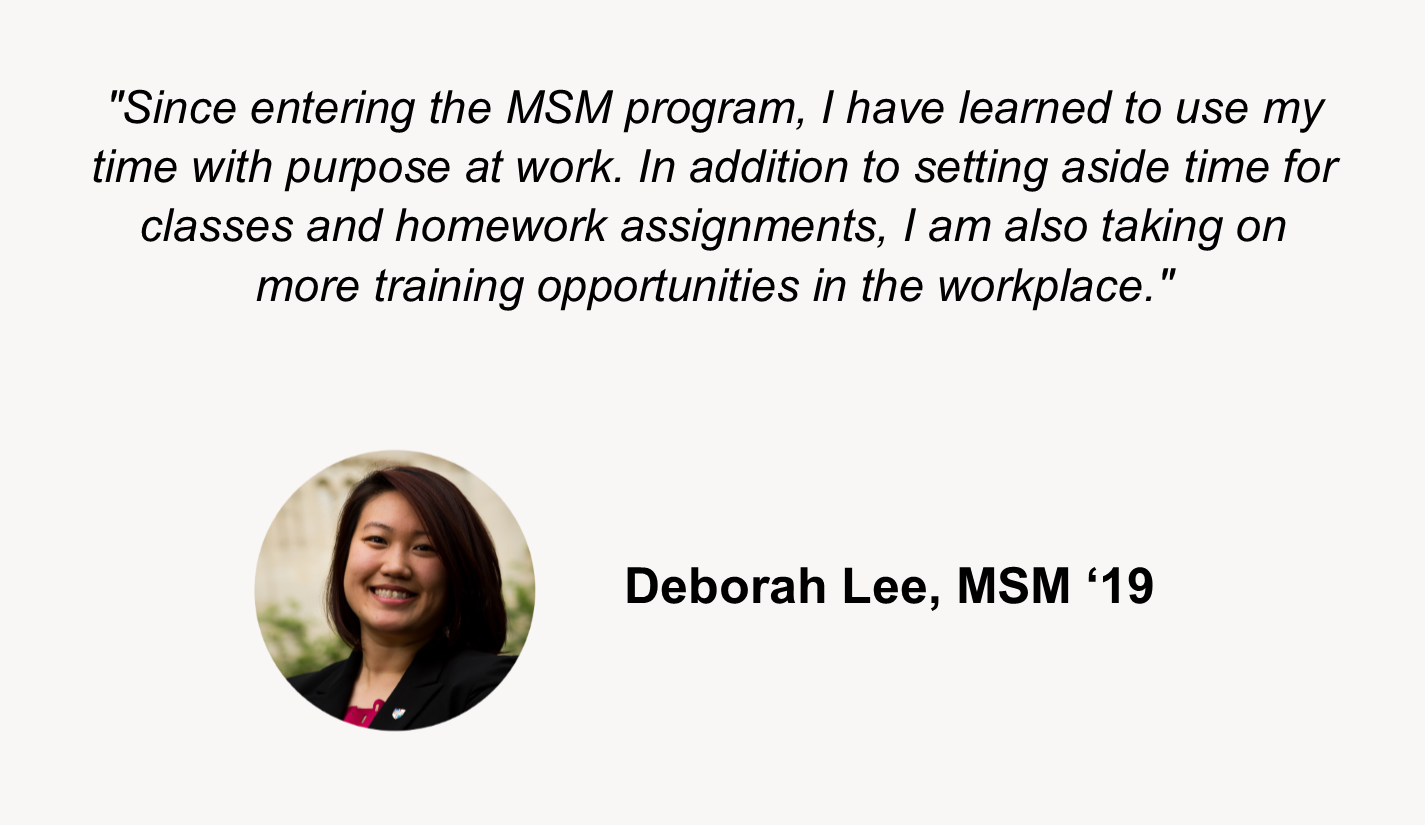 Additional Degree Options Available To MSM Students

Seven degrees are offered to allow students to customize the MSM program to their particular interests, needs, and career goals.
Program Details
The M.S.M. program consists of a total of 12 courses, or 36 semester credits.
For a complete listing of our course descriptions, please download our M.S.M. PDF
Participants typically take two courses per term. On campus courses meet once a week, from 6:10 - 8:40 p.m. (or 5:40 - 9:40 p.m. in the shorter summer sessions). Online courses meet as needed. 
Students must earn at least a 'B' (3.0) grade point average -- both overall and on final projects completed as part of the capstone course, "Master's Capstone: Research, Synthesis, Applications."
Get Started!

To get started on your degree simply fill out the quick form on this page, call us at (202) 319-5213, or email metropolitan@cua.edu.
The Catholic University of America has been certified by SCHEV to operate in Virginia.