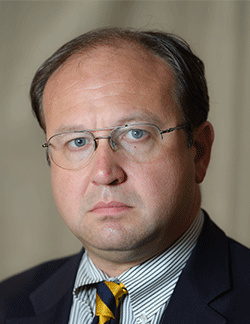 Academic Area
Social Research
School
Busch School of Business
Michael J. New, Ph.D., is an Assistant Professor of Social Research at the Busch School of Business at The Catholic University of America. A Phi Beta Kappa graduate from Dartmouth College, Dr. New received a master's degree in statistics and a doctorate in political science from Stanford University in 2002.
Before coming to the Washington, DC area, Dr. New worked as a postdoctoral researcher at the Harvard-MIT Data Center. He later taught at The University of Alabama, the University of Michigan -- Dearborn, and Ave Maria University.
Dr. New researches and writes about the social science of pro-life issues. He gives presentations on both the positive impact of pro-life laws and the gains in public support for the pro-life position. He is a frequent blogger on National Review Online "The Corner".
Dr. New has had two studies on pro-life legislation published by the academic journal State Politics and Policy Quarterly. Four of his other studies on the effects of pro-life legislation have been published by the Heritage Foundation and another study was published by Family Research Council in 2008.
Dr. New has given multiple presentations at the annual convention of the National Right to Life Committee. He has also spoken at Harvard University, Notre Dame University, Massachusetts Institute of Technology, the University of Pennsylvania, the College of the Holy Cross, and The University of Alabama Law School.
His writings have appeared in the Philadelphia Inquirer, The Atlanta Journal Constitution, National Review Online, Catholic Social Science Review, State Politics, and Policy Quarterly, The Weekly Standard, National Review, and the New York Post.
"

The research of Catholic social scientists has the unique potential to persuade non-Catholic audiences about the merit of church teaching on a range of social policy issues.

"