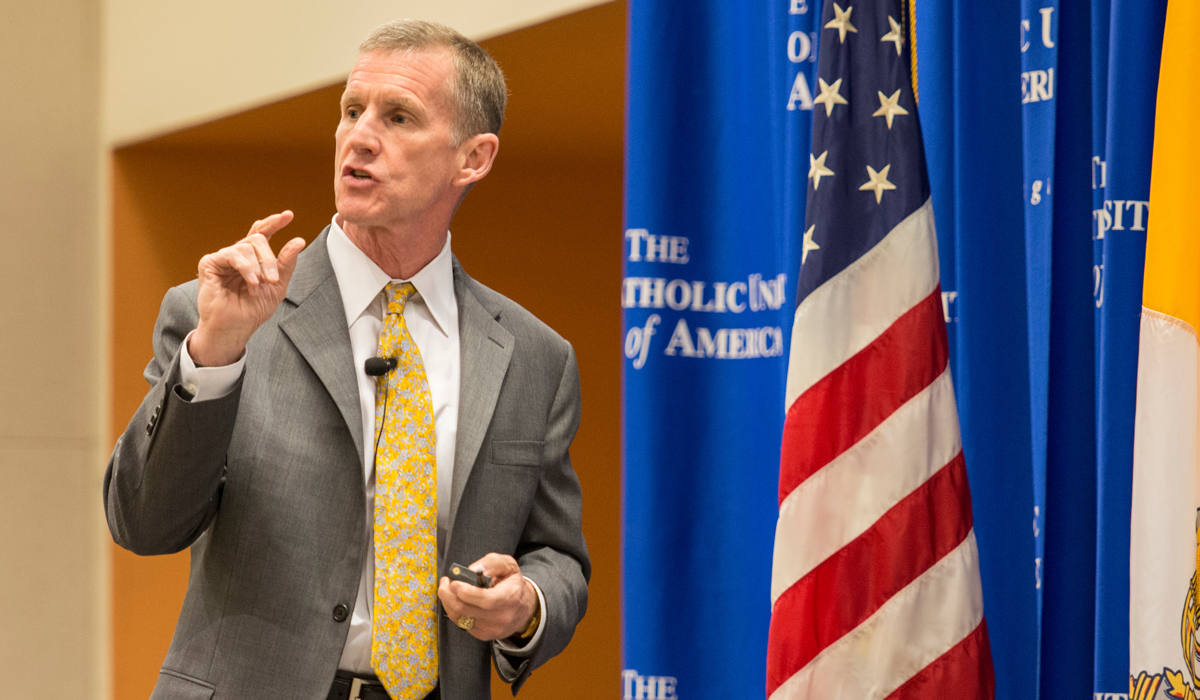 Have you ever wondered what it was like for General Stanley McCrystal to put his leadership into action on the front lines? Ever wondered how the culture at Southwest Airlines grew so strong? Ever contemplated launching a successful startup like HonestTea founder and CEO, Seth Goldman? The CEO Lecture Series provides that opportunity.
Every semester, we invite reputable CEOs and inspiring leaders to speak to our student body. These high-profile individuals share how they achieved their career goals, as well as the twists and turns of business, faith, and family that accompanied them along the way. Our guest speakers provide opportunities for Q&A with the students and time to network after the presentation. The CEO Lecture Series is a glimpse into the many possibilities that are awaiting students upon graduation.
---
Matt Birk
October 16, 2018

Past Lectures
Brigs Sorber
Chairman and Co-CEO of Two Men and a Truck
September 11, 2018

John Campion

Co-founder and Executive Chairman of the Board of Directors, APR Energy


March 13, 2018
Carly Fiorina
Former CEO and Republican Presidential Candidate
October 24, 2017
Juan Jose Daboub
CEO, The Daboub Partnership
April 18, 2017
Arthur Brooks
President, American Enterprise Institute
January 17, 2017
 
Tim Busch
CEO, Pacific Hospitality Group
November 15, 2016
 
James T. Hackett
Partner, Riverstone Holdings LLC
September 20, 2016
 
Larry Kudlow, CNBC's The Kudlow Report
April 2015
 
Seth Goldman, Honest Tea
March 2015
 
Jay Richards and Bob Woodson, Center for Neighborhood Enterprise
March 2015
 
Elizabeth Bryant, Southwest Airlines
February 2015
Rachel Campos-Duffy, Television Personality
December 2014
 
Michael Millette, Goldman Sachs
September 2014
 
Gen. Stanley McChrystal (Ret.), United States Army
April 2014
John Burke, Venture Capitalist
February 2014
 
Michael Novak, American Enterprise Institute (Ret.)
January 2014
 
John Ryan, Mine Safety Appliances
March 2013
 
Larry Blanford, CEO of Green Mountain Coffee (Ret.)
March 2013
Bill Pulte, Pulte Homes
December 2012
 
Frank Hanna, CEO Hanna Capital
October 2012
John Abbate, McDonalds Franchiser
October 2012
Prince Alois-Konstantin, the Prince of Lowenstein-Wertheim-Rosenberg, Germany
September 2012
 
Please visit again soon for additional lecture videos!