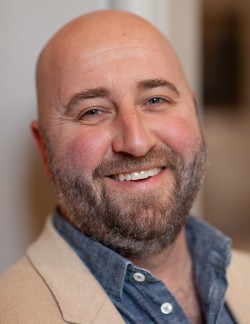 Entrepreneur-in-Residence
Entrepreneur-in-Residence and Director of Programs & Projects Luke Burgis is the author of Wanting: The Power of Mimetic Desire in Everyday Life and co-author of Unrepeatable: Cultivating the Unique Calling of Every Person. Luke spearheads the Ciocca Center's CEDE ("Catholic Entrepreneurship and Design Experience") project to cultivate an entrepreneurial spirit in high schools.  

After a brief career in investment banking and private equity, he started his first company at age 23 and was named a "Top 25 Entrepreneur Under 25" by Business Week. Luke went on to start several more companies in diverse industries: technology, consumer products, and food, and has been recognized internationally as a leading thinker in building businesses on the foundation of a healthy human ecology. 
Luke is on numerous boards and serves as an advisor on a number of education initiatives. He's the Managing Partner of Fourth Wall Ventures, an incubator that he started to build, train, and invest in people and companies that make goods that are truly good and services that truly serve. Luke blogs and writes regularly at lukeburgis.com.