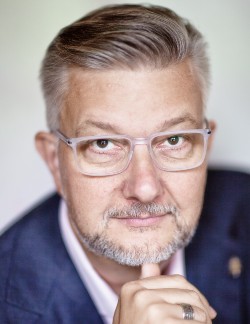 Director and Co-Founder
Ciocca Center director and co-founder Andreas Widmer is Clinical Professor of Entrepreneurship at the Busch School. He teaches the popular Vocation to Business course, helping students to discern their life calling while learning practical entrepreneurship principles and skills.

He was previously the co-founder of The SEVEN Fund, a philanthropic organization promoting enterprise solutions to poverty. Andreas is a seasoned business executive with experience in high-tech, international business strategy consulting, and economic development. He is the author of The Pope & the CEO: Pope Saint John Paul II's Lessons to a Young Swiss Guard, a book exploring leadership lessons that Widmer learned serving as a Swiss Guard protecting Pope John Paul II and refined during his career as a successful business executive.