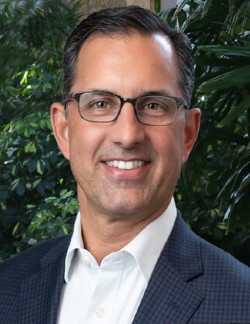 Chairman and CEO of MGT Consulting Group
Mr. Traviesa is Chairman and CEO of MGT Consulting, a high-growth, private equity-backed, public sector management consulting and technology services leader. MGT is distinguished by its 47-year track record of lifting communities by supporting government decision-makers to improve government performance.
Mr. Traviesa's business career spans more than 25 years in venture capital, banking, and corporate operational leadership in Washington, D.C., New York, Austin, Beijing, Mumbai, and Budapest.
Business Leadership
A serial entrepreneur and accomplished business-growth leader, Mr. Traviesa served as President and COO of Tampa-based Laser Spine Institute (2006 – 2009), a private equity-backed, national disruptor and leader in minimally invasive surgical spine care. He also founded and owns Fort Brooke Merchant Partners, a private family office dedicated to evergreen investments in disruptive growth companies.
Previously, Mr. Traviesa served as second in command in EDS Corporation's (now HP) $3B Global Business Process Services business and as an Engagement Manager in the New York office of A.T. Kearney Management Consulting. At 30, he co-founded Sanchez Venture Capital, a technology-focused seed capital venture fund with $30 Million under management in Austin, TX. He also worked as an analyst at Austin Ventures, one of the nation's most established venture capital firms. Mr. Traviesa is also the past Chairman of the Board of Directors of the Florida Chapter of Young Presidents Organization.
Public Service and Leadership
Between 2004 and 2008, Mr. Traviesa was elected to serve the citizens of the greater Tampa area as a leader in the Florida House of Representatives. His primary legislative accomplishments were in the areas of education policy and budget, as well as technology policy and economic affairs. Mr. Traviesa helped architect and implement the most comprehensive education reform agenda in the U.S. He also served on the Board of Directors of the Southern Regional Education Board, a leading education policy development group serving state education agencies in the Southeastern U.S. 
Mr. Traviesa remains active in education and economic policy through roles on the Board of Directors for The Foundation for Florida's Future and as a member of the Board of Visitors for the Busch School of Business at the Catholic University of America in Washington, D.C. He is the former Chairman of Associated Industries of Florida and served on the Board of Trustees for Florida TaxWatch. Mr. Traviesa also served as a Direct Commissioned Officer in the United States Navy Reserve.
Philanthropic Work
Mr. Traviesa is the founder and principal sponsor of the Collaboratory Preparatory Academy, a K-8 college prep charter school dedicated to providing access to high quality STEM education in high poverty communities. He is the current Chairman of IDEA Public Schools Florida, a national leader in charter education in disadvantaged communities, and he was the founder of Florida Autism Center of Excellence, the State's first charter school for children with autism. 
Mr. Traviesa is the current Chairman of the Tampa Bay Metro Area American Heart Association. He serves on the board of directors for the AMIKids Foundation, a national juvenile justice and education non-profit. He is the founding Co-Chairman of "IRIS" (Institute for Racial Injustice Solutions), a public charity dedicated to addressing racial injustice in education. Mr. Traviesa was awarded the Pro Ecclesia Et Pontifice Medal by His Holiness Pope Benedict XVI, the highest award for distinguished service that can be awarded to a layperson by the Pope. 
Education
Mr. Traviesa graduated from Florida State University with a B.S. in finance and received an M.B.A. in finance and entrepreneurship from the University of Texas at Austin and Instituto De Estudios Superiores De Administración in Caracas, Venezuela. He is married to Andreina Tosta Traviesa and has two daughters, Alexa (20) and Amelia (18).