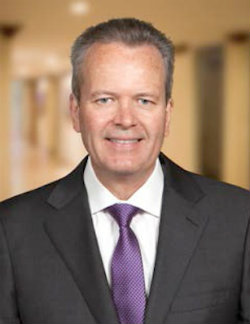 CEO, Pacific Hospitality Group and Chairman, Napa Institute
Tim Busch has been a practicing attorney in Orange County for the past 35 years and is the founder of The Busch Firm, which specializes in high net-worth estate planning, real estate and business transactions, tax and Religious Organization representation. Tim is also founder and CEO of Pacific Hospitality Group, LLC a hotel development and management company which owns and manages eight hotels, including the Doubletree Hotel at Irvine Spectrum, the Doubletree Hotel Santa Ana/Orange County Airport, the Crowne Plaza Resort near Disneyland the Meritage Resort and Spa at Napa, CA, and the Estancia La Jolla, the Balboa Bay Club and Resort in Newport Beach, CA and Bacara in Santa Barbara, CA. His original business is Busch's Markets, a 15-store specialty grocery store, operating in Southeastern Michigan.
Tim and his wife Steph are extensively involved in Catholic organizations and charities. Since 1990, Tim has been an active member of Legatus, an organization for Catholic CEOs and their spouses. In both 1994 and 2009, Legatus named him Ambassador of the Year and, in 2005, Founder, one of four in the organization of over 2500 CEOs. Tim is a member of the Orange County and San Juan Capistrano Chapters. He is also a member of the Board of Directors and Co-Chair of the Development Committee of Christ Cathedral Corporation, Diocese of Orange,
Tim is a co-founder of the Magis Institute with Fr. Robert Spitzer, S.J. Magis administers the Reason and Faith Center using modern astrophysics to prove the existence of God. In 2010, Tim was given the "First Leadership Award" by Magis Institute and Fr. Robert Spitzer. In 2011, Tim Busch and Fr. Robert J. Spitzer, S.J., co-founded the Napa Institute which is an annual intellectual apostolic conference preparing Catholics for the Next America.
In 1992, Tim and Steph co-founded and Tim served for 18 years as Chairman and CEO of St. Anne School in Laguna Niguel, California. St. Anne, now a private Roman Catholic school under the Diocese of Orange, has grown from its humble beginnings, with 140 students, to over 850 students today. Their son, Garrett, graduated from St. Anne in 2001 and their daughter, Mackenzie, graduated in 2004. To continue the tradition of spreading Catholic education, Tim and Steph co-founded JSerra Catholic High School in San Juan Capistrano, California. JSerra opened in September 2003 with 160 students, enjoys an enrollment of over 1,125 today, and will educate 1,400 students when fully developed.
Tim, age 59, was born in Michigan and relocated to sunny California in 1982 upon meeting his wife, Steph, with whom he has been married for 28 years. They have two children, Garrett, age 27, and Mackenzie, age 24. Garrett graduated from University of Notre Dame with both an undergrad degree in entrepreneurship 2009, and an M.B.A. in Financial Investment, 2010, and Kenzie graduated in 2012 from Kaplan University with a degree in Natural Health. Garrett is the CEO of Trinitas Cellars, LLC, the family winery, and Kenzie works as a Corporate Retail Buyer for Pacific Hospitality Group, LLC.
Tim also serves on boards for The Catholic University of America founded in 1887, the Board of Visitors of the Catholic University of America School of Business and Economics, Papal Foundation, Magis Institute, Napa Institute (Chair), the Institute for Church Life at the University of Notre Dame, and JSerra Catholic High School in San Juan Capistrano, CA (Chair). Tim enjoys traveling, golfing in Indian Wells, and wine. His passion for wine led him to found Trinitas Cellars, LLC, now located in Napa, California, in 2002. He is also part-owner and member of the Board of the Stone Eagle Golf Club in Palm Desert, CA. He is also a member of the Reserve Country Club in Indian Wells, CA , Newport Beach Country Club, Pacific Club Newport Beach, CA, and Balboa Bay Club.
The Busch's primarily reside in Nellie Gail Ranch, Laguna Hills, CA and enjoy a second residence at the Reserve Country Club in Indian Wells, CA.