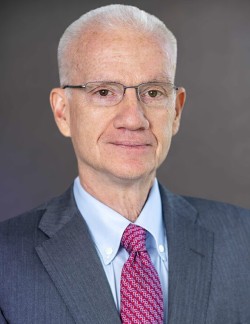 President/Founder, Trinity Partners LLC
John Corcoran is an entrepreneur, investor, and technologist in multiple disciplines. His work blends the perspectives and "long view" derived from a lifelong love of history and a deep interest in data and analytics, most particularly in life sciences. The latter has transitioned and expanded into current and ongoing interests in software, web and app development, digital engagement, and artificial intelligence.
John's first business venture was the formation in 1996 of Trinity Partners (now Trinity Life Sciences), a Waltham, Massachusetts‐based life sciences consultancy. Trinity has expanded globally with 1,200+ employees in the United States, Europe, and India. John served as President/CEO of Trinity from its founding until 2018. In 2004, John founded Trinity Pharma Solutions (subsequently renamed Shyft Analytics) as a standalone subsidiary. Shyft was acquired by Medidata Solutions, in June 2018.
Born in Cambridge, Massachusetts, John was educated at Harvard College and has master's degrees from Northeastern and Harvard. John serves on the following boards:
Aleteia, Director
Brotherhood of Hope, Expansion Advisory Council
Catholic Leadership Institute, Director
New England Historic Genealogical Society, Treasurer
Concussion Legacy Foundation, Board Chair
Extension Engine, Inc., Director
Fellowship of Catholic University Students (FOCUS), Director
iCatholic Media, Board Chair/Trustee
Lumen Verum Academy, Board Chair
Magnificat Foundation, Director
Mount Auburn Cemetery, Trustee
Pope Saint John XXIII National Seminary, Member of the Corporation/Trustee
Philanthropy Advisory Council, Archdiocese of Boston, Member
Saint John's Seminary, Trustee 15.Trinity Life Sciences, Founder/Board of Advisors
Young Catholic Professionals, Advisor/Director
In September of 2022, John was appointed by Pope Francis for a five-year term as a consultor to the Dicastery for Communications for the Holy See.
John is a husband and father, deeply committed to his family and to his faith. He identifies as a Catholic-American of predominantly Irish descent. Training as an Eagle Scout gave rise to John's deep love of the outdoors and conservation. Land and tree cultivation remain ongoing passions as are family and Irish history, and genetic genealogy. John and his wife Julie believe in impactful philanthropy and support a wide range of non-profit organizations.
John resides in Essex, Massachusetts with his wife and their four daughters. The family are parishioners at Saint Paul's parish in Hamilton, Massachusetts.