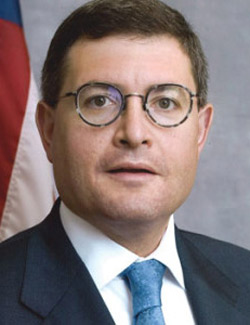 Executive Vice President, The Federalist Society
Leonard Leo serves as Executive Vice President of the Federalist Society for Law and Public Policy Studies, an organization of 53,000 individuals that is premised on advancing limited, constitutional government. In that capacity, he has helped to build a nationwide infrastructure of lawyers, judges, and business leaders who seek to foster the application of our nation's Founding principles through the projects of the Society as well as other independent projects of mutual interest and concern in the legal and policy worlds on which they band together.
In addition to his work with the Society, Mr. Leo has played an active role in both public diplomacy and politics. He has been appointed by President George W. Bush as well as the United States Senate to three terms to the US Commission on International Religious Freedom, where he is presently serving in his second term as chairman. He has been a US Delegate to the UN Council and UN Commission on Human Rights as well as the Organization of Security and Cooperation in Europe and World Health Assembly of the WHO. He also has served as an observer at the World Intellectual Property Organization and as a member of the US National Commission to UNESCO.

While on leave from the Federalist Society, Mr. Leo organized the outside coalition efforts in support of President George W. Bush's U.S. Supreme Court nominations in 2005-2006, and, in 2004, was the Bush-Cheney Presidential Campaign's Catholic Strategist. He also served as National Co-Chairman of Catholic Outreach for the Republican National Committee. He is active in a number of Catholic organizations, serving as a founding board member of the National Catholic Prayer Breakfast and a member of the Sovereign Military Order of Malta.

Mr. Leo was the recipient of the 2009 Bradley Prize, along with the other founders and directors of the Federalist Society, for his work and efforts in advancing freedom and the rule of law through the organization. He is the co-editor of Presidential Leadership: Rating the Best and the Worst in the White House (Simon & Schuster, 2004), as well as the author of opinion editorials in the New York Times, Wall Street Journal, and Washington Post, among other publications.

Mr. Leo holds degrees from Cornell University and Cornell Law School. He presently resides in northern Virginia, where he and his wife Sally have raised their seven children.